115th North American International Toy Fair Opened Saturday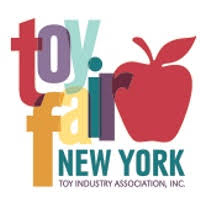 Global play professionals get a sneak peek at hundreds of thousands of brand new toys and games.
The 115th North American International Toy Fair opened its doors Saturday, Feb. 17, at the Jacob K. Javits Convention Center in New York City, where tens of thousands of global play professionals are gathered to see to see hundreds of thousands of innovative toys and games before they hit store shelves.
Open through Tuesday, February 20, Toy Fair '18 is the Western Hemisphere's largest and most important toy show, representing the creativity and vitality of the North American and global toy marketplace. Manufacturers, distributors, importers, retailers, licensors, inventors, and other toy industry representatives from six continents are at Toy Fair to do business and scout the latest toy and youth entertainment trends. Produced by The Toy Association, the show is a massive celebration of toys and play, boasting 443,400 net square feet of exhibit space – the equivalent of nearly eight football fields filled with toys.
"New York City is the center of the global toy industry this week. At the Javits Center and across the city, more than 1,000 toy companies and some 30,000 attendees from over 100 countries are exploring the products that will be at birthday parties and under the tree this Christmas," said Steve Pasierb, president & CEO of The Toy Association, in a statement. "Those who are fortunate enough to be here are getting a first-look at the products that will dictate this year's biggest trends that drive both the $27 billion U.S. toy market and reach consumers around the world. Toy Fair '18 is certain to be an outstanding experience for everyone in the toy and play community."
Toy Fair is divided into distinct product zones to help media, buyers, and other guests find exactly what they need, from action figures and arts & crafts to games, dolls, educational toys, outdoor playthings, and everything in between. More than 150 first-time exhibitors will be at Toy Fair; many of these companies will be showcasing their unique, never-before-seen products in the Launch Pad section of the show. World-class educational sessions and special events will be held throughout Toy Fair, including a toy trends briefing; licensing seminars; toy safety and compliance forums; global trade and market expansion research presentations; workshops for inventors and designers; and much more.