2015 International CES Preview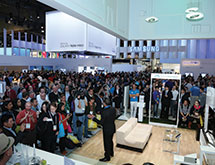 Owned and produced by the Consumer Electronics Association (CEA), International Consumer Electronics Show (International CES) is billed as the world's gathering place for anyone and everyone in the business of consumer technologies. The International CES attracts the world's business leaders and pioneering thinkers to a forum where the industry's most relevant issues are addressed.
Each year, the International CES showcases more than 3,500 exhibitors, including manufacturers, developers and suppliers of consumer technology hardware, content, technology delivery systems and more. It also hosts a conference program with 250 sessions and more than 150,000 attendees from more than 140 countries.
The next International CES is just around the corner, scheduled to run January 6-9, 2015, in Las Vegas. Among the keynote speakers expected at the event are Intel CEO Brian Krzanich, Samsung Electronics President and CEO Boo-Keun Yoon, and Dr. Dieter Zetsche, chairman of the board of management of Daimler AG and Head of Mercedes-Benz Cars. Gary Shapiro, CEA's president and CEO, heaped praise on each keynote speaker when their participation was announced.
"Dr. Zetsche has led Mercedes-Benz to a top perch in the automobile industry, constantly reinventing technology offerings and perfecting the driver experience," Shapiro said.
"Under Brian's leadership, Intel is helping to shape this era where everything is smart and connected," Shapiro said. "Samsung amazes at each CES with its innovative products spanning the entire tech ecosystem. We welcome Boo-Keun Yoon back to the keynote stage for the 2015 CES."
Additional keynote announcements are expected soon with details available at CESweb.org/Conference/Keynotes.
Many exciting events are on tap for the 2015 International CES. It has announced the full lineup of lifestyle-focused conference programming and exhibits produced in partnership with Living in Digital Times.
"Today's range of lifestyle technologies and services are making life easier than ever for all, from athletes to scholars and toddlers to seniors," said Karen Chupka, senior vice president, International CES and corporate business strategy, CEA. "Like the International CES, the Living in Digital Times program is a mix of inspiring innovation – combining high-tech fashion with health and fitness devices and solutions for education and family safety."
The International CES 2015 also announced the launch of the Personal Privacy and Cyber Security Marketplaces. The Personal Privacy Marketplace will focus on personal cyber security products and solutions, while the Cyber Security Marketplace, presented by the Gold Identity Federation, will be a destination for attendees to learn about the newest technologies and strategies they can adopt to protect their information online.
Additionally, a newly curated and sold-out version of the successful iLounge Pavilion will debut as the iProducts Marketplace. Exhibitors are expected to debut many of the first new products and accessories for the iPhone 6, iPhone 6 Plus, iPad Air 2 and iPad mini 3. New speakers, battery cases, styluses and keyboards are just a few of the products to be featured.
These are just a few of the many exciting happenings that will be found at the 2015 International CES in Las Vegas. For the latest news, visit CESweb.org.