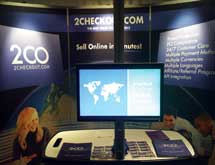 Alan Homewood started 2Checkout.com in his house in 1999. In 2001, he added his first employee, and by the end of that year, he and his staff of five moved into their first office. By the end of 2002, they were in their second office, and by 2003, the company had expanded across the entire building.
With a vision to provide a low cost of entry for companies needing to outsource their e-commerce needs, Homewood skillfully navigated the dot-com boom and bust, but those years weren't without temptation. In 1999, the cost for processing and accepting payments on line was high. Start-up or small businesses often faced up-front costs of $500 plus a monthly fee and a mandatory multi-year contract.
"You'd pay $600 or $700 for an SSL (secure sockets layer) certificate, and you'd pay for a shopping cart, but you also needed the ability to set these things up and protect people's information," said Homewood. "Not many people offered a total package, and for someone starting out only selling a few thousand a month online, the costs were prohibitive."
Seeing a space to fill, Homewood set up a service where merchants paid an upfront fee of $50 and a per-transaction fee but were not required to sign up for a contract term. In addition, rather than charging a flat fee, merchants paid a little bit more per transaction if they sold something. If they sold nothing, they weren't out any money.
Ten years and $220 million later, 2Checkout.com continues to provide outsource e-commerce
support, from payment processing to recurring billing, fraud, customer service, and data security. Homewood believes the reason his company is still around to celebrate its 10th anniversary when so many other providers in his market failed comes back to his simple yet honest vision.
"I'm sure I wasn't alone in thinking that some of the money being thrown around for ideas that weren't monetized was folly," he said. "I built the organization based on the fact that it had to make money, and it has funded itself completely. By developing a model that was based on more than idea, we've survived without having to ever borrow a cent."
Feeling the impact
Another ingredient in 2Checkout.com's secret sauce is that by taking the pressure off merchants with the services it offers, it enables its customers to follow their dreams. Without the pressure of figuring out how to protect consumers' payment information, construct a perfect billing system, or process payments, merchants can instead focus on their products and how to grow their business.
Because of its payment system, as merchants grow, 2Checkout.com also grows. In the past 10 years, the company has maintained growth of at least 10% or more year after year. Homewood has set his sites on turning 2Checkout.com into a $1 billion company within the next seven years, but the current recession made its mark.
"The recession made us flatter this year because people are just not buying at the level they previously were," said Homewood. "During previous recessions, we didn't notice, but this particular one was pretty severe, and it was worldwide."
2Checkout.com's client base is split 50/50 between the US and abroad. Because the current recession was international, the company felt the impact from all angles of its business. As 2009 progresses, Homewood sees signs of encouragement, and just as in the dot-com bust, he believes any company that makes it through this downturn will be stronger once it comes out on the other side.
"We work from the standpoint that you either get better or you get worse," said Homewood. "The recession has given us an opportunity to improve and tighten our operations."
Security strategy
On October 1, 2009, credit card associations, to further protect cardholder data, will launch a mandate called PCI (payment card industry) compliance. Initially, the mandate was developed to crack down on larger entities, educating them on the rules and regulations and leveraging fines when mistakes have been made.
That focus has changed somewhat, and the PCI mandate will push all the way through the merchant chain, down to the lowest level of vendor. "Those merchants, in bulk, account for the majority of credit card transactions, but they're typically less sophisticated and have fewer resources than a larger organization," said Homewood. "Even for larger organizations, the cost for PCI compliance and protecting people's data can be quite large."
In the coming year, 2Checkout.com's main marketing strategy will be to attack the areas in which vendors have expenses and show them the value the company can provide, especially in the area of data security. The company's internal costs to protect customer data is already in the millions, and Homewood sees the PCI compliance mandate as an opportunity to let 2Checkout.com's ability to help merchants large and small shine through.
2Checkout.com is also skilled in fraud detection and has spent years building up the tools and human resources necessary to tackle issues across the globe rather than focusing only on domestic fraud. "Our fraud ratio is less than 30 basis points, which means that less than 0.3% of transactions run through us end up being fraudulent," he said. "These successes give us an advantage in today's highly competitive market."
Making visions realities
Three elements contribute to 2Checkout.com's overall success: its overall expertise in e-commerce, its responsiveness to its customers, and the strength of its employees. Firmly believing a company is built on the skills of its people, from the start, Homewood has given his employees career development tools, including inhouse education and education reimbursement. "We encourage people to better themselves, learn more, and take on new challenges," he said. "We want them to grow with us. With a combination of bringing people in from the outside who are extremely experienced and also growing people internally, our company continues to improve."
To stay as responsive to its customer base today as it was 10 years ago, 2Checkout.com surveys its merchant customers and makes sure its customer service employees are trained to help in any way necessary. The company also formed a vendor advisory board that includes clients willing to help 2Checkout.com make decisions internally.
"As a culture, we strive to be close to our clients, to figure out what their needs are, and to have them be open to helping us improve for them," said Homewood. "Our goal to be a $1 billion company will push us to work with larger clients, but we have the capabilities to meet their needs and the drive to make our vision a reality."