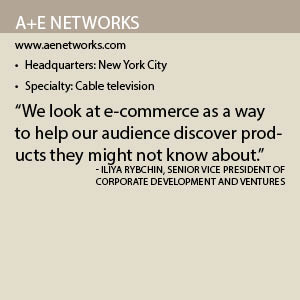 The A+ENetworks lineup in the United States, includes A&E, HISTORY, Lifetime, Lifetime Movies, FYI and Iceland. Each network has its own story to tell. HISTORY is about history being made every day through true stories of human endeavor; while Lifetime tells stories that empower women; A&E is uncovering moments of truth through brave storytelling. And recently rebooted Bio, formerly known as The Biography Channel, is a digital brand that centers on the personalities and people – past, present and future – who impact our world.
The desire to tell stories extends to everyone within A+E Networks. "Our primary differentiator is that we are a company of storytellers," Rybchin says. He adds that technology will continue to evolve and the way that audiences experience stories will continue to change, but humans will always seek new stories. A+E has assembled the world's best storytellers to meet this need.
So it's only natural at A+E wants its licensed products, services and experiences to share in that storytelling heritage. "We want to be as customer-, audience-and marketplace-driven as possible," Rybchin says.
Creating a Brand
Everything begins with compelling content.With two seasons completed, "Live PD" is one ofA&E's most promising shows. The show follows police officers during nighttime patrols and gives viewers a never seen before live look at police work taking place in various departments across the United States.
Watching the program unfold in real time helps audiences better connect with the officers on screen. "Especially in this environment where people across the country have a strong desire for transparency with law enforcement, it's a fresh, compelling and unedited way to showcase the policing of America," Rybchin says.
A+ENetworksalsobelieves it can develop great licensing programs around its highly popular brands: HISTORY, Lifetime and A&E. "While we will continue to focus on many of the great programs that we produce, we are going to put an increased focus on unlocking the potential of our brands," Rybchin says.
The distinct characteristics of A+E Networks' brands enable the company to target specific consumer segments in an authentic manner. HISTORYtends to skew toward males, for example, while Lifetime traditionally appeals to females. "Across our various properties, we're able to super-serve audiences in a way that other networks might not be able to," Rybchin notes.
The company is working to mirror that approach in its products, services and experiences. In looking at how viewers engage with its properties, the company is looking beyond just offering their audiences great content.
HISTORY's "SwampPeople," a show about alligator hunters in Louisiana, tends to attract fans who have an affinity for the outdoors. This creates opportunities for licensed hiking, fishing and camping gear. "That's where we look to see how a show like that translates into the physical world," Rybchin says. A+Ecan use its platforms to promote products used by experts on shows such as "Swamp People," as well as other high-quality items that might appeal to outdoor enthusiasts. "We, have credibility in that space," Rybchin states. "We look at e-commerce as a way to help our audience discover products they might not know about."
Through e-commerce and licensing, A+E can engage its audience in new ways. "Consumer products, services and experiences offer another vehicle for us to connect and engage with our audience in all the things they are excited about – and our shows and brands are the first steps in connecting with them."
Using those products or wearing show merchandise is a way for fans to say they were a part of those stories, that they have a personal connection to those characters and personalities. "I really believe the intersection between the physical and digital world is the future for a lot of our brands," Rybchin says.A+ENetworksis still developing many of those products and the results of its e-commerce effort will be unveiled in time for the holiday season.
Real-World Experiences
But even as outdoor products seems like an obvious fit for a show like "Swamp People," A+E is not limiting itself to traditional merchandising programs. One of the partnershipsRybchinis most excited about is the National Women's Soccer League(NWSL), a professional soccer association with teams in nine cities.
A+E is an investor in the young league, which began play in 2013, and it airs NWSL games on Saturdays on Lifetime. But the relationship goes beyond programming content. A+E is constantly looking for ways it can support the future of female athletes.
"These are the types of things we would love to put our network and resources behind," Rybchin says, "to not only support the content but these amazing athletes – who themselves have amazing stories." This is an example of how A+E seeks to foster a recurring relationship with its audience that extends outside of the broadcast show or sporting event.
A+E has experience developing programs that engage with its viewers beyond the borders of screen, be it mobile or in one's living room.The company is already involved in several events and tours based on its programming.One of the most successful such events has been AlienCon, which ties intoHISTORY's hit series "Ancient Aliens," a show in its 11th season that dives into alien mythology and the ancient astronaut theory.Now in its second year, A+E is expandingAlienCon beyond extraterrestrials to other unsolved mysteries. AlienCon2018 will take place June 15-17, 2018 in Pasadena, Calif.
Such events are not reserved only fans of the unusual and unexplained. On the other end of the audience spectrum, A+E has adapted its popular "Bring It!" show on Lifetime, a reality program about a Mississippi dance troupe, to a traveling live performance. BringIt! Live toured 30 cities in 2017 and has given hip-hop dancing fans an up close and personal experience with performers from the show.
A+E will build on the success of AlienCon and BringIt!Live with its future events. "You're going to see more and more of those types of experiences," Rybchin says. "We're definitely looking across all of our properties, all of our brands, and finding places where we can create real-world experiences out of the linear and digital entertainment we offer our audiences."
Developing Partnerships
Creating these kinds of opportunities requires a creative partner that is willing to explore new ideas. "We want to try to find things that are a little bit different," Rybchin says. "Weare always looking to explore new ways of reaching our audience or working in unexpected categories.
"We want our licensees to push the envelope," he continues. "We want them to send us things that make us think and push us outside our comfort zone."
A product, service or experience may be the starting point of a licensing relationship, but not the endpoint. A+E works collaboratively with its licensees to develop innovative consumer offerings. A+E's extensive understanding of its audience drives much of that innovation. The same viewer data the company uses to identify potential new shows can be leveraged to create products that match consumer demand. "As a data-driven organization, we are applying analytics to make smarter decisions and deliver more impactful solutions," Rybchin says.
As someone with an entrepreneurial background in management consulting and venture capital, Rybchinis excited about a future where the relationship between licensee and licensor becomes more interwoven. "I think the link between investing and licensing is going to start to blur over the next few years," Rybchin says. "When you create a product or service in the marketplace you want to increase the chances of that product existing for a long period of time.This requires an alignment of interests that only comes where both parties have meaningful risk and upside. We believe this approach will not only help A+E be successful but can be very lucrative for our partners."