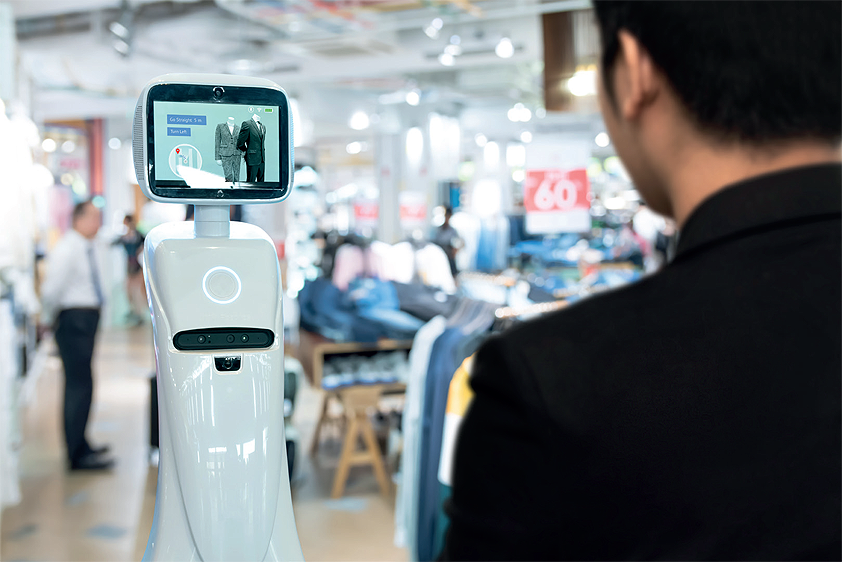 The future of retail is here. By Steve Koenig
Across America, a host of transformative innovations are arriving to reinvigorate the shopping experience and the broader retail sector. The result is a revamped and reengineered industry – one adapted to address a more digitized once thought of as science fiction – such as robots, digital payment systems, cashier-less stores and even augmented reality (AR) – are becoming more common in retail and may soon become table-stakes in retail strategy.
Robotics is one technology arena retailers are now leveraging to support business consumer by melding the physical and online realms.
The amplification of online sales operations was a lifeline for many retail businesses during the pandemic. But the digital transformation of physical stores has quietly grown apace. Technologies operations, especially among grocers and mass merchants. From cleaning systems to inventory management, robots are focused on improving operational efficiency. But more importantly, these deployments represent an emerging trend: human-machine partnerships.
Giant Food Stores deployed 'Marty' – an inventory management robot created by Badger Technologies – to some 170 stores in four states. Marty alerts shoppers and employees to common hazards like spills or debris cluttering the aisles. Another grocer, Schnucks, deployed Tally, developed by Simbe Robotics, to monitor inventory levels and report shelf data to its mobile app to help customers find what they need. And to keep stores clean, Sam's Club is deploying automated floor scrubbers across its 600 stores and many other retailers are following suit.
And as many consumers have modulated their shopping behaviors to online, robots are at work in the warehouse, helping to pick, sort and prep orders for shipment. Walmart is using Alphabot to assist human workers by picking items needed to fulfill customer orders. The humans still pack the goods, however.
One reason automation is becoming more common in retail is the seismic shift to online grocery ordering, one that will continue to rise. The Consumer Technology Association's (CTA)® Future of Consumer Behavior Amid COVID-19 study from September of last year found 51 percent of consumers who ordered groceries online plan to continue or increase that activity post-pandemic. It's no surprise Kroger is now building the first of 20 planned fully-automated warehouses, powered by Ocado Technology.
Customer service is another aspect of the retail environment where technology is transforming the in-store experience, particularly at the checkout counter. Mobile payment systems combined with a rising tide of unmanned, cashier-less stores empower customers with more options at the point of sale.
The appearance of self-checkout lanes across retail stores was the precursor to the sector's cashier-less future that has now arrived. Amazon now operates more than two dozen Amazon Go convenience stores coast-to-coast in the U.S., and recently opened its first store in the U.K. Powered by Amazon's 'Just Walk Out' technology, Go stores use a mosaic of sensors and deep learning technology to detect the merchandise shoppers take from shelves and track it all in a virtual cart. Customers use the Amazon Go mobile app to enter stores and automatically pay when they leave with their goods.
Is the future of retail really 'faceless?' Maybe. Our research shows consumers endorse frictionless shopping such as cashier-less stores. CTA's COVID-19 Impact: Retail Innovations study (Oct 2020) found 39 percent of U.S. consumers are likely to use them over the next year.
CTA's research also found more than half (56 percent) of U.S. consumers plan to use contactless or mobile payment solutions where available. Broadening acceptance of services including PayPal or Apple's Apple Pay among consumers and storefronts suggests we are destined for a (mostly) cashless future.
Already, the global digital payments market is valued at $6.6 trillion this year (up 40 percent from two years ago) and forecast to grow to $10.5 trillion by 2025, according to analysis by Finaria, a global finance and investment company.
AR, once an experimental technology at retail, is redefining 'experience shopping' in a very 21st century context. The latest AR retail trend bridges physical stores and ecommerce by creating digital shopping experiences that combine the energy of in-store shopping with the convenience of online shopping. In fact, IBM's 2020 U.S. Retail Index report concludes the pandemic accelerated the shift to digital shopping by roughly five years.
Prescription eyeglasses retailer Warby Parker is a pioneer in digital shopping, with a 2019 app that allows consumers to virtually try on different frames. More recently Snapchat, the popular messaging app, worked with Kohl's to design an 'AR Virtual Closet' – a smartphone experience that uses the Snapchat app to create an AR dressing room where consumers can virtually try on items and make a purchase without leaving the app. In another retailer partnership, Snapchat is powering American Eagle's Spring 2021 Jeans Are Forever campaign, with the 'AE x Snapchat AR Jeans Guide,' allowing users to view jeans in AR.
Will digital shopping really become a 'thing?' Probably. AR-powered digital shopping experiences such as these are another type of human-machine partnership the tech industry expects will be more common, especially as faster 5G wireless connectivity becomes common.
The digital transformation of shopping requires a new playbook, quarterbacked by technology, if retailers hope to score points with consumers. More, when we consider how substantially technology is refashioning retail, terms like 'omni-channel' and 'in-store experience' take on new meaning. Delineating sales between online, mobile and physical stores may matter less as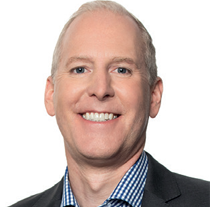 shopping experiences become inextricably linked between the digital and physical world.
The future of retail is technology innovation; and it is not fantasy, but strategy.
CTA
Steve Koenig is Vice President, Market Research at CTA. As North America's largest technology trade association, CTA® is the tech sector. Its members are the world's leading innovators – from startups to global brands – helping support more than 18 million American jobs. CTA owns and produces CES® – the most influential tech event in the world.
www.CTA.tech