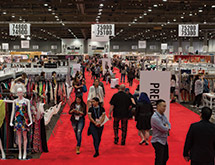 Billed as the global pillar of fashion tradeshows, MAGIC takes place twice annually, bringing together more than 60,000 industry insiders in Las Vegas to shop 11 can't-miss markets, each tailored to a unique look or trend. Its comprehensive marketplace covers the top men's, women's, juniors' and children's apparel, footwear, accessories and resources. With 85 years of experience and attendance from more than 120 countries, MAGIC seeks to move fashion forward globally. Attendees can find it all at MAGIC, from the fabric to the finished product, the hottest brands to the top designers, and the tastemakers to the power buyers.
Artists, music, designers, models, and lots and lots of clothes! You would think I'm talking about a concert but this is what the MAGIC tradeshow feels like these days. Every year, thousands of fashion mavens invade Las Vegas for the bi-annual tradeshow. It's more than just a tradeshow; it's where the future of what we wear takes place. You get to meet and collaborate with different vendors, designers and artists.
It truly has become less transactional and more of a partnership approach. When you visit a booth, you are surrounded by buyers, racks of clothes, sales personnel negotiating pricing and new fashion trends. What's even more impressive is the entrepreneurial spirit all around the show. You can meet with established companies, or you can meet with new startup brands.
Fox Consumer Products has recently partnered with new companies to bring lifestyle merchandising programs to retail in unexpected ways. In a crowded marketplace, it is imperative to keep consumers engaged with your brand. Just earlier this year, we saw the festival lifestyle at retail while we saw this being pitched in 2014.
In both licensing and fashion in general, the t-shirt is still very important, especially with a heavy influence from streetwear, but we also are seeing how it's become synonymous within the luxury world. Companies are pushing boundaries by incorporating new technology into the garment, from unexpected fabric mixing to new printing techniques.
With technology being so accessible today, consumers are getting smarter and want to jump on a trend immediately. As a result, it is essential to always see what's currently trending in blogs, social media and streetwear. I always like to think that fashion is a chameleon, always changing and keeping you guessing. In many ways, companies are forced to take a risk and hope that consumers will resonate with it.
When you walk the floor at MAGIC, you see the risk takers, presenting the unexpected, while others are playing it safe. There is always that one vendor that truly gives you the wow factor. Whether it's an amazing constructed asymmetrical jacket to fabulous piece of jewelry that looks out of this world.
I'm always looking to meet with artists, designers and companies to see how we can partner together to offer retail something new and fresh. Not all brands are created equal so you really have to listen to your audience. MAGIC gives you an opportunity to really meet with diverse clientele. MAGIC truly has something for everyone in the industry, whether you are in sales looking to buy, to designers attending trend workshops, to meeting with brands for fashion collaborations. It's not about making a quick deal, but looking for long-term strategic partnerships with companies that can push your brand to the next level.
MAGIC next takes place from August 17-19 at the Las Vegas and Mandalay Bay Convention Centers in Las Vegas. For more on the show, visit www.magiconline.com.
Ricardo Cruz is director of softlines for Twentieth Century Fox Consumer Products, a division of 21st Century Fox that licenses and markets properties worldwide on behalf of Twentieth Century Fox Film Corporation, Twentieth Century Fox, Television and Fox Broadcasting Company, as well as third party lines.