Adidas, NBA debut new on-court collection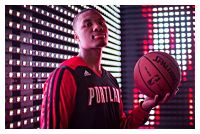 Oct. 16, 2013 – As tip-off for the 2013-14 NBA season nears, Adidas and the NBA will debut an all-new premium collection of on-court apparel. The NBA On-Court Collection will outfit all 30 NBA teams with the most innovative performance and on-trend style. To celebrate the new season, the adidas NBA On-Court Collection includes several items that players will wear on game days including the On-Court Warm-Up Jacket and Pant, Varsity Warm-Up Jacket, Long-Sleeve Shooting Shirt and Short-Sleeve Shooting Shirt.
The On-Court Warm-Up Jacket and Pant illustrates the speed of the game. The jacket features intensity graphics on the sleeves and front panel of the body. Sleeves and trim of the jacket feature contrasting color to the body of the jacket. An homage to team pride, the back of the jacket features the geographical team name and logo in white-stencil font. Warm-up pant features ventilation panels built into high-performance areas for comfort and functionality along with adidas' classic three stripes.
The Varsity Warm-Up Jacket is designed to capture the classic varsity jacket look and feel and is built for optimal performance and on-court usage. Worn by all players and teams for weekend home games after Christmas Day, it is a classic heather grey-based jacket with contrasting team-colored sleeves featuring soft-textured team patch logos on the back and left chest to complete the varsity look.

The Long-Sleeve Shooting Shirt features the team name across the chest in official team font, while front and back panels feature contrasting team colors along with accenting impact camo sleeves to illustrate speed and style. As for the Short-Sleeve Shooting Shirt, it is a varsity-style shooting shirt that features the team letter logo on the left chest and the player's name and number on the back with an impact camo pattern across the entire shirt to illustrate speed and style.