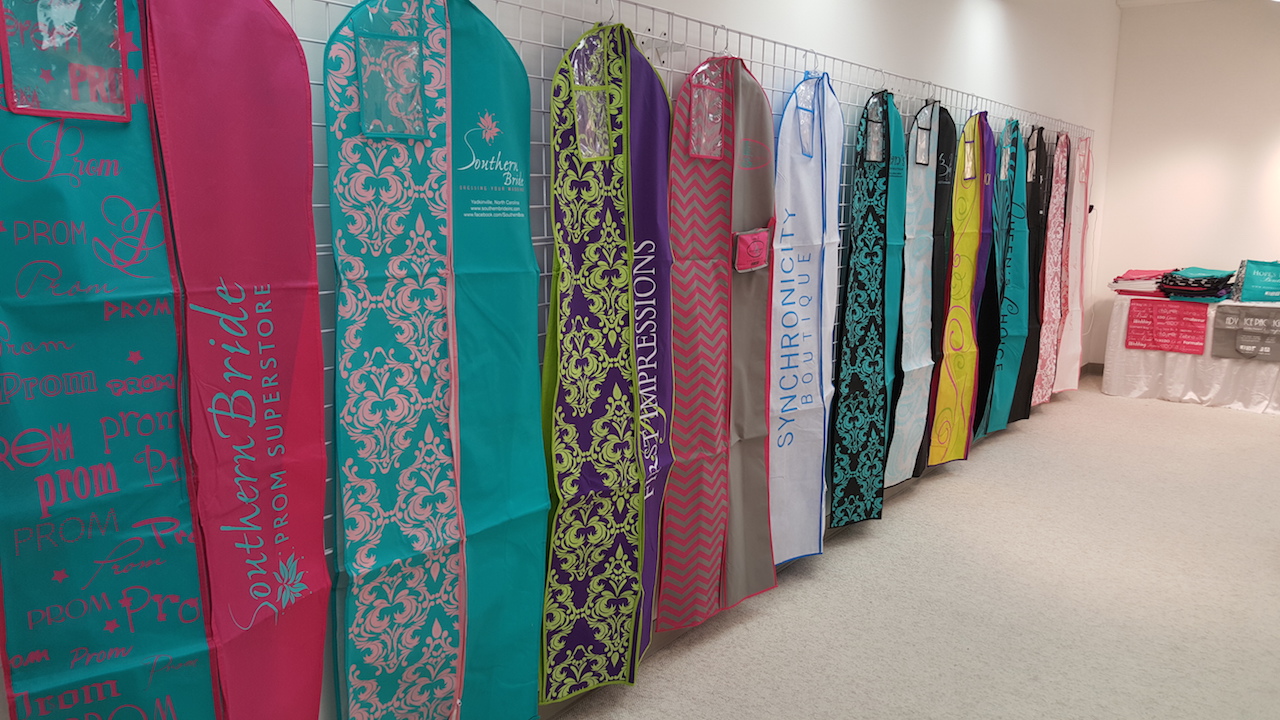 Advance Packaging's Build A Bag™ Program gives formalwear boutiques and national retailers
the opportunity to make their garment bags truly stand out.
By Jim Harris
The garment bag is the unsung hero of the formalwear world; simple in concept, yet brilliant in performance. Without it, dresses, suits and tuxedoes would be more difficult to organize, transport and keep wrinkle free and undamaged.
While many mistakenly attribute the sole purpose of a garment bag to its functionality, for Advance Packaging's many customers, garment bags are an exciting, creative and vital part of a much broader merchandising and marketing strategy.
Major fashion retailers understand that the garment bag is meant to communicate the purpose of what the brand stands for and how it should be perceived.
In 2009, aware that there was a large segment of its customer base who was in need of more than just the basic vinyl bag, Advance Packaging, located in the hip, and densely populated borough of Brooklyn, N.Y., launched the Build A Bag™ Program. The program seeks to push the edge in retail packaging, by offering custom garment bags in a host of fabrics, prints, sizes, and vibrant colors.
"We initially offered customization solely to the prom market," says Mark Blum, director of production and sales for the Brooklyn, N.Y. based company. "Prom is all about color and fun. We wanted to give our customers the opportunity to design a bag to reflect their particular style. With a customized bag, you have something different. Everyone wants to be unique to the market."
Advance Packaging's overseas factories mass produce for larger retailers, but are also capable of producing smaller runs for the many boutique-type bridal, prom, and apparel shops who do not need to order on a such a large scale. This allows everyone to take advantage of the Build A Bag™ Program. "Our ability to cater to and accommodate boutique shops is a big advantage and part of what sets us apart from other companies," Blum says.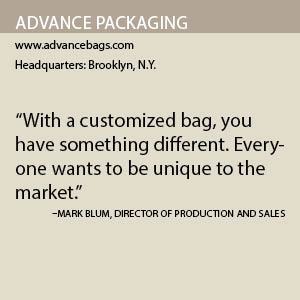 For customers needing even smaller amounts or quicker turnaround time, Advance Packaging has in house "Private Stock" available in various sizes, colors and materials, including clear vinyl, non-woven and PEVA. Highly professional silk screening and hot stamping are done on premises in order to better service dress, bridal and menswear shops.
'Tremendous Loyalty'
While the Build A Bag™ Program is a newer and creative division of Advance Packaging, the company has been a leader in the retail packaging business for over 25 years and includes many major retailers such as Macy's, Bloomingdales, Saks and Hudson's Bay of Canada, among others.
Over a decade ago, Advance Packaging began its relationship with the Tom James Company, the largest national custom clothier, and has been producing branded and custom bags for Tom James stores ever since. "Tom James is a company I admire tremendously," Blum says. "As large as they are, their loyalty and the way they interact with their vendors is just incredible."
In addition to zippered garment bags, Advance Packaging provides tote bags and custom branded wooden hangers to Tom James. "We provide all of their packaging needs," Blum says. "Tom James has been a pleasure to work with on a personal and professional level. They are a solid, smart and well-run company."
Generating Interest
Advance Packaging is continuously expanding its Build A Bag™ Program throughout the menswear market. "We are accomplishing in the menswear market what we've done in the prom, bridal and formalwear markets," Blum says.
The company actively promotes the program at industry events. "We promote ourselves by exhibiting at specialty shows, and our best advertisement is through satisfied customer recommendation," he adds. "Shows give us the opportunity to interact personally with customers and show them what we have to offer. We generate a tremendous amount of walkthrough and interest at our booth."
Success Factors
Advance Packaging attributes its success to three qualities. "Our focus is on creativity, quality and personalized customer service," Blum says. "We prefer not to compare ourselves to competitors, but in terms of style and quality nobody does what we do or offers the services we offer."
Blum credits the company's success to its extraordinary staff, led by founder and CEO Mr. Lazer Braunstein and art and design director Michelle Baxter. The majority of Advance Packaging's employees have been with the company for over a decade, giving them an edge when it comes to product and customer familiarity.
The environment within the company is one of true camaraderie. As Blum puts it, "We have a very comfortable atmosphere where everyone truly feels like they're an integral part of the business." Coupled with loyalty, integrity, and an ethic of hard work, Advance Packaging is well on its way to a bright future. Blum has made quite clear, though, that although the company has found its niche in the market, he recognizes that, "ultimately success is not in our hands, but by the grace of G-d alone."