Aflac Duck Hits the Slopes With Macy's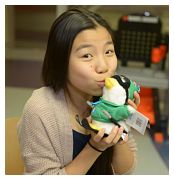 Nov. 5, 2013 – Aflac, the number one provider of supplemental insurance in the United States, is once again teaming with Macy's to offer the 2013 Aflac Holiday Duck; an annual collector's item that supports a very good cause. This marks the thirteenth year that Aflac and Macy's have sold the annual plush duck, with all of net proceeds going to support research and treatment of childhood cancer at facilities across the nation.
On the wings of last year's successful program, Aflac once again conducted a Holiday Duck design contest at the Aflac Cancer and Blood Disorder Center of Children's Healthcare of Atlanta, which Aflac has sponsored since 1995. This year's winning entry came from Michelle Nguyen (Win), a 14 year-old patient from John's Creek, Ga., who has battled thalassemia, a rare genetic blood disorder, since she was six months old.
"Michelle did a wonderful job on her design and she should be proud that hundreds of thousands of people will buy her Aflac Holiday Duck while supporting a great cause at the same time," Aflac Executive Vice President and Chief Marketing Officer Michael Zuna said. "Aflac is pleased to call childhood cancer its primary philanthropic cause, and every purchase of Michelle's Holiday Duck will move us one step closer to finding a cure. So I urge anyone looking for a gift that gives back to buy Michelle's 2013 Aflac Holiday Duck."
The 2013 Aflac Holiday Duck is dressed to hit the slopes this holiday season in the most fashionable Aflac ski gear that Michelle could imagine. When squeezed, this festive "swoosher" quacks its familiar "Aflaaaaac." It is on sale at more than 360 Macy's department stores across the country and at aflacholidayduck.com. All net proceeds go to participating pediatric cancer hospitals in the region where the duck is purchased. The Duck comes in both a six and 10 inch version.
"The iconic Aflac Duck is a must-have keepsake every holiday," said Amy Kule, Group Vice-President of Macy's Parade & Entertainment Group. "For over a decade, Macy's and Aflac have helped to raise awareness and funds for the fight against childhood cancer with this adorable duck. We encourage all families to take one home this holiday season and support this important initiative."
Since 2001, the Aflac Holiday Duck has raised more than $3 million for pediatric cancer research and treatment, which is part of the more than $83 million that Aflac has raised to fund cancer research since 1995. Each month Aflac's independent sales agents contribute more than $450,000 to the Aflac Cancer and Blood Disorder Center in Atlanta from their commission checks to support childhood cancer research at the organization.