AirTight Launches Retail Wi-Fi Analytics Engine for In-Store Business Intelligence and Customer Engagement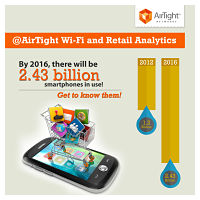 April 24, 2013 – AirTight Networks, a leader in secure Wi-Fi solutions, announced the launch of its retail Wi-Fi analytics engine as part of its cloud-managed AirTight Wi-Fi solution for multi-unit retail. Using AirTight Wi-Fi, retailers can provide not only reliable in-store Wi-Fi for employees and guests, but also repurpose the same infrastructure to obtain Wi-Fi analytics using the built-in Wi-Fi monitoring capability. Customer analytics can provide valuable business intelligence, which in turn can be used to increase customer loyalty and satisfaction and increase revenue.
AirTight Wi-Fi analytics reports provide real-time and historical trends such as number of Wi-Fi user devices present in the store, their activity and length of stay, and repeat visitors at a specific store or across a group of stores and during specific times of the day or on a daily, weekly or monthly basis.
"Until now, there has been a large gap between how much retailers know about their online customers and how little they know about them when they are in the store," said Kaustubh Phanse, Chief Evangelist and Principal Wireless Architect at AirTight. "With the business intelligence from in-store Wi-Fi analytics, retail marketing and operations departments can use AirTight's customizable guest Wi-Fi captive portals for localized marketing, e.g., to push coupons, announce daily specials, and encourage customers to register their information to participate in localized opt-in marketing programs, creating a seamless and engaging customer experience."
AirTight Wi-Fi can be centrally managed using AirTight's HTML5 management console. Store operators can manage hundreds or even thousands of stores all from a single interface and deploy value-added services over AirTight Wi-Fi to improve store efficiency and enhance the customer experience by offering Guest Wi-Fi, line busting applications, mobile POS and in-store kiosks. Because AirTight Wi-Fi has the industry's top rated wireless IPS embedded in the access point and is centrally managed, it offers retailers the added benefit of automated PCI wireless scanning.
"Recent research by RSR found that the lack of a wireless infrastructure on the selling floor is one of the biggest inhibitors to improving the in-store experience. Almost 40% more retail winners than all others see mobile as a way to better understand consumers' new paths to purchase," said Steve Rowen, analyst at RSR Research. "Our data is showing us as well that as budgets are starting to free up, retailers are eager to adopt the mobile devices they so desperately need to catch up to their customers. The majority of retailers who had adopted Wi-Fi for in-store applications reported various business benefits in terms of better employee support, improved customer experience, increased revenue and reduced costs. Indeed, enhancing the overall brand is precisely how retailers should be viewing the tremendous value that new mobile technologies afford."