By Janice Hoppe-Spiers
Nearly 85 million homes in the United States own a pet, and over the last 30 years pet ownership has increased from 56 percent to 68 percent of all households, according to American Pet Products Association.
By 2020, total pet industry expenditures are expected to reach $100 billion and that's because Americans really love their pets. Today, baby boomers account for 32 percent of pets owned, and it is millennials and younger consumers that account for more than 62 percent of pet ownership.
"The pet industry has been increasing dramatically over the past five to six years and the primary reason is the increase in pet ownership," All American Licensing (AAL) Co-Founder Michael Gottsegen says. "Americans love their pets, and their pets have become integral members of the family bringing unique personalities and characteristics to the family. We are seeing a humanization of pets and as pets are becoming more mainstream, our mission at AAL has been to find leading brands that are associated with the pet industry and expand their brands to meet the future needs of this growing industry."
Gottsegen and Tim Rothwell co-founded bi-coastal Los Angeles and Charleston-based All American Licensing in 2011, leveraging their decades of experience working together at Universal Studios and IMG.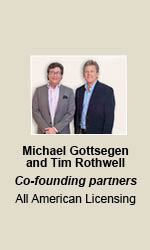 "We are an agency with a tremendous team of seasoned professionals located around the country and in Canada," Rothwell says. "We represent a number of brands from major resorts, fashion and interior designers to the Smithsonian, for example, and have come to specialize in a number of areas."
AAL has seen the home category take off, representing brands such as Jennifer Adams Home, Smithsonian Home, Philip Gorrivan and Hilary Farr from HGTV's Love It or List It. Today, the company continues to expand its expertise in the pet industry by finding new and traditional revenue streams for their pet brands such as the Dog Whisperer brand, DOG For DOG, veterinarians like Dr. Gabby Wild and Dr. Jan Pol from Nat Geo WILD's The Incredible Dr. Pol as well as Chicken Soup for the Soul pet brand.
"We see significant growth in licensing in the pet industry and we have a long history, decade's worth of experience working in the pet space. We now have a strong portfolio of brands that we feel we can introduce new products and technologies to pet owners," Rothwell adds.
As noted in a USA Today Survey, pet families spend an average of $1,280 a year on their dogs, and cat owners spend $915 a year, with future millennials expected to spend much more on their companion pets. These new consumer parents are all developing newer health and wellness habits and are becoming much more product and ingredient conscious in their decision-making.
Gottsegen adds, "Specialty foods, natural and organic options, therapeutic accessories, CBD products and home products are the fastest-rising product segments at pet retail — and are products for which consumers are willing to pay higher prices."
Man's Best Friend
AAL recently signed Dr. Jan Pol, the charismatic and internationally-acclaimed veterinarian and star of the successful television series The Incredible Dr. Pol, to an exclusive licensing agreement. "With Dr. Pol being a farm veterinarian, we are rolling out an entire line of pet food, large animal food, as well as supplements and vitamins for all animals," Rothwell says. "That's the key, it's not just for domesticated pets, but for farm animals as well."
The Incredible Dr. Pol, a reality TV series set in rural Michigan, airs on Nat Geo WILD and is the network's No. 1 rated program with more than 100 episodes to date.
"In this business, it is totally unpredictable what you're going to get, day to day," Dr. Jan Pol says. "Animals don't wait to get sick, and they don't take appointments. They get sick and they need to be seen. So, some days, you're gonna go in and there's gonna be nothing going on. And other days, you're gonna go in, and you can't run fast enough."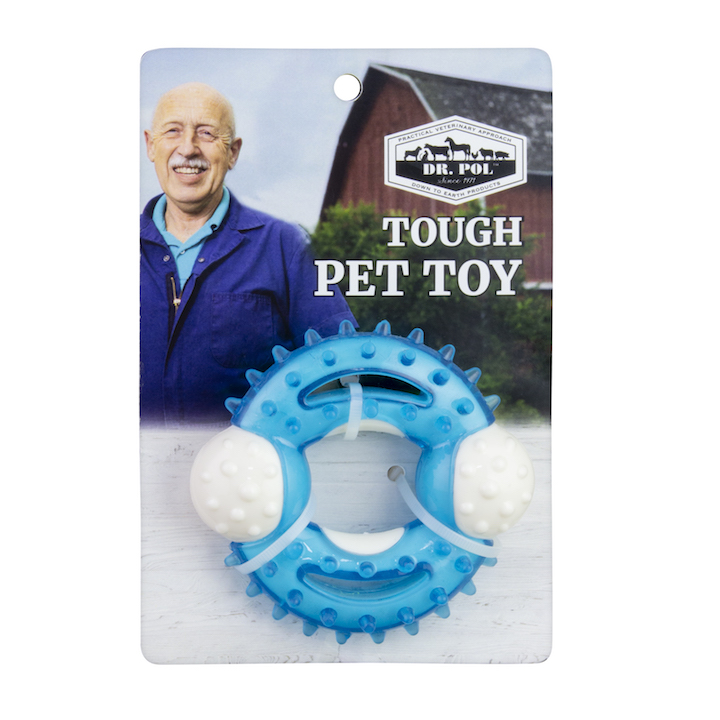 Dr. Pol has become a television icon and has been featured in dozens of major media outlets including USA Today, Parade Magazine, TV Guide, Los Angeles Times, New York Daily News, Chicago Tribune, and top TV shows including HLN's Michael LA, Fox & Friends, The Doctors, Home & Family, Adult Swim, Good Day LA and more. "I'm excited to incorporate the insights I've learned in my many years of veterinary experience, collaborating with AAL to develop an affordable and practical line of animal products that are unique to the marketplace," Dr. Pol says.
"Because consumers are so involved with their family pets, they are looking for better quality and reasons to buy a specific product, and veterinarians provide that expertise and authenticity," Gottsegen explains. "When determining why a consumer would buy a particular product, a "Vet Approved" label is like the benchmark Good Housekeeping Seal of Approval and is proving to be a powerful asset for consumers," Gottsegen added.
AAL has brokered a strategic alliance with Dr. Pol and Consumers Supply Distributing for a comprehensive product line of quality animal feed, for dogs, cats and horses, as well as nutraceuticals and supplements for the pet's well-being. Consumer Supply Distributing is a full-service agricultural and animal nutrition business that manufactures extruded animal products including pet foods, pet supplements, horse feeds, horse treats, horse supplements and show feeds under the Country Vet, Running Horse and Rancher's Choice trade names.
"Bringing new products to market that are veterinarian-approved will provide peace of mind for consumers as they try to decipher all of the products and marketing trends they encounter every day because they know and trust Dr. Pol," says Keith Rees, Consumer Supply Distributing national sales and marketing director. "There is no shortage of marketing tactics and trends in the pet food industry. Everyone is racing to derive the next new thing to differentiate themselves in an oversaturated market.
"Dr. Pol's products will be practical, no-nonsense formulas that animals will love and provide a complete and balanced diet that will help them live long healthy lives," he continues.
Additionally, Posh Paws is on board to manufacture a full range of pet accessories. "They have created, for example, dog accessories that will revolutionize the industry and will be recognized for creating unique ways that the human and dog will interact and learn from each other," Gottsegen says.
Moreover, AAL has finalized a deal between Dr. Pol and GrowthCell Global Corp. in the new CBD space. "CBD is an opportunity for manufacturers to provide natural health and wellness for pets," Rothwell explains. "What CBD does is provide a calming aspect to the pets and it's an anti-inflammatory that helps maintain the pet's hip and joint mobility. The real benefit for Dr. Pol and GrowthCell Global is the opportunity of an experienced veterinarian to explain and showcase the benefits of these new health-related products and how best to use them."
Becoming a Dog Whisperer
The Dog Whisperer Productions signed AAL as its exclusive licensing agency to develop a comprehensive portfolio of uniquely branded dog related products for the home, health and wellness of dogs as well as traditional dog accessories based on the globally syndicated, Emmy-nominated Dog Whisperer television show.
"The brand is now the epicenter of the global dog community, and has evolved into an empowering philosophy that everyone who owns a dog should be a dog whisperer and implement proven training principles to improve the relationship between themselves and their dog companion," Gottsegen says.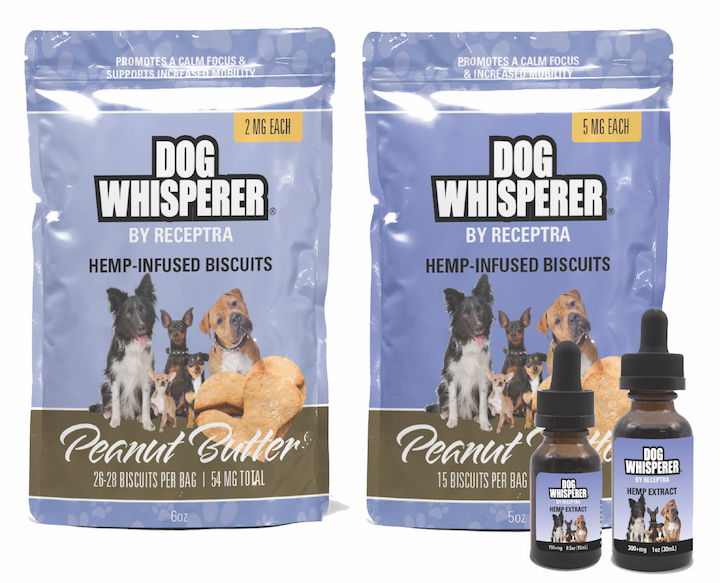 AAL's strategic partners include Evanger's Foods for wet and dry dog food, Unitrex for Aromatherapy, Receptra Naturals for CBD, GMason Group for natural treats and snacks, YAYA Organics flea and tick control, Bow Wow Pets for innovative and sustainable accessories, and Sobel Westex for fashion bedding and home textiles. "With Sobel Westex, the largest textile manufacturer in the country, we will create an entire lineup of fashion bedding, comforters and pillows – everything to integrate the dog- and pet-centric lifestyle into your home," Rothwell says. "For the first time that we are aware of, Sobel Westex will be coordinating human fashion bedding with pet textiles."
"Sobel Westex is a significant home bedding and bath company for humans, and they realized the value in the Dog Whisperer brand and came with innovative technology combined with fashion elements," Rothwell says. "They have created, for example, a dog towel that will revolutionize the industry and will be recognized for creating spectacular fashion bedding sets that will be coordinated with the pet bedding, textiles and fabrics. This is a first."
Sobel Westex Executive Vice President Michael Trampas says this is the company's first move into the pet industry for the mass retail market and is excited to be offering a unique product experience directly to the masses with its new Dog Whisperer At Home Collection. "Throughout the years, we have been learning and creating customized pet home fashion collections for our hotel customer guests and celebrity friends' pets," he says. "Within this unique sourcing network, we learned that many consumers are very interested and passionate about their home fashion dog design product wants and needs."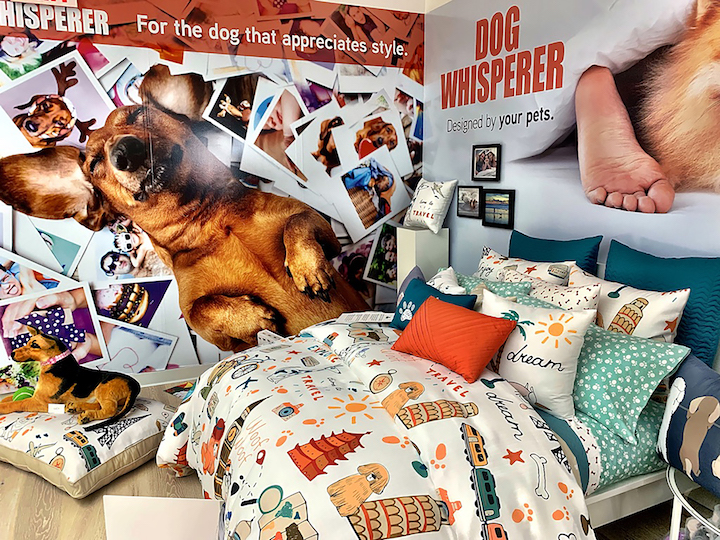 The Dog Whisperer and Sobel Westex partnership together offers an authority in the home textile market that can truly now speak to the "complete family experience," Trampas says. "Sobel Westex is obsessed with creativity and innovation being a major part of our companies' culture," he adds. "Our team's laser-focused keen eye for innovative ideas, trends and creating product experiences that speak directly to consumer passions is truly what separates us from the mass supplier market."
Today, dogs have been humanized and truly become part of our family. In the past few decades, the family dog has moved from the backyard to the bedroom, and now into the bed. Consumers are sleeping with, decorating our home with, having conversations with, exercising with and intimately living with our dogs as part of our family more than ever before, Trampas says.
"Using data as a foundation to all of our unique product development strategies, we have found that people of all demographics are extremely passionate about the love of their dogs and their home 'dog fashionista' purchase needs," he adds. "Consumer purchasing spending data shows the power of this market."
Evanger's is an 84-year-old family owned company based in Markham, Ill., that specializes in superior meat-based, hypoallergenic wet and dry dog and cat food dinners. As a top choice among breeders, the company's mission is to increase the quality and enjoyment of life for pets through nutrition-based food.
"I have always approached making any pet food that comes out of our plant one that increases the quality of life of the pet by making food they can enjoy," co-owner Joel Sher says. "I like to see that when you place food into the dog's bowl that he goes straight to it, enjoys it and there are nutritional benefits that come with using fresh ingredients.
"That is Evanger's focus with this line of products for the Dog Whisperer – using the best possible ingredients and raw materials," he continues. "Making a product they can enjoy is really the whole thrust of the pet food industry at this time. We like to promote the canned food over the dry or to promote using those in conjunction together."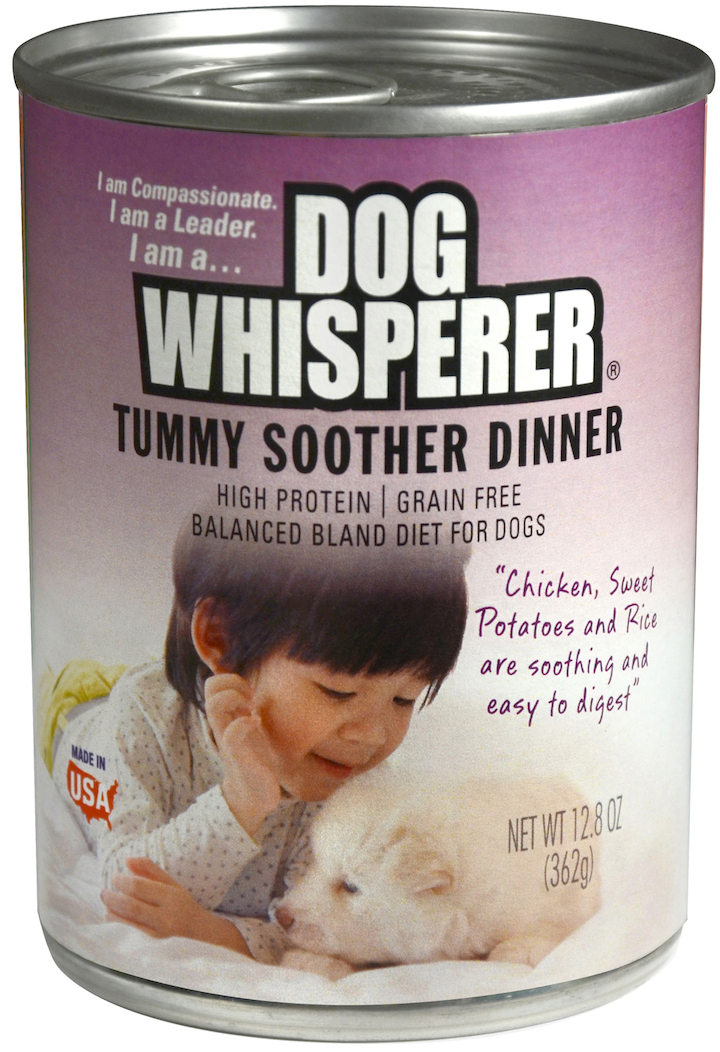 Evanger's is a boutique line whereas Dog Whisperer is more universal, so the partnership provides Evanger's with a more encompassing market.
"Working with AAL has been wonderful," co-owner Holly Sher says. "Working directly with us, the manufacturer, you can be more innovative and work directly with the product on the floor, using all your senses to make sure the product is just right."
Unitrex Ltd. will be manufacturing a robust line of Dog Whisperer nebulizers, diffusers and room refreshers. Its Dog Whisperer collection includes 100 percent pure essential oils, whimsical diffusers, CBD oil and other air care solutions to keep a space smelling fresh. "Some of the safest essential oils to use with dogs are also some of the most beneficial," the company says. "These include lavender, chamomile, thyme, spearmint, peppermint, cardamom, cedar, lemongrass, eucalyptus, frankincense and clary sage."
Unitrex hand-selected essential oils and formulated therapeutic blends to diffuse around your dog to help better their behavior and comfort. The blends are available in a 3-pack of 10 milliliter bottles or individually in 30 milliliter bottles. Although its essential oils can be used in any diffuser, the company knows how important doggy-decor can be as pet lovers themselves. Which is why Unitrex designed two brand new diffusers for the dog lover in everyone.
PureBreathe is a sleek ultrasonic diffuser that lets out a powerful stream of mist. Color changing lights shine through a parade of paw prints and will keep you and your fur baby mesmerized. Zephyr is the second diffuser and has even more versatile use. It features wireless, battery-powered operation and waterless design. The high-powered fan distributes essential oil vapors virtually anywhere you want and is easy to transport from room to room. "We have seen an amazing reaction from retailers, and not just pet retailers but retailers like Bed Bath & Beyond," Gottsegen explains. "We have gone beyond pet specialty and have found partners that are embracing the pet zeitgeist and elevating products to the next level by bringing them to home and fashion retailers."
Chicken Soup for the Soul Pet Food
AAL has recently started representing and consulting with Chicken Soup for the Soul for a line of new branded pet products. The company will license a comprehensive new portfolio of pet products related to the brand, which has been providing wholesome, healthy pet food for more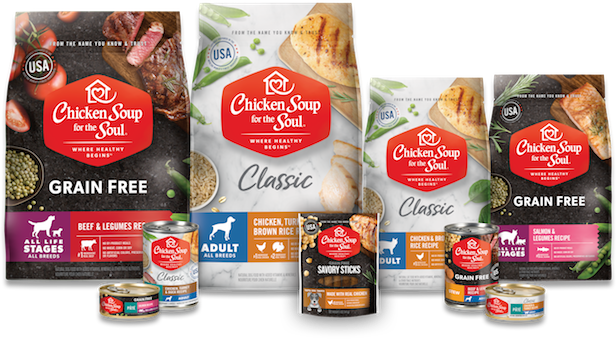 than 15 years. "Chicken Soup for the Soul pet food is a well-established pet food brand in the specialty markets that brought our agency on to expand the brand into CBD, pet accessories, treats and snacks," Rothwell says.
"We are thrilled to be working with All American Licensing," Chicken Soup for the Soul CEO Chris Mitchell says. "The expertise they have within the pet industry and their understanding of our brand make for a great partnership. We have been interested in expanding our offerings within the pet space and building on our successful dog and cat food products for a while. Through our new partnership with AAL, we will provide even more quality products for pets."
Feeding Millions of Dogs
When any DOG For DOG product is purchased, the company donates food to a dog in need. This corporate philosophy is emblazoned on all its products: "You Buy, We Donate, They Eat."
DOG For DOG's donation program works with local shelters in North America as well as with national organizations like Best Friends Animal Society.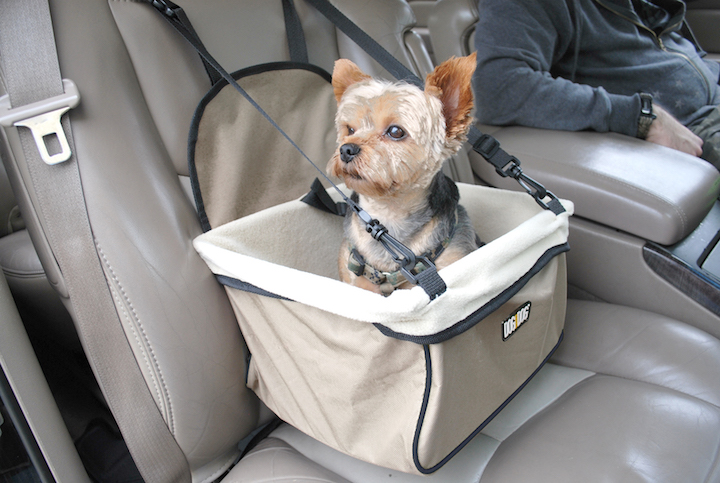 "DOG For DOG is a charitable brand that we love as it provides significant meals to pet shelters and completely embraces a philanthropic mission", Gottsegen says. "There is also a celebrity endorsed angle with the brand as its ambassadors range from Michael Bublé, Snoop Dogg, Chelsea Handler to athletes like Amar'e Stoudemire to name a few celebrity dog owners associated with the brand."
About four million dogs are euthanized in the United States every year and primarily because shelters can't afford to feed them.
"The concept was to end euthanasia in the United States by creating the highest-quality food with nutritionists and veterinarians that would extend the dog's health and life," DOG For DOG COO John Flock says. "We operate on a model where for every DOG For DOG item we sell, we donate food to local shelters across North America."
DOG For DOG has more than 20 different products that contribute to the health of dogs. Some of the company's products include DOGSTREAT, DOGSFOOD, DOGSBUTTER and DOGSBAR. "Our dog food and treats are high enough quality for humans to eat," Flock says. "The DOGSBAR, for example, is ideal for malnourished dogs and gives them a lot of critical vitamins and minerals. It is a 100 percent natural peanut butter nutrition bar for dogs but healthy enough for humans to eat."
DOG For DOG has signed new licensees, all have adopted the altruistic mission of the brand and are focused on making the lives of pets better; they are the GMason Group, for a comprehensive line of pet accessory products; Tzumi Pets, will continue to market a robust assortment of quality, nutritional dog food and treats; and JCV Group that will focus on health and wellness. In the future, DOG For DOG expects to expand the company beyond helping dogs with its CAT For CAT brand.
Into the Wild
Dr. Gabby Wild is a veterinarian who travels the world to provide high-quality, gratis veterinary medicine, to wildlife animal rescues, NGO's and National Parks in need. Her focus is on preserving, protecting and conserving domesticated, critically endangered and threatened species and their natural habitats and ecosystems.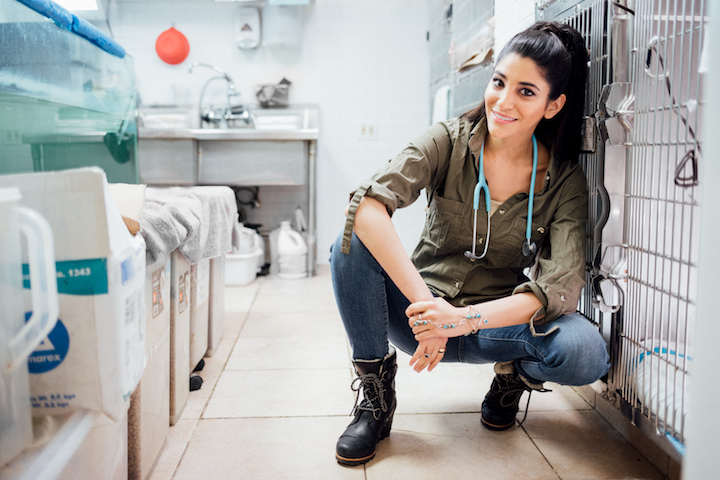 Dr. Wild is the only human in National Geographic's, Animal Jam, one of the fastest-growing online children's properties in the world. With 160 million registered players, Animal Jam avatars go to the Gabby Wild clinic.
"She's an up-and-comer, highly educated veterinarian and fashionista with a real passion for helping endangered species," Rothwell says.
European Home Designs has created a line of sustainable dog products that will keep pets entertained and educate people about which species are endangered. The Gabby Wild Foundation will donate proceeds from this product line to conservation and education campaigns in protection of the world's most endangered species.
The Future of Pets
As the pet industry continues to grow, especially as millennial and generation Z consumers embrace pet ownership and pet lifestyles, there will be a greater emphasis on retailers and manufacturers alike to meet the cultural, health, palliative and technological needs that affect what consumers want when they own pets.
AAL hopes that these future pet owners will be better equipped to understand these needs, and their relationship between them and their cherished family members will become better off, too.