That open phone policy is one way that the 650 employees at AllCare know they are valued. "It is important to me that everyone who works for AllCare feels valued because they are an integral part of our success," he says.
And being valued is important for retaining and recruiting quality employees. "We have a really good work environment," Malone says. "Our people are happy and know they have someone who cares for them."
Malone's philosophy of valuing people seems to work as AllCare has employees who have been with the company more than 30 years.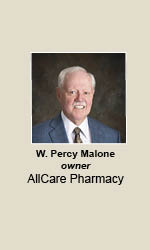 AllCare has 23 pharmacies which are a mix of retail pharmacies and institutional pharmacies. Those closed-door pharmacies its institutional pharmacies take care of patients in nursing homes, assisted living facilities and correctional facilities.
Soda Jerk to Pharmacist
Malone grew up in Rosedale, a small town in the Mississippi Delta. In sixth grade while working as a soda jerk in a local pharmacy, he decided to become a pharmacist. He earned a bachelor's degree at Delta State University before going to pharmacy school at the University of Mississippi. In 1965, he moved to Arkadelphia, Ark., where he met a soon-to-retire pharmacist who was seeking someone to take over his business.
Malone started AllCare Pharmacy in 1975 with a typewriter, a No. 2 pencil and a pad. By the mid 1990s he developed his own pharmacy computer systems to fill and track prescriptions. That was particularly important for serving correctional institutions and nursing homes. Malone says. "[Electronic records] is a way to get us healthier and to cut healthcare costs," Malone says.
In 1980, Malone decided to provide pharmaceutical services to nursing homes. That required have a pharmacist available after hours and on weekends.
Changing Landscape
Being a pharmacist has changed since Malone earned his pharmacy degree at the University of Mississippi in 1965. "When I started, people walked into the pharmacy and paid for the medicine and, at the end of the year, got a profile [of what they bought] and turned it into the insurance company to get reimbursed," Malone recalls. "Today, 95 percent of people have an [insurance] care in their billfold third parties control co-pays and reimbursements."
Malone served as an Arkansas legislature – first as a representative and later, as a senator – for 18 years. He still sometimes sounds like an elected official, interested less in how public policy impacts his own business and more about what it means to the wider community.
Asked about competition in his industry, he replies that for independent, community-owned pharmacies are vanishing. "Every year there are fewer community retail pharmacies in America and Arkansas," he says. "Rural America is suffering because smaller-town pharmacists cannot operate off a small reimbursement."
Malone is referring to the reimbursement from Medicare Part D. Pharmacy benefit managers, who are third-party administrators, negotiate rebates from pharmaceutical manufacturers and then keep the rebates, he explains. "A good portion of the amount paid for medications is siphoned off to PBM's and other intermediaries which reduces the reimbursement for the local pharmacy." Malone says. "It's killing small independent pharmacies."
Helping People
When it comes to marketing, AllCare's approach is to be active in the community. "If I were selling apples or beer and said I have a half-price sale, the pharmacy would get overrun," Malone says. "If I put out an ad about how well we will take care of you when you need a pharmacy, you're not going to run out and get a prescription. We just keep doing good things in the communities and being part of the communities."
"Hopefully when a person does need medicine," Malone continues, "they will say [AllCare] helped with fixing the gym or building a football field or protecting our children – I think I will buy from him so he can help our communities."
That attitude can be encompassed in what might be Malone's favorite saying. "We don't make money in pharmacy trying to make money," he says. "We make money taking care of people."
That belief in helping others extends to his life outside AllCare. In January, Malone endowed a new scholarship at the University of Mississippi School of Pharmacy with a $100,000 gift. It's for full time students in the Delta-region of Mississippi or Arkansas who demonstrate financial need. First preference will be given to nontraditional students followed by those who contribute to the diversity of the student population.
With his wife, Donna, Malone helped expand the Children's Advocacy Centers of Arkansas, which help abused and neglected children. In 2010, the Children's Advocacy Centers honored him with the first-ever Percy Malone Child Protection Award.