Allegiance Retail Services
Allegiance Retail Services provides family owned supermarkets with what they need to remain competitive and successful.
By Chris Petersen
For more than 50 years, family owned supermarkets throughout New York, New Jersey and Pennsylvania have counted on the support of the Foodtown Co-Op, and the more recently (2012) formed Allegiance Retail Services. One of the largest retailer-owned co-ops in the region, Allegiance serves 24 members with nearly 100 locations combined. President and COO John Derderian says the co-op has been a stalwart supporter of independent supermarkets throughout its history, and it continues to find new ways to help its members compete in an increasingly crowded marketplace.
With pressures coming from big-box department stores, online retailers and specialty grocers in addition to the traditional chain supermarkets, family owned supermarkets need a support system now more than ever. Allegiance aims to continue being that support system for its current members and new members for a long time to come.
Headquartered in Iselin, N.J., Allegiance offers its members all of the benefits that come with co-op membership, such as increased buying power, marketing resources and technological support. The co-op works with some of the leading suppliers in the area to provide members with access to a wide variety of products at competitive pricing. Allegiance also offers its members more than 1,000 unique SKUs under the respected Foodtown brand.
Even though the competition is strong, Derderian says the services provided by Allegiance are helping independent supermarkets hold their own and serve their communities. As the co-op continues to grow, Derderian says the core values of Allegiance will continue to be the driving force for its success and the success of its members. "We have a commitment to servicing neighborhoods," he says.
Understanding the Marketplace
Allegiance provides its members with extensive support ranging from advertising and marketing to IT and POS support. Nevertheless, Derderian says, the single biggest element to the co-op's success is the hard work and dedication of its members as they work to serve their communities everyday. "The strength of our co-op is that each store is member-owned and they really dig in and understand the needs of their neighborhoods," he says. "We give them our programs, they know what the neighborhoods are comprised of from a demographic standpoint and they try to service that."
Allegiance's members belong to two distinct categories, urban and suburban, with their own distinct identities and needs. Serving members through this bifurcated model means Allegiance has the diversity and flexibility to serve just about any type of member supermarket, but Derderian says it also means Allegiance faces distinct challenges every day. "The very thing that makes us successful presents some challenges," he says. "It's a challenge to merchandise and market to those two types of store classes week in and week out."
Fortunately for Allegiance and its members, the co-op's flexible model makes it possible for members to receive the exact level of support they need regardless of their customers' needs. Where many co-ops provide their members with the same marketing or merchandising program across the board, Allegiance understands that its members can't do right by their customers with a one-size-fits-all approach.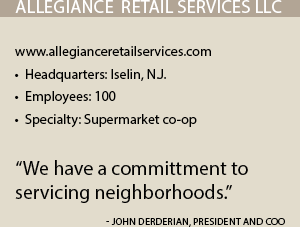 Intelligent Expansion
Allegiance continues to strengthen its ability to serve its members, and Derderian says one of the most important ways in which it is doing that is through expansion. "We're growing quite a bit, and that helps the co-op in terms of leverage and scaling," Derderian says.
Rather than growing for the sake of getting bigger, however, Allegiance is focused on intelligent and measured growth that ensures the co-op continues to serve the needs of its existing members just as well as before while also taking on new members. Derderian says that getting bigger does nothing to serve the co-op if that means the co-op loses its focus on its mission. "We can't focus all of our efforts on growth," he says.
Allegiance also is focused on ramping up its investment in IT to better serve its members, and the co-op recently started utilizing platforms including price optimization software from Revionics to provide its members with more accuracy and efficiency. "Every one of these new platforms is going to help our membership and our merchants to do the job better," Derderian says.
Anticipating Growth
Allegiance made a major acquisition recently when it purchased assets from the A&P Supermarkets chain, which filed for bankruptcy in 2015. Derderian says Allegiance purchased the Pathmark brand as well as the Greenway brand. Greenway is a private label brand for natural and organic foods, which Derderian says gives Allegiance a ready-made presence in the growing natural and organic segments. "We think it's a real opportunity for customers who are currently priced out of the natural/organic market," he says.
Adding capabilities in the natural and organic segments will be important for Allegiance in the future as its members work to attract millennial shoppers. No matter how the demographics of their customers change in the near future, Allegiance will continue to focus on doing everything it can for its members, and Derderian expects continued success in the future. "I see some additional growth from a new member standpoint and within our existing membership," he says.