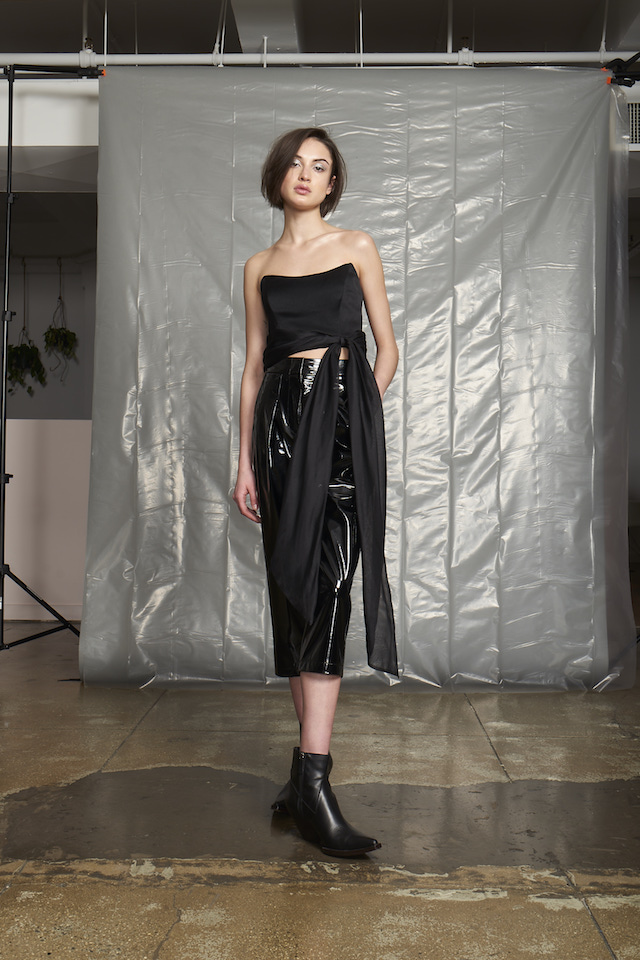 Allen Schwartz has moved away from department stores and towards e-commerce and domestic and international specialty retailers.
By Alan Dorich, Senior Editor at Knighthouse Media
For Allen Schwartz, the step to take his namesake fashion brand out of department stores was not a gamble, but instead a simple decision. "I'd like to think of myself as a visionary and a risk taker, [but] I don't even think of it as risky, it's the only way to grow going forward," he says.
Schwartz explains that the choice seemed like it would give him more control over the image of his product. When department stores put items on sale, "It devalues the brand," he explains. "By putting it on sale in three or four weeks, it causes the brand to lose its value as well as the e-commerce and license businesses."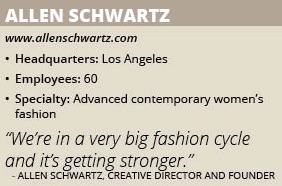 Schwartz's Los Angeles-based company specializes in advanced contemporary fashion that is sold via e-commerce and in specialty boutiques. A longtime veteran of the fashion industry, he started the firm in 1982, after moving to California.
Previously, Schwartz had spent 13 years working in his native state of New York. Although he continues to travel back and forth between both coasts, he explains that the Golden State provided him with an environment that allowed him to be more creative and cope with fewer disruptions than he experienced in the Big Apple.
"I love New York, but I found that half the day would be wasted on unproductive time," he recalls. "I can get to work here at 7:30 in the morning and everyone that's working here is working towards the same goal, [which is] to be creative."
This includes his entire staff, which ranges from sewers to pattern makers. "We're all moving in the same direction and we're not talking about whatever you talk about all morning in New York," he says. "Once you're in here, you're in here and there's no reason to meet someone on 52nd street."
He also is proud of how the company has based its manufacturing in Los Angeles. "Being made in the USA, I have to ability to be quick to adjust to a trend," he says.
Some trends that Schwartz is seeing include a resurgence of cropped trousers, blouses and wide-length pants. "We're in a very big fashion cycle and it's getting stronger," he says.
Fitting In
It has been one year since Schwartz made the decision to move his brand away from department stores. "People can't believe we don't sell department stores," he admits.
He stands by the decision. "It's just something that we don't want to do," Schwartz says. "We don't want to dilute the brand; we want to curate the brand through the e-commerce opportunity. You can't do that and sell to department stores simultaneously."
Allen Schwartz also has been careful in choosing which specialty boutiques sell its products. The company will look at "signals that our brand wouldn't fit in there or wouldn't fit into another store," Schwartz says.
Some indicators include the brands that the retailers already carry. "If they carry more lower-end, moderately priced goods, it wouldn't be the right fit for us," he admits. "If it carries other brands that we position ourselves to be with, we know that would be good."
Allen Schwartz has targeted selected boutiques across the world, "from Asia to right here in L.A.," he says, noting that this has been done through the help of representatives and distributors in Europe and Asia, as well as the company's own sales staff in the United States.
For example, "We want to sell [at] The Tannery in Boston," he says, noting that other retailers that it is targeting include Zalando, based in Germany, and INTERMIX, which has locations in the United States and Canada. "There's all types of places."
Making Changes
Allen Schwartz keeps its headquarters in Los Angeles, but its main marketing office for selling merchandise is New York City. The location, Schwartz notes, recently underwent an extensive renovation.
"Our old sales office was totally torn apart," he recalls. "We brought in beautiful, vintage Italian furniture that was all restored from the early '70s."
The location also features very open spaces with natural lighting. "That was done within the last 15 months," Schwartz says.
Other changes for the company include growing its licensing programs. Allen Schwartz has hosiery, lingerie, luggage, watch and jewelry licenses, and is currently working on active wear, footwear and casual menswear opportunities. "There's always a licensee for us," he says.
Allen Schwartz also plans to streamline its operations. "There's a restructuring in my mind," he says, noting that this may involve converting to smaller capsule collections that are delivered on a monthly basis.
He also plans to extend the e-commerce side through more advertising, collaboration or "anything that has to do with getting more eyeballs on the website," he says. "That looks like something we're going to spend more money on."
Hands-On
Schwartz is proud of the tenure of the core people at his company, which ranges from the newly employed to those that have been with the company for 30 years. "In a business that has a lot of fluctuation, I think they trust me to do the best that I can do," he says. "They also have a really nice work environment."
Like Schwartz, employees at the firm wear many hats. "I'm very proud of that," he says. "This is not the kind of company for delegators. It's a company for doers."
Those "doers" include Public Relations Director Maggie Faigen, who also assists with the company's e-commerce and accompanies Schwartz on shopping trips. "She'll come to New York and see how the sales team works to get inspiration," he describes.
Several associates also assist Faigen with the digital side. "A lot of people do a lot of things," Schwartz says. "I believe in less people and more productivity."
Allen Schwartz plans to grow further into international commerce, as well as domestically. But through it all, the company will maintain its personal touch, he asserts.
"When people call and speak to me, they'll say, 'Is this really you?'" he says. "With other companies, they've got to go through three other people. Everything in this company has a hands-on mentality."