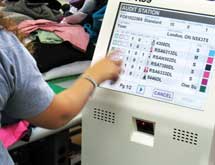 By introducing eight regionalized Web sites for its international customer base, this company has become an innovative e-commerce leader. When Dov Charney founded American Apparel in 1997, he concentrated exclusively on growing the business through a wholesale platform. Since going public in 2007, the organization has proven to be a top competitor in the direct-to-consumer market as well.
Today, American Apparel has operations in 19 countries across the world, but the company's transition into the direct-to-consumer market hasn't followed a traditional path. In late 2003, the company embarked on a mission to develop its retail leg, opening a handful of retail locations in the US and establishing an online store.
Raz Schionning, the company's Web director, was brought in to help facilitate and direct growth. Now, American Apparel has retail locations in nearly every US city, but Schionning said it was apparent from early on that the company's Web site would be its most successful retail channel. This realization has helped the organization become an innovative e-commerce leader. Last year, its direct-to-consumer e-commerce channel grew by 55%, and international sales were up 84% from the year before.
When Schionning joined American Apparel in 2004, the company had a single online store, which primarily served the US market. After recognizing potential growth opportunities in several markets, including Canada, the United Kingdom, Europe, and Asia, Schionning and his team developed and launched seven additional Web stores to serve specific regions of the world.
"The online store was really our first attempt at global direct-to-consumer sales," Schionning said. "When I started, the company only had four or five retail locations. Our Web site was quite rudimentary, but it generated surprising revenue and showed amazing potential."
Although the original Web store was accessible to individuals across the world, the introduction of regionalized sites caused American Apparel's international business to soar. The regional online stores provide foreign customers with a shopping experience tailored specifically to the needs of their corresponding market.
An obvious example of localization is language; the company's Japanese site, for example, is written in Japanese. But Schionning said many other aspects of the user experience were considered when he and his team developed the regionalized sites.
"Many online merchants don't fully understand how much of a hassle it is for overseas customers to place orders on US sites," he said. "It's not just about language; people in a lot of countries speak or understand English. It's about payment methods, currency conversion, shipping, tariffs, and customs regulations, just to name a few barriers."
All aspects of Web operation are managed from the company's Los Angeles headquarters, where native speakers localize the content and manage region-specific promotions and campaigns for each site. The centralized method allows the company to leverage common tools, assets, and product data to increase efficiency and streamline products' time-to-market.
A customer-friendly experience
Recently, American Apparel has done two things to make its Web stores more customer-centric. First and foremost, the company's team has focused on enhancing the consumer experience by making it easier for individuals to differentiate between products and, ultimately, decide which product best suites them.
The company's product offering is vast, but many of its products seem similar upon first glance. The Web stores offer several styles of T-shirts, for example, and each style has a slightly different cut, which gives it a unique fit. This attention to detail is what has made American Apparel successful, but the breadth of the company's product base has proven to be somewhat of a challenge for online shoppers who can't try on and feel the product.
"We knew we had to develop a way to help customers more easily decide which products are right for them," Schionning said. As a result, the company's Web team recently introduced a new front-end interface that allows customers to conduct a search according to the color, fabric, or style of fit they're looking for.
Additionally, the team developed a customer review feature that allows individuals to rate specific products on a one- to five-star basis and write detailed product reviews. According to Schionning, the feature has proven to be an extremely beneficial addition to the online shopping experience.
"The ratings and reviews option surprised us all in a good way," he said. "We introduced that a little over a year ago, and we've already collected more than 80,000 product reviews. We're giving customers the ability to help other customers differentiate between products and discuss both the positive and negative aspects of each item."
The most efficient method
American Apparel is one of the strongest e-commerce merchants in today's market, but the development of its online direct-to-consumer channel proved challenging at times. Schionning said the transformation was an adaptive process. "How we initially thought we were going to do it is different from how we actually did it, and that is different from the direction in which we plan to take it in the future," he explained.
Initially, the team at American Apparel planned to have distribution centers at key locations throughout the world to support the regional Web stores, but soon after the idea was introduced, it became apparent that stocking 30,000 SKUs at multiple locations was an inefficient way to conduct business. Schionning described the initial plan as a "logistical quagmire."
A second idea—fulfilling Web orders through the back stock of retail locations—also proved inefficient; the e-commerce business grew, and, before long, the demand for online orders were picking the retail stores' shelves bare.
Ultimately, the company's team decided to use its central warehouse in Los Angeles to fulfill orders from all of its Web sites. "This has proven to be the best method," Schionning said.
"When a customer in the UK places an order on the UK site, our team will pick and pack that order the same day, and within 48 hours, it will be put into a local delivery stream in that country," he added. "We preserve the customer's satisfaction by giving them a localized e-commerce experience, and we leverage the efficiency of our existing warehouse infrastructure and shipping system."