Amerlux Unveils Cylindrix IV Vertical LED Accent Track Head as Energy Efficient Replacement for Metal Halide Lighting Fixtures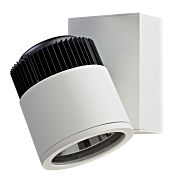 April 22, 2013 – Offering a high-power track head for accent and display lighting in big box retail, supermarket and commercial buildings with high ceilings, Amerlux, a worldwide leader of retail and commercial lighting solutions, introduces the new Cylindrix IV LED Accent Track Head as an ideal replacement for 70-watt metal halide fixtures.
The 66-watt Cylindrix IV track head is actively cooled and produces nearly 3500 delivered/maintained lumens with 16,308 center beam candlepower (CBCP), 50,000 hours of life (>70% of initial lumens @ 50,000), making it an ideal replacement for the 70 watt (78-system watts) metal halide fixtures. Available in a wide variety of beams: Narrow Flood (22-degree), Flood (30-degree) and Wide Flood (40-degree) for various in-store applications. Three Correlated Color Temperatures (CCTs) are offered: 2700K and 4000K with an 80 color rendering index (CRI), and 3000K with a 90+ CRI.
"Our Cylindrix IV LED is engineered for today's stringent energy codes and ideal for any retail or commercial environment that could benefit from the aesthetic appeal of a clean ceiling and the cost-efficiencies of sustainable, versatile lighting solutions," according to Amerlux CEO and President Chuck Campagna. "This new generation offers a lower wattage, high lumen delivery solution with various beam distributions, color temperatures and other accessory options. The fixture is ideal for higher mounting heights and capable of punching through ambient light to highlight retail displays."
A deeply recessed 66w LED is used for enhanced visual comfort and control, as well as an integrated heat sink with active cooling, a control board that shuts off the active cooling when it's not needed to maximize energy savings, and high performance interchangeable reflector optics that can be replaced tool-free in the field.
The Cylindrix IV LED luminaire can be track or surface canopy mounted with "non slip aiming" for a vibration proof, secure fit. The fixture is designed with a vertical tilt (0 to 90 degrees) and 360-degree rotation, to allow for precise aiming. The track head can also be mounted to a track or busway and operates on one-, two- and three-circuit 120-277 volt systems.
Cylindrix IV LED accepts a broad range of lighting control accessories, including a snoot, linear spread lens, hexcell louver and cross blade.
White Texture, Black Texture and Silver Texture finishes are standard, but custom color options include over 200 durable powder coat painted finishes from the extensive Amerlux palette, to complement nearly any design scheme.
The luminaire is UL and CUL listed and backed by Amerlux's unprecedented 10-year product warranty.