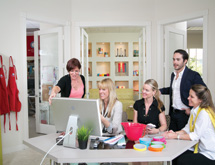 Innovation and good fortune can help any business get off to a good start. Such is the legacy of Architec Housewares, a growing designer, manufacturer and distributor of an array of unique housewares.
Architec Housewares is the housewares division of its family-owned parent company, Alice Ink, spearheaded by CEO Kathy Sellers. The company also owns Plastec Lawn and Garden run by Sellers' sister Susan Yeager who serves as president. Architec, which is led by Sellers' daughter Jenna Sellers Miller as president and Erin Yergens as operations manager, has seen steady growth since it devised a cutting board with a non-slip surface known as The Gripper. It is now seeing additional opportunities arise.
Opportunity Knocks
Created in 2000, Architec's origins are somewhat serendipitous. When Plastec attempted to create a coaster-esque product for use with vases, the company found that the backing could have an application on the back of a cutting board. This led to the creation of The Gripper, and Architec has evolved from there.
"It proved to be challenging to merge the backing with the cutting board, and we had a lot of engineering to work out," Miller says. "But eventually we came up with The Gripper and offered it in multiple colors and sizes, and they sold well from the start."
As the company went about trying to expand The Gripper's reach, it found that many retailers were carrying only a few SKUs of cutting boards. These few SKUs had few texture and color variations. Architec's new concept and diverse colors allowed the company to make The Gripper a sought-after item.
Architec's products can be found on the shelves of many major retailers, like Bed Bath & Beyond, Crate & Barrel, Target, Bloomingdales and Macy's, as well as in smaller independent specialty stores. In addition, the company has grown its online presence with brick-and-mortar stores and companies like Amazon, and it has developed it own e-commerce sites for wholesale and consumer purchases.
"We have long-term relationships with customers that provide us with feedback so we can tailor products based on the consumers' demands," Miller says. "We've been really fortunate that we haven't had to push branding as much as others do because we are seen as a boutique brand. And we've been working to catch up online with our retailers' sites, our own site, flash sites and social media."
Innovative Spirit
One of the elements of The Gripper that illustrates the way Architec attempts to be innovative is the fact that it is a simple adaptation of an existing product. The company has no internal engineering capabilities. It does its own product design, but Architec conducts its engineering in concert with its manufacturing partners in the United States, China and India.
"Most of the factories we work with have worked with us since our beginning," Miller says. "The small engineering needs we have are fulfilled by the factories after we design how we want the product to look and work. Many companies spend a lot of money on engineering, and we don't have to do that."
This has helped the company develop products that have a long lifespan and are simple to use. This includes products like its Recipe Rock for holding recipes. In addition, it developed its EcoSmart product line, its fastest-growing product segment.
The company has been working on its EcoSmart collection since developing the concept in 2005. It is a line of housewares with attractive designs and manufactured with materials such as recycled plastic and flax husk.
"The additives in the products are ecofriendly because they use recycled plastics and leftovers from food processing," Miller says. "Often, those materials were burned. Now we work with flax and coco farms to take their excess material and add it to plastic. The process makes the product look very nice and [has] a natural appeal."
Architec will continue to work on ways to build its brand recognition in the cutting board category while also expanding its branded and private-label products in other market segments. The company has been able to grow because it was able to identify voids in the marketplace and devise products that could fill gaps. With innovative products like The Gripper and the EcoSmart product line in its portfolio, Architec has every right to be optimistic about the future.
One of the company's goals is to grow its percentage of domestically produced product. In fact, its EcoSmart line has helped the company grow from three percent made in the USA to 33 percent. Architec's goal is to grow to 50 percent made in USA by 2014. Among its products in the pipeline are the Polyflax Serving Bowl and Serving Spoons, the GoodGranite Cutting Board, The Purelast Measuring Spoons and Cups and The Stackable Appetizer Maker.
"We know we have the potential to keep growing, but we must do so at a rate that allows us to keep our retail channels happy," Miller says. "We will continue to make products that are simple for the user."