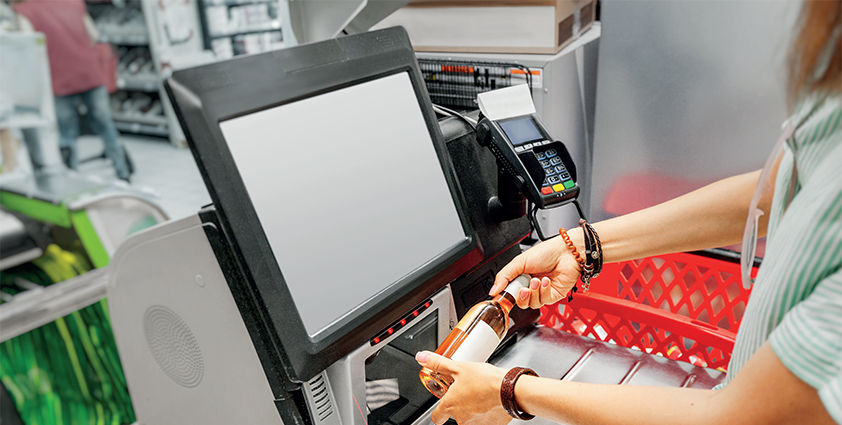 Most shoppers view convenience and efficiency as staples of the shopping experience, especially since the pandemic changed many of our shopping behaviors. When brick-and mortar stores shuttered or reduced hours, customers turned to online channels and eCommerce for groceries, housewares, fashion and more. The ability to create the experience shoppers want is easy online – but in-store, customers are now looking for a similar experience.
From employing kiosks and price checkers to self-checkout payments systems to meet health and safety concerns to implementing omnichannel solutions like buy online, pick up in-store (BOPIS), retailers are starting to bridge the gap between the brick-and-mortar and eCommerce experience, helping meet new customer demands.
This need for self-service in brick-and-mortar has transformed into a new normal. In other words, the digital transformation that retailers started to make during the pandemic is here to stay. And as retailers continue to improve the in-store experience and work to create omnichannel sales options, leaders are focusing more on the benefits of self-service instead of questioning which technology to choose.
Here are three considerations retailers should focus on when deploying self-service in retail environments.
Deploy for your customer and your brand
Customers want a modern, self-service payment and checkout experience. Most have gotten comfortable with – and even prefer – a cashier-less experience. To stay abreast of these changes, it is important for retailers to plan and deploy self-service options accordingly.
However, self-service systems and checkouts are not a one-size-fits-all solution. A solution that might work well for a home improvement retailer might not fit the bill for a business that sells high-end handbags. When implementing self-service, it is essential for retailers to think about their own customers' shopping journeys. For example, does a traditional self-checkout lane suffice, or would customers benefit from a self-service payment option elsewhere within the store to help create a more streamlined experience? Perhaps a convertible lane that offers convenient tap-to-pay options while also providing a stationary POS checkout system could be the line-busting solution to an otherwise negative experience at checkout.
Additionally, every customer journey should be effortless and feel like it matches your brand whether online or in the store. When self-checkout systems first hit the market, retailers had minimal options. Initially, self-checkout systems came as expensive, one-solution machines that had little to no effect on the customer shopping journey. They didn't integrate well into store layouts or match individual store brands.
However, self-service has caught up to what retail (and consumers) envisioned it to be. Today, self-checkout systems can be purchased as modular, dynamic solutions that can fit into any store format and be highly customized and branded to meet the needs of any store brands and its customers.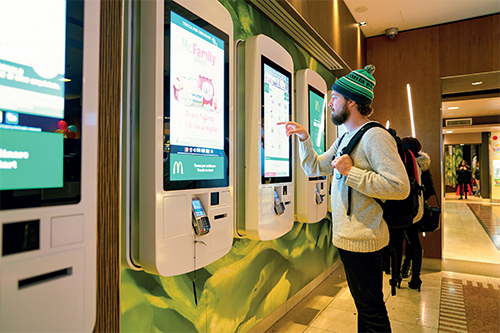 From customizing the self-checkout fixture with branded colors to ensuring the interface is identical on all shopper-facing systems, kiosks, smart lockers, etc., having a cohesive brand helps enhance the shopping experience and keeps customers coming back.
Consider cash, consider the customer, consider loss prevention
Another consideration retailers should keep in mind is whether to implement a self-checkout system that has cash management capabilities or a credit/debit card-only machine. To help make this decision, think about the target customers and what the store offers. For example, a chain thrift store's customers might primarily deal with and handle cash. So, deploying a cash management system that offers both cash and card capabilities can help cater to a variety of customer needs.
However, adding a cash component to a self-checkout solution can come with its own set of challenges. Managing cash can be very labor-intensive. The machines require specialized employee training, management oversight, maintenance and extra security protocols. Because of this, some retailers opt for self-checkouts that only handle cards and have cash customers pay at traditional lanes. Or enabling just one or two self-checkouts with cash management systems can help foster customer engagement, while keeping operational costs low.
With self-checkout and cash management often comes the question of security. Today's self-service checkout solutions offer come with a variety of solutions to help prevent loss and theft. From mounted personal video monitors to providing enhanced lighting and camera options, retailers can implement a solution that fits their needs while maintaining an environment that discourages fraud or theft at the self-checkout.
Enjoy the labor savings
The rise of self-service is a benefit not exclusive to shoppers. While customers have become more comfortable with self-checkout, retailers have found that they can redeploy employees to focus on critical tasks around the store. This can range from managing inventory and preventing out-of-stocks to fulfilling online orders and working the sales floor, helping maximize productivity and efficiency.
BOPIS lockers are a great example of a self-service option that is helping mitigate the challenges of the labor shortage. Traditionally, if a customer orders something online to pick up in the store, employees would work at the customer service desk to help with the checkout process. However, smart lockers offer a secure location for online orders or high-value in-store items to be stored. Customers can easily retrieve items without the need to visit a customer service desk, which frees the attention of employees to focus on other tasks.
With the help of self-service solutions, retailers can distribute teams and labor more effectively and help employees not feel overburdened or burnt out. In other words, self-checkout systems allow retailers to shift employees from check-out to customer service roles, which can help employees build stronger relationships with customers and upsell to boost the bottom line.
Future forward
Retailers continue to deploy self-service options to keep pace with evolving customer expectations. This means, as customers continue to request more convenience, flexibility and efficiency, retailers will continue to update self-service solutions to stay modern and agile.
Today's self-service technologies and tools are likely just the first step. Eventually, retailers might move further away from manned lanes altogether, allocating employees to more skilled customer-facing roles in sales, inventory management and loss prevention.
In just a few short years, retailers are finding that self-service has finally caught up to what they hoped it could be. Although a key driver can be accredited to the pandemic, consumers have been shifting toward self-service for years. It just took a pandemic (and better technology) to offer a compelling reason to embrace it.
Brad Fick
Brad Fick is President at Direct Source. Headquartered in Minneapolis, Minnesota, Direct Source is a nationwide consultant and technology solutions provider for tier-one retail, travel and lodging industries, with a network of more than 2,500 installation specialists. Direct Source's hardware procurement, software development and deployment services are designed to help maintain a competitive edge and improve site productivity and customer service. Always vendor-neutral, the company draws upon its innovative and industry-encompassing experience to recommend technologies that help clients operate faster, smarter and more profitably.
www.directsource.com