Arlan estimates that half the homes in the neighborhood have new owners who have renovated them. "We thought it would be a great opportunity to try something a little bit new and different for us," Arlan declares. "It's going to be a fun store. There are a lot of opportunities in smaller stores."
The company plans to add 50 percent more meat in the Crestview store, 110 percent more produce and 25 percent more dairy. The flagship Seabrook store – one of 19 Arlan's Market locations around Houston and Austin– is experimenting with different categories of merchandise.
"We're already in the planning stages of adding a lot more organic and specialty foods," Arlan says. "We're going to expand the produce and add some of the supplements and different types of vitamins that health food stores have been adding. We will try to experiment with bulk that we've never done before and see if it works well for us. Maybe then we can take it to some other locations."
Acquisitions from retirement are not unusual for Arlan's Market. That was the case in 2015 when the company acquired the Harlan's group of five grocery stores. Arlan's Market – whose stores range in size from 11,000 to 39,000 square feet – is just completing the remodeling of the last of the five stores with a new deli. Besides resetting the stores, Arlan's Market usually expands departments, installs energy-efficient LED lighting and replaces freezer and refrigeration cases with more energy-efficient models. "A lot of these stores have cases that are 30 or 40 years old," Arlan notes.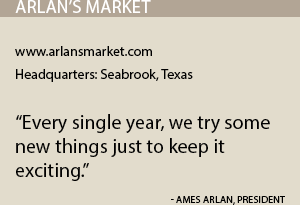 Not an Office Guy
Arlan is a hands-on manager. "I'm not much of an office guy," he concedes. "I really like to be in the store visiting with the store managers and seeing how things are going. I get stir-crazy sitting in the office – we've got good supervisors and buyers who can handle all that." Instead, he sometimes sits in the manager's station of the Seabrook store after church lets out on Sundays to visit some of his old customers who have been shopping at Arlan's Market for 25 years. "It's fun to be able to spend some time in an individual store for a couple hours," Arlan declares.
Besides long-time customers, Arlan's Market also has long-term employees. Michael Grant, vice president, has been with Arlan's Market since the company started. Bobby Lopez, the general manager in the Hill Country division, was a bagger with Arlan in high school and worked for another company for more than 30 years before joining Arlan's Market. Nick Arlan, Arlan's son, has been working for the company since he was 12. Now 34, he is the general manager of Arlan's Market Gulf Coast division and all company resets. "We've got some really good supervisors who are good with the community, employees and management," Arlan emphasizes.
Arlan's Market has approximately 650 employees. The company encourages promotion from within for promising candidates. "Most of our management has been promoted from within," Arlan maintains. But when Arlan's Market needs a fresh outlook, it is not afraid to seek that outside the company. A promising management candidate from outside the company with experience in wholesale organic food has been hired to develop that area of the Austin market.
25th Anniversary
Arlan's Market is celebrating its 25th year with special sales and a grand opening of a remodeled store. "Twenty-five years went by very fast," Arlan marvels. "It's hard to believe." Arlan has learned a lot about competitive pricing during those years.
"When we first got into business during the first two or three years, we thought we had to be the cheapest," he recalls. "But as long as you're fair with your prices, you don't have to be the cheapest guy in town if you're giving good customer service and not taking advantage of people. Convenience is value to a lot of people, and when people get off work, some of them would prefer to deal with a nice neighborhood store and not have to go through those huge stores."
Following the trends of customers is important, such as requests for more organic produce and meat. But in smaller stores, selection has to be limited to the top sellers in each category.
Smaller, family owned and managed grocery chains such as Arlan's Market have to choose their niches. "We can't be everything to everybody, and we learned that early on, but we keep trying to retool the company," Arlan insists. "Every single year, we try some new things just to keep it exciting so it doesn't get stagnant. We try to make it fun to shop, and combined with good customer service I still believe there's a market for the smaller neighborhood grocery store."