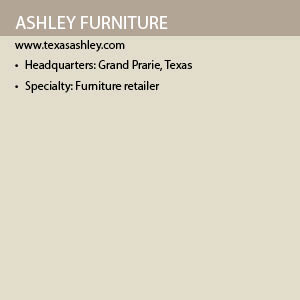 According to the company, the key to the success of its Ashley HomeStore locations has been its adherence to the principles and values of customer service that have been the hallmark of how the family has done business for more than a century. "The Levitz family tradition makes all the difference in how you are treated when you are shopping for home furnishings," the company says. "We want you to feel good about your new furniture. We want you to be proud of the way you were treated because we want you to be our customer for years to come."
Foundation of Success
The Ashley Furniture brand is one of the most successful in the industry, and the high-quality products it manufactures has been a significant aspect of the success of the Levitz family's Ashley HomeStore locations. Ashley Furniture says it always strives to be on the leading edge of the home furnishings industry. It accomplishes that through its in-house design capabilities and ability to serve the market's needs. "Ashley Furniture's in-house designers and engineers react quickly to consumer tastes, and have conquered the ability to make style and selection affordable," the company says. "Talented and ambitious, they travel the world to gain an understanding of the latest trends and discover emerging materials, constructions and technologies."
Those designs are brought to life in one of the company's strategically located manufacturing facilities, where the most modern and effective manufacturing processes are brought to bear. "Using state-of-the-art equipment – often designed and built in-house – proprietary and patented assembly methods, streamlined systems and strict quality control processes, these facilities produce more than 7,000 SKUs in over 22 product categories annually," the company says. "Within the U.S. facilities, there is an output of over 50,000 units per day, or more than 250,000 units per week."
Behind the scenes, Ashley Furniture says its supply chain is another critical element of the success of its retail locations. "In keeping with our vision to be the best furniture company, Ashley Furniture Industries pays close attention to our supply chain – the network between us and the suppliers involved in producing and distributing quality furniture to [customers]," the company explains.
"Our global supply chain blends and optimizes both domestic and foreign production efforts to the maximum benefit of our customers," it continues. "The Ashley Furniture Industries supply chain management system directs every variable that goes into making and moving product. Planned inventory levels ensure constant, timely supply of product. Our system is one of the most sophisticated, efficient, and dynamic logistics systems in the world. With it we can continue to fulfill our mission to reduce costs and provide quality products on time and at an exceptional value."
Backing up all of those internal processes is an advanced information technology infrastructure that Ashley Furniture says puts it head and shoulders above other retailers and manufacturers. "Ashley Furniture's information systems unite an expert staff with state-of-the-art technology to serve internal and external business partners 24/7 across the globe," the company says. "Ashley Furniture continues to have the most agile operations in the industry, combining a highly skilled workforce, the most advanced equipment available and incredible computer optimization to schedule our facilities for maximum speed and flexibility. Information technology has created an integrated business systems environment in support of all business functions."
With these elements in place along with the family's strength as one of the nation's most respected furniture retailers, the Levitz family looks forward to greater success in the future with its chain of Ashley HomeStore locations.