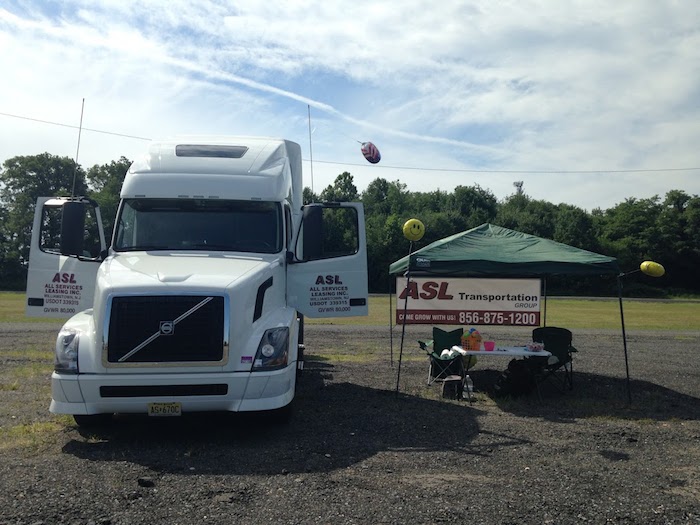 Offering a wide menu of services and supported by a first class professional team, ASL Transportation Group provides dedicated transportation, truck rental and leasing, logistical design modeling, driver leasing and fleet maintenance services to a variety of industries.
By Stephanie Crets
No matter what the industry – from arts and crafts, to ice cream cakes or even a manufacturing company – businesses need trucks to get their products to the shelves. And that's where ASL Transportation Group comes in. Most truck leasing companies don't offer additional services, so ASL Transportation wanted to become a one-stop shop, offering not only truck leasing and fleet maintenance, but also dedicated truck delivery service, regulatory and compliance services, logistical consulting and driver leasing.
"Offering non-traditional, value-added services provides us strategic advantages in the marketplace," President and CEO Jim Donnelly Jr. says. "I don't run my business based on a profit model. I run my business by striving to offer the best service and product possible, and I back that by putting the best possible team in place, and with that, profits will come. It is a model called 'good to great.' To thrive in today's competitive world, good is not enough; you need to be great."
His father founded the company in 1988 while Donnelly Jr. was working in the banking industry. He helped his father out by working on finances for ASL Transportation until he decided to work for him full-time in 1992.
Donnelly Jr.'s father had him spend a bit of time in each department to get a firm grasp on all aspects of the company, first learning the ins and outs of the maintenance facility. "It really taught me the respect level you have to give to what's being done over there," he says. "It was a very good start to learning the specifications of trucks and how they're maintained."
Donnelly Jr. spent time in sales, accounting and human resources and oversaw maintenance and sales until he took the reins as CEO and president in 2001. "If you're the son or daughter of a family company, it doesn't give you or guarantee you anything; it actually means you have to work harder," he explains. "Down the road, if you really want to stick with it and run it, don't expect anyone to hand it to you. You have to earn it. For me, owning and operating a company is fun and extremely fulfilling, but I never realized how hard you have to work to keep it moving forward."
ASL Transportation continues to grow. It has more than 600 vehicles under lease or maintenance control and hopes to add more physical locations within the next two years. ASL Transportation works with a variety of customers and companies, ranging from some that need only one truck for their operation to others that have 150 retail stores that need a full logistical design and delivery execution. Still other customers might have their own fleets and want to lease drivers from the company; while others have hundreds of trucks and allows ASL Transportation to handle the maintenance.
"I've been very happy to grow my company slowly," Donnelly Jr. says. "Controlled growth has allowed us to stay razor-focused on service level. As part of our evaluation with growth opportunities, a major factor is our absolute dedication to existing customers and ensuring that it won't impact our ability to continue offering them top-level service.
"Much of our growth has come from our existing customers growing themselves and by default, we grow with them," he continues. "We're always looking at other opportunities, but [while] making sure those we take on match up well with what we do for the new customer while never sacrificing what we do for the existing customer."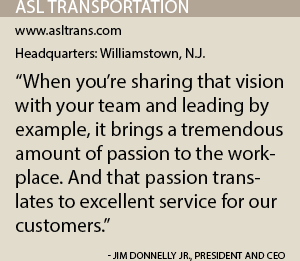 Industry Challenges
The transportation industry is rife with challenges that ASL Transportation works to overcome. These include the shortage of quality truck drivers and diesel technicians, competition in the market and higher costs for new trucks given new regulations on emission standards.
ASL Transportation's operations are conducted knowing that the driver is the most important asset to the company. It treats its drivers with respect and offers constant recognition, awards and bonuses to show how much they are appreciated, along with competitive pay and benefits. It monitors wages across the industry so it doesn't lose its best drivers.
"Truck drivers are some of the hardest-working folks in America and also underappreciated," Donnelly Jr. says. "I believe the company culture of treating everyone with respect and appreciation is why we have an extremely low turnover rate with drivers. We have one heck of a driving force here."
As an independently owned company, ASL Transportation is uniquely positioned because it competes against a lot of national companies in the New Jersey region. To combat this, the company is a member of NationaLease one of the largest truck-leasing organizations in the world. Its motto is "national connections, local ownership," which rings true for ASL Transportation. The membership gives the company a nationwide network of service providers but with a personal, local touch.
"It gives me the presence and resources of a national company, but we're finding that all of our customers totally enjoy the fact that they can call me on my cell on Sunday afternoon," Donnelly Jr. notes. "They've got the owner and a decision right away. Entrepreneurial companies have an advantage with flexible, quick decision-making. We can cover the nation as well as anyone, while still delivering the personalized service and spirit, which has been a strategic advantage and a major contribution to our success."
Passionate Team
Donnelly Jr. chalks much of ASL Transportation's success up to the people who have been at his and his father's side for years. The head of transportation, for example, has been at the company for 21 years, while the head of maintenance has been there for 15 years. With nearly zero turnover, the staff knows every last logistical detail of the companies they work with.
"I've got a hardworking, loyal, passionate team, and the feelings are contagious," Donnelly Jr. says. "I'm very passionate about my business, and I make sure there's an enjoyable work environment."
ASL Transportation hosts several meetings a year with the staff and drivers to thank them for being safe, courteous and on time for all their deliveries. With a family and team approach to everything the company does, Donnelly Jr. says that it's important for everyone to know how much ASL Transportation values and supports the drivers for what they do.
"My role is to provide vision, leadership and passion," he adds. "When you're sharing that vision with your team and leading by example, it brings a tremendous amount of passion to the workplace. And that passion translates into excellent service for our customers."