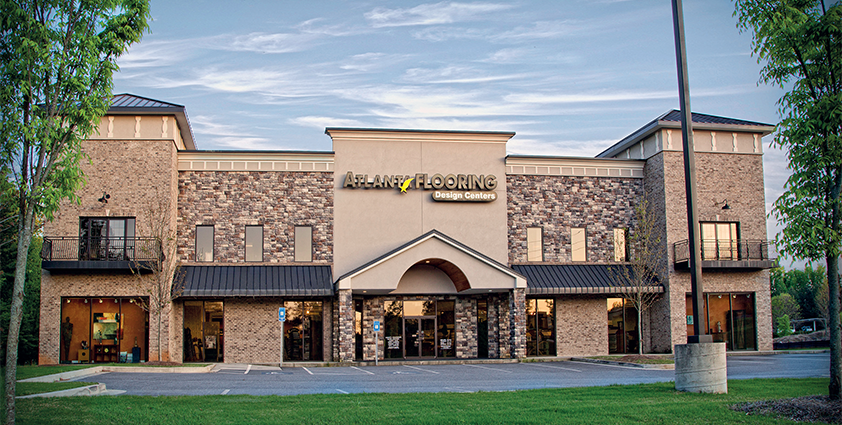 Atlanta Flooring Design Centers Inc
Built to be better
With expertise for finely crafted flooring, and a heart for contemporary creativity, Atlanta Flooring Design Centers Inc is one of the best names in the industry
From dark and rich colors, to rugged and versatile tactile, Atlanta Flooring Design Centers Inc (Atlanta Flooring) is a leading commercial and residential flooring contractor in the Southeast. As today's floor covering market becomes more competitive than ever, customers are developing even higher expectations, and Atlanta Flooring is determined to provide even greater accurate, on-time service. Its reputation with the most prominent national and regional builders helps it serve much of Georgia, North Carolina, South Carolina, Alabama, Tennessee, Florida, and surrounding states.
Established by Donny Phillips in 1985 as Atlanta Carpet, the business was built on service and relationships. From its 1000-square-foot humble beginnings in downtown Duluth, Georgia, over the next few years, locations grew, as did the number of employees. The business also began expanding into commercial and single-family home sales.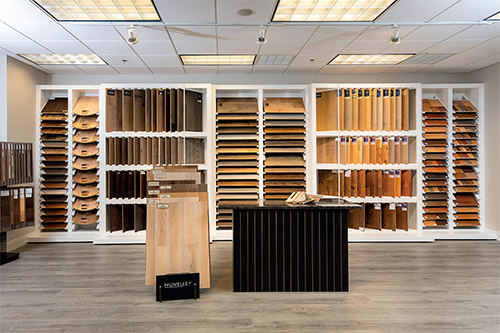 In 1997, Frank Winter partnered with Donny Phillips. Frank, who now serves as the company's Vice-President, brought a wealth of technical and operational ideas that allowed the company to move forward beyond the Gwinnett County market. In 2007, the company now known as Atlanta Flooring Design Centers moved into its new corporate location in Suwanee, Georgia. Over the next several years, the space grew to include more retail showroom space, builder facilities and an office warehouse complex. "Additionally, we added various builder selection centers in order to better serve our customers," begins Company Founder and President Donny. "Atlanta Flooring expanded across the Carolinas, Alabama, and most recently Florida, with additional retail locations in Chattanooga, Tennessee and Buford, Georgia."
Now, the company has established itself a reputation for reliability and exquisite taste. "Our professional installers are available seven days a week to complete the job correctly and on time. For projects that require special scheduling, we will work with you or your company to accommodate your project needs. With daily deliveries from our suppliers, we have the capability to ensure that your material is ordered and installed efficiently," he shares.
The company's sales and design staff stay on top of all the flooring trends, which allows the business to offer whatever fits the clients' needs, while being driven by long-standing moral values. These include listening to its customers' needs, then professionally providing service and material at a great value. "Honoring God and always treating others as we wish to be treated, is our mission statement. That includes our relationships with suppliers, by operating on mutual respect, we are able to evaluate product and work to assure the right application for the products is followed. Also, working with suppliers, we can better navigate through some of the uncertainties and challenges of the supply chains in today's times.
"Our retail, custom builder, and commercial sales and design teams work with retail customers, facilities management, assisted living facilities, end users and architects to find products to meet their respective needs and budgets. Our staff of onsite quality management professionals assure that projects go smoothly and problems are reported on the front end to avoid delays and report any concerns quickly," he highlights.
Donny then goes on to discuss a few of the business's specialisms. "At the moment, there is a return to favour laminates, which is a fascinating product development. The cycle of the flooring business to 'race to the bottom' has in many cases hurt categories that if a product has the right construction, it will perform well," he says. According to Donny, the new generation of RevWood type products are the height of today's trends and offer great value.
Keeping in tune with the topic of variety, Atlanta Flooring is also well-versed in the ways in which a home's value can be improved through flooring renovations, with hardwood being one of the top contenders. While not every room in your home needs hardwood flooring to improve in value, it does need to be consistent, as prospective homebuyers will walk away from houses with a clutter of different flooring styles, especially if they're all visible in the main areas, like the living room and halls.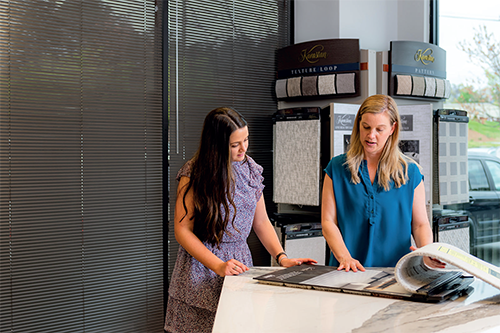 On the technology front, Atlanta Flooring is working on projects to standardize its showroom pricing based on bar coding as well as inventory management and sales processes at its outlet. "We are also updating our online presence and working for greater exposure of stocking products for online sales. Multiple locations allow inventory and selections to be available to our national partners. Our footprint also opens up opportunities with its suppliers when they need a partner who can service national accounts in multiple areas," Donny explains.
The company's relationship with suppliers gives it opportunities to partner in the development, testing and purchasing of product. "The ability to be involved in the color and construction process early on allows us the first look at the product. The interaction with our customers is also very helpful in trying to identify voids in product offerings. Where we see an opportunity, we reach out to suppliers for ideas and opportunities."
A further example of how Atlanta Flooring helps its customers is through a cabinet program that it has introduced with Cosmo Cabinets. The business recently expanded its cabinet inventory to better supply customers who had been struggling with supply issues and lack of availability. The commitment to inventory should pay huge dividends in this new opportunity.
On the people side, Donny shares that the business's success rests 100 percent on its people. "If our culture does not promote a strong desire to serve our customers, suppliers and each other, we cannot be successful. Understanding the many outstanding traits that make up the company, we work to recognize the effort they invest into their work and try to be sure that each person is placed in a position to maximize their talents. A hire for one position may find opportunity in a different area and recognizing that is a challenge, but also an opportunity for growth," he shares.
During the pandemic, this attitude towards a people-centric culture proved vital to ensure the longevity of the business. "We offered opportunities for at-home working and found some of the departments were able to thrive in this. Now, as we return to a new normal, some positions will have more flexibility moving forward, and, added to that, we found that the cash-and-carry business is an area we see strong growth in as customers have been spending more time at home."
Now, looking towards the future, Donny is excited for what lies in store for 2022. "The economy is experiencing some changes that, in the long run, could have a negative impact on certain parts of the business, which is why, overall, we are looking at business areas, such as multi-family where we have not been actively involved, as well as looking at locations that make sense to explore so we can manage our growth in a reasonable way."
Atlanta Flooring is in a solid position to move forward with promise and great potential. Despite the impressive 37 years behind it, the opportunity for another 37-year run lies in smart growth and excellent relationships. Together with its employees, customers and suppliers, Donny is adamant that the company will make fantastic growth happen, and we look forward to catching up with the business in a few years' time to see how this time enabled Atlanta Flooring to grow from strength-to-strength.
https://atlantaflooringdesign.com/