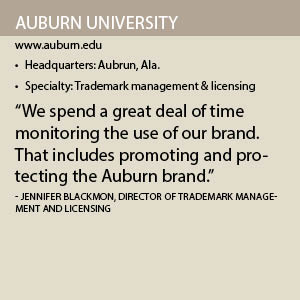 Roughly 500 companies have licensing agreements with the university. Not only can a licensing agreement generate revenue that filters back to essential university programs, but the circulation of an institution's "brand" can garner it widespread recognition and help it portray a positive public image.
"Our goal is to manage the university's brand in a number of different ways," Blackmon says. The university asks two questions when deciding if it should approve a request. They are: "How does this represent our brand" and "is there a void in the marketplace for that item?"
Protecting The Brand
Universities negotiate licensing agreements as a means to control the use of their trademarks in the marketplace. The goal is to ensure consistency and quality in the products carrying their marks. But this isn't always an easy task.
"We spend a great deal of time monitoring the use of our brand," Blackmon says. "That includes promoting and protecting the Auburn brand."
Unfortunately, they will often find a number of counterfeit products floating around. In the past, that included unapproved apparel and tailgating items with the Auburn name and logo being sold at sports games. More recently, the bigger problem is policing cyberspace.
"Most of the issues we have now are online, promoted through social media," Blackmon says. "A number of websites sell counterfeit goods."
Since academic institutions thrive on their ability to create and uphold a strong reputation, protecting their brand image is essential. Like many other universities, Auburn works with IMG College Licensing to help them with these issues.
IMG manages trademark-licensing programs for more than 200 universities and assists those institutions with brand development, management and protection related to university marks, including sports team nicknames, logos, mascots, colors and other insignia used on apparel and merchandise.
School Pride
Overflowing with enthusiasm for their alma mater, Auburn consumers buy anything from pencils and notebooks to sweaters, t-shirts, sweats, socks and even underwear that feature the Auburn brand.
While apparel is the tops-selling category, the university has licensing agreements with companies that make flags, custom floor mats, cutting boards, automotive decorations, bags, chairs, housewares and jewelry.
"We've even approved items like urns for cremation ashes," Blackmon says. "And we have a company that provides stencils of our logo so you spray paint it in your front yard."
Blackmon and Harbison, who is the manager of trademark licensing, spend a great deal of time finding out what Auburn fans want. Much of that is done through hosting focus groups and conducting in-person and online surveys.
"They want to show their passion for Auburn and our job is to help them do that," Harbison says.
Though their research, Blackmon and Harbison found that students want designs that are specific to Auburn and that express school traditions. "They want designs that set them apart from other colleges," Blackmon adds.
This year, the university started hosting a variety of events, like Auburn Family Friday, to encourage its fans to wear their gear and show their school spirit on Fridays. Through social media, Auburn gave away a car makeover. That included a variety of Auburn-themed automotive products like a flag, rearview mirror decoration, hood ornament, magnet, bumper sticker and floor mats.
"By highlighting the automotive category in this promotion, we are working to create value for our licensees and to show the Auburn consumer a unique way to express their passion," Blackmon says. "Everything we do is geared toward building the love for our brand and motivating the purchase of our brand."
Steeped in Tradition
Founded in 1856, Auburn University was first established as the East Alabama Male College. In 1872, under the Morrill Act, the school became the first land-grant college in the South and was renamed the Agricultural and Mechanical College of Alabama. In 1899, it changed its name again to the Alabama Polytechnic Institute.
In 1960 the name of the school was changed to Auburn University, a name that represents its location and expresses the varied academic programs and larger curriculum of a major university. Today, the university sits on about 1,800 acres, features 427 buildings and is home to more than 28,200 students.
Auburn's core traditions are passion and spirit. The university prides itself on being steeped in tradition. Auburn has been known as the home of the Tigers since the university first fielded a football team in 1892 to play the Georgia Bulldogs in Atlanta. Its colors are navy blue and orange.