Award-winning designer Jennifer Gilmer reveals her most memorable projects
This year will mark 25 years of Jennifer Gilmer Kitchen & Bath (Gilmer Kitchens). Launched in 1997, things started off with a boom for Jennifer and the company, as an unrivalled portfolio of work saw her sweep a host of awards at ceremonies across the industry, culminating in the receipt of the National Kitchen & Bath Association's 2009 Pinnacle of Design Award. Since then, the company has cemented its reputation for innovative, high-end, luxurious kitchen and bath designs, delivering the highest quality and exceptional service, opening a total of three showrooms since 2017 across Maryland and Virginia.
Reflecting on her journey, Jennifer notes some of the challenges in her 25 years in business. "It's hard to find the right mix of people, with the ability and talent," she insists. "It took us around 15 years to arrive at a solid core of staff, all of whom are dedicated to the business and share a single mindset about the importance of maintaining customer service. Over the years, we've also gradually improved our operations, which helped to increase revenue, that has then been reinvested back into the company effectively."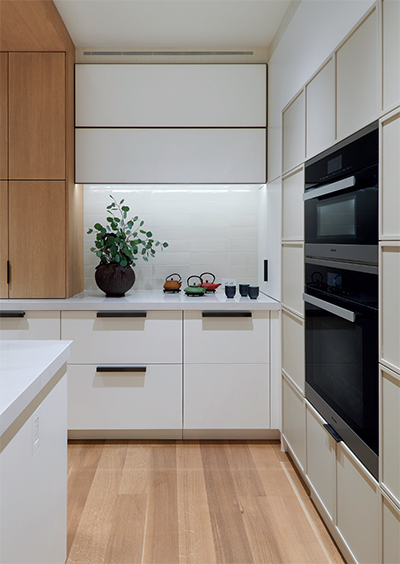 Stylish solutions Today, Gilmer Kitchens offers a range of interior products, including cabinets, countertops, backsplash tiling, plumbing fixtures, and more. "We offer our clients a complimentary initial consultation to discuss the design, from which we'll provide a rough estimate of the project's cost," Jennifer explains. "It's an opportunity for us to show them what we are capable of, and how we'll listen to their needs, and they can decide whether we'll be the ones to help bring their ideas to life. We'll then move through the design process, pricing everything up, recommending a contractor, and then we'll get to work. As part of our service, we make sure to be involved in the whole process from start to finish."
By investing in new showrooms, Gilmer Kitchens is defying a trend among many within the industry to digitize operations, as technological improvements have encouraged the use of virtual showrooms. But for Jennifer, the lure of a bricks-and-mortar store is far from dead. "People want to actually touch and feel and get a sense of what we can do for them," she insists. "They need to feel good energy from us, and the showroom is the way to convey that.
"When we design a showroom, we start from the front and work our way back," she continues. "We want to give our customers a holistic view, so all our displays are complete with their own flooring, and the relevant appliances. In the example of our Chevvy Chase showroom, we've divided it into two: a north showroom dedicated to modern and contemporary design, and a south showroom with a more traditional décor. Although it goes without saying, keeping all our showrooms updated is critical, as is being friendly to everyone who walks through the door!"
Asked to reflect on some of her standout projects over the years, two spring to mind for Jennifer. "I once had a woman come to me who had been to two other companies, and who had hired a design and build firm on retainer, but wasn't satisfied with the work they'd produced," she reveals. "She had a very unusual kitchen, split into a back kitchen and a front kitchen. It was an awkward space, with a strange shape. Previous companies had switched out the cabinets, but they'd failed to address those fundamental issues. When she came to me, I pointed out that by removing a single load bearing wall, it would transform the space. Although the expense would be somewhat significant, the benefit would well outweigh the cost, and it would help realize her dream kitchen. Once we found that the wall could in fact be removed, I worked on the design. The result was incomparable, and it really suited the client, who entertains a lot, and now has a lovely kitchen in which to do so.
"I also carried out a really unique project for a client who wanted to merge a set of two condos," she states. "The client was a collector of Japanese artifacts and other museum and gallery pieces, and they wanted their kitchen to tap into this passion. A door was removed from the back wall which also had a bump out which presented a challenge. The solution was to place their refrigerator, freezer, ovens and pantry on this wall, cladding them with door panels, so that they weren't obvious if you weren't familiar with the kitchen. Accordingly, the appliances and pantry doors all opened to touch, which eliminated any visible handles. On top of that, we added a number of Japanese touches to the design to mirror the artifacts they had throughout their home. In all, the project turned out really well."
Business is boomingThe arrival of the Covid-19 pandemic in early 2020 brought about a worrying time for many throughout the homebuilding industry, including Gilmer Kitchens. While office work moved online, the bulk of new business temporarily ground to a halt, hampered by concerns around the need for social distancing and other unprecedented health and safety measures. Soon, however, operations picked back up. "We got really comfortable working via Zoom, and suddenly found ourselves in a ton of online meetings with clients," Jennifer tells us. "To this day, people are still working at home. Each designer has a floor day, where they'll come in along with their design assistant.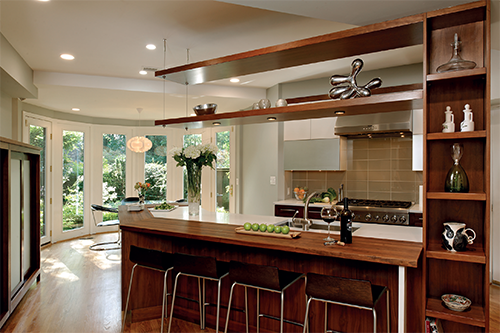 "Because people were spending more time at home, they became more and more invested in wanting to improve their kitchen or bathroom, and finally had the time to start the process" she continues. "As a result, we were really busy, to the point where 2021 ended up being our best ever year, despite the challenges we began to experience with mounting delays in acquiring appliances and cabinetry. At one point, we had a line of cabinetry that wasn't available for a year. We also took the decision to begin referring customers to external appliance dealers, because they became too much of a distraction for little financial reward."
Talent spottingAmong a number of ideas to manage the influx of new business, Jennifer toyed with the possibility of expanding her design team. She opted against it, however, realizing that the flow of business would most likely soon slow down to a more normal pace. Looking back, she believes it was a decision that she got right. "Our customers were getting impatient, and our design team became worried as the volume of work continued to pile up," she reflects. "But if people were willing to wait up to a year for their appliances, I knew they'd wait for us to have time to focus on their projects. At our first consultation, we would begin by 'wow-ing' them, knowing that this would make them okay with having to wait to start their project. We'd then explain that we were inundated with work so they'd need to wait until we could focus on their project – and wait they did!
"The other risk that I very much wanted to avoid was hiring a new designer who, when our business eventually slowed, would be surplus to requirements," she continues. "In all, I think it's worked out well. As we go on, the issues around delays are beginning to fade, and products are becoming increasingly available. We were waiting 12 months for our cabinets, now we're waiting four to six months, which is a welcome improvement!"
After a successful 25 years at the helm, Jennifer is now turning her mind to the next chapter, and the future of the business in the decades ahead. She believes the key to this is a continued focus on talent recruitment. "It takes a good five years for people to progress from junior to fully-fledged designers," she points out. "Accordingly, you have to get them trained early. Over the next three-to-five years, I need to make sure we have enough staff to continue operating our three showrooms.
"We're now focusing on remodeling the whole north showroom, investing some of the money we've made during a really successful year," Jennifer goes on. "The design process is expected to take a good three-to-six months, with a similar time frame for the project installation. We'll also continue to work on our social media marketing, trying to bring a fresh approach to a new generation of customers."