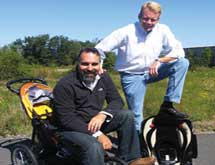 Differentiated products and service excellence established this pregnancy, infant, and juvenile online retailer. Now an infusion of capital is taking up to the next level. When Jack Kiefer, president and CEO of BabyAge.com, founded his company more than a decade ago, he knew there was an opportunity to become a leading online retailer selling unique products to parents-to-be and their friends and family. With BabyAge.com now firmly established and ranked 280th on the Internet Retailer Top 500 Guide, fresh capital is helping the company reach for greater heights.
BabyAge.com was founded in 1999 and is based out of a 50,000-square-foot warehouse facility in Wilkes-Barre, Pa. Since starting up, the company has made its name online thanks to a selection of high quality, brand name baby bedding, furniture, strollers, car seats, cribs, and toys. The company has its own brands as well: Today's Mom, Today's Baby, Today's Tot, and Today's Kids.
Conversion and retention
From the beginning, BabyAge.com has built a following with the urban and suburban population by targeting newly pregnant families, grandparents, and gift givers. Kiefer said the site's traffic has consistently seen increases year after year, but traffic doesn't mean as much as conversion and retention. This is an area where BabyAge.com has excelled.
"To convert a site visitor to a customer, you must be an expert in the category and have differentiated products. With the Internet becoming a ubiquitous arbitrage, everyone is selling the same product, and it becomes a price play," said Kiefer. "We focus on unique SKUs and make sure we offer appropriate SKUs that fit into our customers' lifestyles."
Over the years, BabyAge.com has experimented with opening price point product lines, but they've never proven successful. That is an indication that BabyAge.com shoppers aren't looking for lower quality; they want feature-rich products at a value. Maintaining the right assortment of products is critical to providing that appropriate assortment.
Of course, it takes a lot of time to understand what the right assortment is and how to apply that to the customer. With its own products, the company takes a lot of time in development, looking for features and functionality that can address missing segments in the market. For example, Kiefer pointed to the Today's Mom Coolmax Pregnancy Pillow. The Coolmax fabric helps expectant mom's stay cool and dry by pulling moisture away from the skin, allowing air to move in.
"We spent about a year designing the pillow because that kind of innovation sets us apart," Kiefer said.
In terms of selection from manufacturers, BabyAge.com has found success working with existing and new vendors who want to introduce new products, positioning itself as a partner to blaze trails with.
"For example, we've been working with a major infant and juvenile product manufacturer that has 10 new cutting edge stroller items," Kiefer said. "We're kicking around the idea of having them produce around 100 or so of each SKU and then slowly launching them and providing the manufacturer with feedback."
Finding new partners to work with isn't difficult for BabyAge.com because the company makes a point to meet with vendors at trade shows and keep up with industry periodicals. This is how BabyAge.com came to work with 4moms, a small company based in Pittsburgh.
"4moms designed a bouncy seat that took a scientific approach to how a mother rocks a baby when it is crying. It also built a stroller that can fold electronically, a big help to mothers who often have their hands full. In addition, the battery charges as you push the stroller," said Kiefer. "These are examples of the unique products with unique features that we try to carry."
Growing up
Now the company is making a push for growth, having raised about $15 million to recapitalize. Kiefer feels the capital will allow the company to execute on growth plans and cement its place as the number one online infant and juvenile product provider. Everything from a West Coast distribution center, a push into international markets, and further expansion of its own product lines are slated to be part of this growth strategy.
However, the future also depends on BabyAge.com's ability to adapt along with the Internet. Kiefer said the company is in the process of redesigning its user interface in terms of style and functionality. He also said that lavish text product descriptions simply aren't good enough because customers want to see products in action. That's why BabyAge.com aims to add videos to product pages so customers can get a better idea of product capabilities.
Adapting with the Internet also means taking advantage of social media and tying it into the BabyAge.com website. Five years ago, the company began publishing blogs. It now has three: celebritybabies.info, babystore.info, and babynameregistry.info.
Celebritybabies.info offers information about celebrities and their children and gets 60,000 to 70,000 unique visitors a month. Babystore.info is a guide to baby products. Babynameregsitry.info is the newest blog, created because the first thing most new parents-to-be do online is search baby names. The company has also had a Facebook page for about two years, and it is in the process of working with a few big Facebook fan clubs to create a compressed multilevel marketing platform.
"If you look at the community of people we sell to, there is almost always one mom who has done all the research for everyone and can provide product feedback whenever anyone gets pregnant," Kiefer said. "Through social networking, we are trying to find the appropriate business model to provide those mothers with incentives to recommend products for us. We are also working on a straw man loyalty program that will incentivize behaviors like tweeting about us."
All other considerations aside, Kiefer believes the key to growth and wider notoriety is service and selection. If BabyAge.com continues to demonstrate an ability to excel at those two basic concepts, the sky is the limit.
"Online retailers need to determine why each product is in their assortment and deliver a great shopping experience," Kiefer said. "Those are things we do very well."