Baker & Taylor and Findaway World Release Free Acoustik Audiobook App for Nook by Barnes & Noble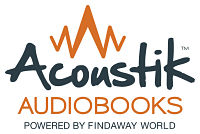 March 25, 2013 – Baker & Taylor, the world's largest distributor of digital and physical books and entertainment products, announced that library patrons who use Barnes & Noble's award-winning Nook tablets can now borrow and download digital audiobooks directly to their devices using the popular Acoustik audiobook app.
The Acoustik app, now available for free in the Nook Store, is powered by Findaway World, LLC, an innovative, industry leader in digital audio technology. The app allows users of Nook tablet devices, including Nook HD and Nook HD+, to directly download audiobooks and listen instantly to more than 26,000 new release and best-selling backlist audiobook titles from libraries that use Baker & Taylor's innovative Axis 360 digital media platform.
"We are thrilled that Nook customers can now access the trove of Acoustik audiobooks through the Axis 360 digital media platform that helps connect library patrons with the content they want, where they want it," said George Coe, President of Baker & Taylor's Library & Education division. "Axis 360 allows libraries to stay ahead of changing technologies by delivering a comprehensive selection of ebooks and audiobooks to patrons, across a wide range of devices. Along with our outstanding partners, Baker & Taylor is proud to help lead this revolutionary effort."
"Patron access to Acoustik audiobooks on the Nook means that more people are now able to enjoy our simple and intuitive user experience," said Ralph Lazaro, Vice President of the Digital Products Group at Findaway World. "Listeners who are already enjoying Acoustik on iOS and Android devices are thrilled with the experience – we are positive Nook users will share their enthusiasm."