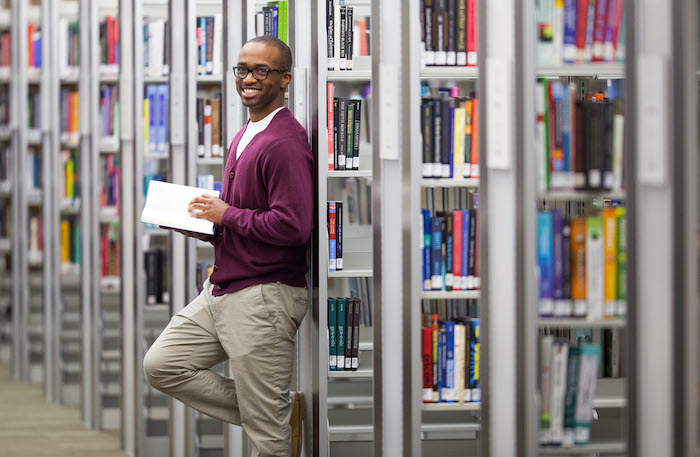 Baker & Taylor develops value-added services to connect content producers with customers in addition to developing new programs that lower costs in the supply chain.
By Janice Hoppe
As one of the world's leading suppliers of physical and digital books and media, Baker & Taylor prides itself not only on the content it distributes, but also on its ability to offer value-added services that make it easy for content suppliers and customers to do business with each other. "Over the past three years we have invested, on average, $20 million a year in both B2B and B2C platforms," Executive Vice President of Merchandising David Cully says. "The idea there is to connect our content providers with businesses and the ultimate customers."
Charlotte, N.C.-based Baker & Taylor was founded in 1828 – the same year literary giants like Leo Tolstoy and Jules Verne were born – to bind and publish books. Later, Baker & Taylor began distributing books, making sure the written word made its way onto library and store shelves, and ultimately into readers' hands.
Today, Baker & Taylor is one of the world's largest distributors of books and entertainment products with about 24,000 suppliers. It serves 14,000 retail customers, 10,200 public libraries and 7,500 schools. "I think we are one of the world's largest suppliers of books and value-added services specifically to retailers," Cully notes. "One-third of our retail business is international and our international business is growing rapidly based on the proliferation of the English language as a language of professional disciplines, education and consumers."
The recent sale of Baker & Taylor to Follett from private equity owners Castle Harlan has positioned the company for even greater strategic growth. Follett is a top provider of technology, services and print and digital content to PreK-12 libraries, schools and higher education institutions. Now that Baker & Taylor and Follett are aligned, Baker & Taylor will be able to serve schools, public libraries, colleges, local bookstores and retailers better than ever before.
Value-Added Service
Baker & Taylor's content suppliers – publishers, movie studios and music labels – are connected to customers through technology platforms. The company utilizes B2B platforms that allow its customers to seamlessly do business across thousands of suppliers and hundreds of thousands of SKUs. "The book, movie and music business has an enormous number of new products coming out each year," Cully explains. "What we do for customers is the curation, collection development and assortment planning that enables them to present relevant information, educational content and entertainment to their customers."
Cully attributes the company's success to it being more of a value-added service provider than simply just a distributor, and helping its customers present content in a way that is easy and digestible for their customers to shop. Baker & Taylor offers electronic data interchange transactions and web hosting for customers that choose not to have their own site, including hosting digital websites for thousands of public libraries in the United States. "Probably the most evolved digital space for us is with the patrons of libraries," he says. "Patrons can check out books and audio books online without actually going to the library. We have had to make significant investments to stay relevant with our retail and library customers."
Public schools are another key customer of Baker & Taylor, which is why the company developed KnowledgePoint. "Essentially, in the K-12 environment, it's an adaptive learning platform that's integrated into the schools' core curriculum that allows the educator to track the progress of individual students in his or her classroom, whether the whole class is reading the same book or each student is reading a different book," Cully explains.
Baker & Taylor helps the school curate its title selection in addition to offering a digital platform that students use to read, and teachers and students use for assessment. Educators can track the progress of each student to ensure they are understanding and engaged in what they read and determine whether they are reading at the appropriate lexical level via questions throughout the text.
"It's a brave new world in classroom education and we are terribly excited about this," Cully says. "We have pilot programs with about 250,000 students using it in the Los Angeles Unified School District, school districts in New York and other major metro areas around the United States. The initial results are very encouraging in terms of the students' performance."
KnowledgePoint pilot programs launched about a year ago can offer schools access to 800,000 digital books. "It's been pretty fabulous to track student engagement and reading progress," Cully adds. "There is functionality that allows them to highlight and text-to-speech. It's a pretty well-evolved system for the classroom and educators are responding positively. They no longer have to teach 'to the middle.' Students can select books based on their level and teachers can track their progress real-time. As a former educator, I'm really excited about this."
Meeting Demand
Baker & Taylor's staff of librarians helps schools and libraries manage their digital and physical collections. The company's librarians also assist customers in making decisions about which of the tens of thousands of new books that come out each year to acquire. "They match the profile of the library or school to the profile of the book," Cully adds.
After Baker & Taylor acquired Glasgow, Scotland-based technology company Bridgeall Libraries in 2011, the two companies worked together to develop an analytical tool for assessing circulation stats. CollectionHQ is a tool that analyzes circulation stats for libraries so they can understand the investments they are making and ensure they are investing in the right categories.
CollectionHQ is a vital tool in public libraries and schools around the world because both entities are publicly funded and people want to know how well they are serving their constituents. "Retail has had POS information for a long time, but this is an analytical tool we have offered for several years to analyze the utility of their collections and help them make better collection decisions going forward based on actual check-out stats," Cully adds.
Over the past six months, Baker & Taylor has been piloting Evidence-based Selection Planning (ESP), a predictive tool that allows the company to recommend choices to librarians based on those circulation stats. The optional feature works by using CollectionHQ and leveraging data from Baker & Taylor's online collection development and ordering system Title Source 360. The tool will identify new titles suitable for a library or school, highlight titles with a relevancy ranking and determine the best locations for the material.
Lowering Cost
Baker & Taylor plays a critical role in the supply chain. Half of its business is done with public libraries and schools and the other half is retailers, both domestically and internationally. The company services independent book, video and music retailers, as well as regional and national chains. Its e-commerce players include Amazon, Barnes and Noble, Target.com and Walmart.com.
Each of its consumer-direct customers requires customized solutions and the company is a closed-loop solution provider. "In the consumer-direct fulfillment space – because of our distribution footprint – we are able to reach consumers on behalf of our customers very efficiently and quickly," Cully says. "Our distribution footprint in the United States allows us to reach about 65 percent of the population by next-day ground and about 98 percent by two-day ground. The importance of rapid delivery in the world we live in is a strategic advantage for our trading partners and content providers alike."
In terms of physical distribution, Baker & Taylor began manufacturing and printing on-demand three years ago when the book industry's supply chain changed from printing an enormous amount of books speculatively to a just-in-time model. "We have invested in manufacturing that allows us to print on-demand and do digital short-run printing on behalf of our suppliers, so there is less waste in the supply chain and it is much more efficient," Cully explains.
The single largest cost for publishers is manufacturing a book, and because wholesalers can return unsold material it can result in an even bigger cost to the publisher. "We are printing to order and printing on-demand so that when we have an order from a retailer or from the end-customer we manufacture the book," Cully says. "Inkjet printing is reducing the cost per unit so that publishers are inclined to print smaller quantities more frequently to eliminate waste and obsolescence. That's another value-added service we provide to our content providers to reduce their supply chain costs."
To continue reducing supply chain costs, Baker & Taylor introduced a "Virtual Inventory Program" three years ago, which allows its customers to order from electronic feeds of inventory from each publisher. Rather than stocking its warehouses with more SKUs, the company aggregates the electronic orders and sends them to the individual publishers who pack and ship them back to Baker & Taylor in 24 hours.
"We have created a new business model with the Virtual Inventory Program so we don't order inventory until we have a request for it," Cully says. "It's much more efficient for everyone in the supply chain, has taken the cost out and has created incremental business for our content suppliers and customers alike."
Further Developments
Moving forward, Baker & Taylor plans to focus on growing its digital learning business and expanding its footprint internationally in retail and public libraries. "I think what we are seeing is that the use of adaptive learning platforms and eBooks in the K-12 and higher education space is still a business in its infancy with tremendous potential going forward," Cully notes.
The company plans to maintain its focus on developing new products and services that will allow it to acquire additional market share in its current space and adjacent channels. "The interesting thing about the consumer book business is that everyone five or six years ago thought the physical book was going to be ancient history quickly," Cully says. "What's happened is that the eBook business in the consumer space has plateaued and today is about 25 percent of the business. The print book business is here to stay."