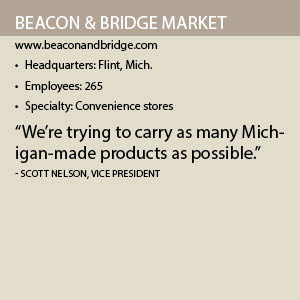 Beacon & Bridge's preference for working with other Michigan companies has led to long-term relationships with suppliers such as Little Town Jerky Co., which began in the mid-1980s as the in-store jerky brand at Ebels General Store in Falmouth, Mich. Beacon & Bridge was its first c-store customer. "They work with us hand-in-hand and make all our fresh jerky for us," Pricing and Procurement Manager JT Tully says.
With Beacon & Bridge as a loyal customer, Little Town Jerky was able to quantify its jerky business and support its growth. The brand can now be found in other Michigan stores. Other Michigan-based brands that can be found in Beacon & Bridge markets include Faygo soft drinks, Better Made potato chips, Prairie Farms and Kar's Nuts. "We can pretty much go to these guys and get pretty good price advantages over some of these other companies," Nelson says.
The shared geography with those suppliers enables Beacon & Bridge to operate more efficiently. Kar's Nuts, for example, is one of the few companies that distributes products directly to Beacon & Bridge stores. "We get better service that way," Tully explains. "We have minimal out-of-stocks and receive innovation faster than through a grocer."
Community Focused
Founded in 1969 by CEO Bob Eastman, Beacon & Bridge has grown to 23 locations in the northern parts of the state's lower peninsula. Many stores are located in deer country and serve the needs of the state's nearly 800,000 licensed hunters, the third most of any state, according to the Michigan Department of Natural Resources. Aside from selling beef jerky – a favorite snack among hunters – by the pound, Beacon & Bridge stores also carry deer bait and other hunting supplies.
The convenience store operator caters to its communities not only in the products it carries, but through its involvement. Every store is given an annual budget to support local charities, schools and programs. "I think that's really helped out with doing yearbook ads and helping as much as we can within the schools," Nelson says.
Several stores even allow area school children to paint artwork on their store windows, giving the buildings a unique look and encouraging partners and family members to stop in. That kind of outreach fits the culture Beacon & Bridge wants to cultivate with its customers. "We pride ourselves with the phrase 'everyone leaves with a smile,'" Nelson says.
Putting a smile on customers' faces begins with the employees. Every new worker must complete a five-day training program where they learn how to complete every job, from sweeping floors to filling coolers and running the register. From there, Beacon & Bridge conducts quarterly training through online videos and in-store presenters who cover topics such as loss prevention, human resources and sexual harassment. "In the last five years, we've taken training very seriously," Nelson adds. "We've spent a lot of money building our training programs."
The training programs are designed to instill Beacon & Bridge's standards and culture into its employees, but like many convenience store companies it struggles with retention. However, Nelson says the company isn't losing those people to competing businesses that offer higher wages. Rather, the structure of Michigan's public assistance programs makes it difficult to move those workers into full-time roles.
"A lot of people ask who is our biggest competitor," Nelson says. "I would have to answer that by saying the state of Michigan. There are a lot of times I hire an all-star employee and when I make them full-time then two months later they lose their state assistance and they leave."
Beacon & Bridge has worked to accommodate those workers by keeping them part-time so they'll continue to qualify for public aid, but provide them with some stability by keeping the same hours from week to week. "We've really tried to create a schedule that will work, suiting their needs," Nelson explains.
Updating Customer Experience
With a handle on its challenges, Beacon & Bridge is focused on growing and improving the store experience. The company is preparing to open its 24th location in mid-November and is in the final stages of developing a new mobile app that will manage its loyalty program and use their buying habits to offer users discounts.
The stores themselves will see several upgrades over the next year. The sales floor and overall footprint has already been expanded at two locations and Beacon & Bridge is committed to renovating three deli areas each year. New signage is being rolled out across the company and LED displays will be installed in all stores by next spring, allowing the company to easily show pricing, graphics and weather reports, and even to wish customers a happy birthday.
As it opens its newest location, Beacon & Bridge plans to continue to grow, but in a way that retains its personal connection to customers and its communities. "We want to expand our number of locations," Tully says. "We want to build new, but we also don't want to go beyond the small business format. Our customers are very loyal customers, too. We don't want to get so big that they become a number without a name."