"I've been a screenwriter and director my entire life, so I'm bringing the same rigor, quality control and craft of a live-action movie to this series," Wakely explains. "Every episode has been crafted and poured over so that it lasts more than 20 years – the same way the Beatles music is ever-present in pop culture. We've taken those songs, made them really child-friendly with awesome animation and the musical storytelling of the Beatles. It is a beautiful combination and a series I believe in."
Wakely created the series with his Australia-based film and television production studio Grace, along with talented writers and animators in Los Angeles, Vancouver and Australia. Everyone involved in the series has worked for more than five years to bring about a show that Wakely hopes will last for decades to come.
Netflix was chosen as the vehicle with which to launch the series because of its incredible global reach. "When the show is ready, Netflix presses a magic button and it goes out to 190 countries around the world on the same day, at the same time," Wakely says. "With a network that has a reach like no other, it's really powerful for me. Netflix allows the budget, resources and power of a showrunner like me to do things that could only be seen in cinema at best.
"Now, we are in the golden age of television, so you can bring that film-quality level of animation to television," he continues. "I want to bring that same level of storytelling craft and that same level of quality to children, and Netflix is the best way to do that."
Key Piece
The music of the Beatles was a key piece to Beat Bugs' storytelling. However, acquiring the rights to the Beatles' songs from the publisher was not a task to be taken lightly, as Wakely learned. He says he first thought it would take only a few months, but he worked for three years to acquire the rights and prove the show would be a successful product commercially and worldwide.
"It was my full-time job at that time," he recalls. "I was so passionate and clear it would be an extraordinary combination for children. Sony/ATV Music Publishing just understood the power of bringing this catalogue of music to children."
The next monumental task was to find the right record label to cover the Beatles songs. Republic Records' film and TV department picked up on the buzz of the show as it was being shopped around to different studios and joined Wakely as Beat Bugs' music partner. Republic Records selected P!nk, Sia, Eddie Vedder, The Shins, Regina Spektor and a variety of other big-name artists to cover the Beatles songs. Some of the songs featured include Help!, Come Together, Penny Lane, Yellow Submarine, Lucy in the Sky with Diamonds, Sgt. Pepper's Lonely Hearts Club Band, With a Little Help from My Friends and Magical Mystery Tour.
"We always look at ways to integrate our artists on the roster with any film and TV project that we are working on," says Jim Roppo, executive vice president of marketing and commerce at Republic Records. "But those synergies must musically work in an organic fashion. With Eddie Vedder, James Bay and Of Monsters and Men, it just worked and those artists nailed their performances."
Wakely says the goal with the show was for every episode to reflect the theme and the music of a particular Beatles song, which is why the artists were just as important as the show itself. "We can never have an off day because we're dealing with great material," he says. "We have to make every episode spectacular, which is tiring but also deeply rewarding."
Republic Records has always been a company to push the boundaries and innovate into new areas, Roppo notes. Now, the company is working with Wakely and Netflix on the marketing and commerce front to promote, market and sell the new versions of some beloved Beatles songs.
"[Beat Bugs] is so different and innovative; there is nothing on TV for children like it," Roppo says. "It has this revolutionary relationship between amazing content, animation and storytelling with the music of the Beatles. I'm just thrilled for people around the world to finally see and experience this show. We have been working on it for a long time, now it's time for the world to discover it."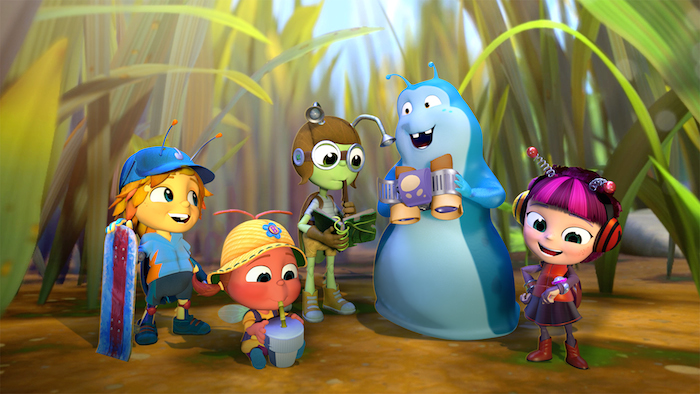 Extend the World
As a children's show on Netflix, Beat Bugs will have a huge worldwide reach, which means it's ripe for retail and licensing opportunities. "The opportunity that exists with the show to create unprecedented stories that resonate with children is the same one that exists with retailers and merchandisers," Wakely says. "You can make plush toys that sing or t-shirts featuring the characters. Beat Bugs is a lifetime opportunity – not just for me, but for various avenues. Extending this world and story and the possibilities of the show into high-quality merchandise across a range of products is a huge opportunity for everyone."
Licensing agency Centa IP saw the opportunity in Beat Bugs and jumped on it. The agency plans to bring products in categories such as toys, apparel and accessories, arts and crafts, consumer electronics, books and games to retailers everywhere. Beat Bugs products will launch in spring 2017 in the United Kingdom and North America, with a global rollout through 2017.
"I don't believe there is any other children's property that has so many winning elements to it," says Geoff Rosenhain, global licensing agent for Centa IP. "The biggest win is that we have secured the rights to use the music recorded for the program within a significant range of our products. This property is shaping up to having a deep licensing program. The response from retailers has been very strong, with requests to launch exclusive and/or first-to-market product."
"There's great depth of potential for storytelling, and we move across a whole bunch of different platforms with video games, play sets, toys and more," Wakely adds. "There are many ways to tell this story that is inspired by Beatles music and there will be more to come."
While retail and licensing opportunities will provide more touch points and ways to engage with the Beat Bugs story, Rosenhain says now it's about standing out from the competition in a crowded marketplace of products. Centa IP has some of the best-in-class licensees already committed and excited about the opportunities.
"Beat Bugs has the winning combination of amazing storytelling and characters that children can relate to, world-class 3-D CGI and songs by the greatest band of all time, performed by today's hottest artists," he explains. "In my opinion it's the most visually stunning kids' TV show in the marketplace."
New Generation
After five years of carrying the weight of the show on his shoulders, Wakely is excited that Beat Bugs will finally be coming to the homes of millions of families this summer. "It was a big responsibility to have this once-in-a-lifetime catalogue," he says. "People will see how we use that for storytelling and how it fits for children – it feels like a great magic trick we're about to reveal."
In addition, Wakely says he's excited to see how licensees develop the Beat Bugs world to connect with children. With five main characters that have distinct personalities going on various adventures, there will be something for every child to resonate with. "I'm interested to see how other people such as merchandisers, retailers, video game creators and people involved in music education take the world I created and extend that storytelling potential," he adds.
With Beat Bugs' release on the horizon, Wakely's job is to ensure he's delivering a high-quality show that people around the world will want to watch and enjoy. "Netflix has a huge amount of muscle, ambition and connections to put this out to the world," he says. "I truly think the quality of animation is unprecedented at this point for TV. I know how many people worked to make that happen. There's also a soundtrack coming out, and I'm making sure that all those mixes are perfect and our artists are perfect. There's a quality team behind everything."
Wakely hopes the show will inspire a new generation of Beatles fans. "There's a reason for the mania that surrounds the Beatles," he says. "Children love being around joyful music and bright melodies. Bringing that to a new generation with Beat Bugs has been my life goal."