The advantage chains have over independent pharmacies isn't a matter of sheer numbers, then, but organization. Patel says chains have the advantages of branding and buying power at their disposal, and these can be powerful tools for drawing customers away from independent pharmacies. That's why Benzer Pharmacy exists, he adds – to provide the mom-and-pop pharmacy with the resources they need through its franchising program to put them back on a level playing field with the large-scale chains.
Since 2009, Benzer Pharmacy has been offering independent pharmacies the opportunity to become franchises, giving them access to the support of a larger organization as well as the market presence that comes with it. Patel says that by getting as many independents together under one banner as possible and working together, they stand a much better chance of competing against the large national chains and have better opportunities to secure their futures.
Full Support
One of the most important things Benzer Pharmacy offers independent pharmacies is a brand that can provide them with an identity, Patel says. The company currently has more than 50 corporate-owned locations throughout the Southeast and expects to have nearly 100 by the end of the year, with numerous independent franchisees added to that number. Having the Benzer Pharmacy brand attached to their locations means independents can present customers with a recognizable reputation in the marketplace. Patel also says the company provides its franchisees with access to its services including online prescription refills, free medication flavoring and its ExpressPay system, which allows customers to enter their billing information online securely so they can grab their prescription and go or have it delivered straight to their home.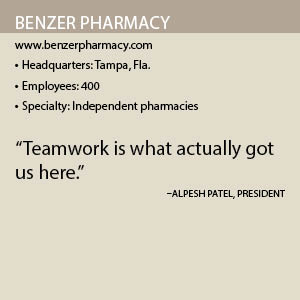 Another significant advantage Benzer Pharmacy provides for its franchisees is the buying power that comes with being a part of a larger organization. By becoming part of the larger group, independent pharmacies could benefit from Benzer Pharmacy's purchasing power and experience significant savings over purchasing alone. Patel says the company also provides its franchisees with savings by giving them full administrative support, handling their back-office operations and helping them keep their overhead expenses low and manageable.
Ultimately, Patel says, the most important thing Benzer Pharmacy supplies to its franchisees is the teamwork and cooperation of the company and so many independent pharmacies. He says the large chains siphon customers away from the independents because they can provide a united front and can leverage their size to provide stronger customer service. Benzer Pharmacy operates in much the same way for its independent franchisees. "Teamwork is what actually got us here," Patel says.
Prepared for the Future
One trend that is working in the favor of independent pharmacies is the move toward adding more clinical and consultation services. Patel says many independents, including many of Benzer Pharmacy's franchisees, have been offering those types of services for years, whereas the major chains have started to offer those services only within the last several years.
Because independent pharmacies have closer ties to the communities they serve, they have greater access to resources for clinical and consultative services, which puts them at an advantage as more pharmacy customers come to expect those types of services. "The way the trend is going, independent pharmacies will have an edge as far as that goes," Patel says.
The strengths that Benzer Pharmacy offers to its independent franchisees are fueling the growth of the company. Patel says that the company continues to look for new ways to bring more independent pharmacies under its umbrella, and the company's goal over the next few years is to bring in another 500 to 600 franchisees. The mom-and-pop pharmacy is far from extinct, but with the support of Benzer Pharmacy it won't have to worry about the possibility.