Beverly Hills Teddy Bear Company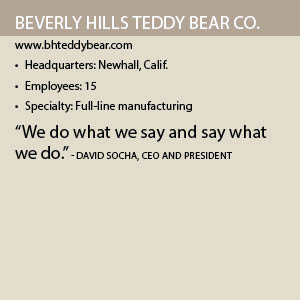 Keys To Success
Since its inception, a goal of BHTB has been to develop solid partnerships with its clients and vendors to produce the safest, highest-quality products that exceed partner expectations. "Relationships are really key for us," Socha says. "We try to treat people right, trust people and in turn hope they trust us."
Socha notes the company has longstanding relationships with its vendors, some of whom BHTB has worked with for 20 years. "It's all about being a good partner, having proper expectations and working with our partners when things go wrong," he says. "You can't throw them into the fire. You have to stand alongside them because you're in this together."
He adds that it is not only important to be a good partner, but also build friendships. "We have friendships with many factories located throughout Asia and here in the U.S.," Socha says. "Our retail partners, I think, would say that we do the right thing as well."
He adds that with its small but mighty team of 15 U.S.-based employees, BHTB remains nimble and can launch a new product line within a month, "just because we see something that could be great."
"We can get our entire team behind an idea quickly," Socha says. "For example, we recently created a line in a matter of a few weeks. We launched it last October to showcase at a few toy shows, and we're now launching it at a major retailer in the U.S."
BHTB prides itself on getting to market fast and maintaining its strong manufacturing relationships, which allows it to produce high-quality products in a short amount of time, according to Socha. "We know this because we work with and make products for big toy companies with tight deadlines that we have to meet," he explains. "For us, we cut right to the chase and go make it."
Custom Plush
One of the top toys of 2017 was BHTB's Surprizamals. As the first plush line to enter the blind capsule space, Surprizamals has been a worldwide hit since its launch in 2016. Not only are the toys cute and made of high-quality plush, kids can also trade and collect the more than 200 characters in nine series. Since the Surprizamals are hidden inside a ball, kids never know which one they'll get.
"We launched Surprizamals in 2016 in Toys 'R' Us and Justice," Socha says. "We're currently in about 70 countries and in most major retailers throughout the U.S." Socha adds that BHTB has been working to keep up with 5,000 percent growth and has had more than $25 million in retail sales since the launch of Surprizamals.
"It's been insane year-over-year," he says. "In some of the major stores we're even in multiple sections. It's been an incredible time and it has really allowed us to tap into retailers we have never sold in or haven't sold in for years. It's a great line."
The plush line is also a finalist for a 2018 Toy of The Year (TOTY) Award from the Toy Industry Association. "It's really neat to be nominated and we're excited," Socha says.
Additionally, BHTB will launch a new product line this month called Squooshamals. "It's a really beautiful stuffed animal with memory foam on the inside," Socha explains. "It feels incredible. The reaction has been terrific and we're launching in 25 countries early this year. For any line we've ever done, it's the fastest launch we've ever had in terms of the high number of countries it's rolling out in."
Although Squooshamals can be collected like Surprizamals, it is different in that it does not have a surprise element. "With Squooshamals, we want you to pick it up, and touch and feel it because that is its biggest attribute," Socha says. "When you touch it, it kind of just melts in your hands. This product is the first of its kind."
Innovation and Creativity
BHTB prides itself on not only tapping new technologies and materials to make the best products, but also collaborating with individuals outside of its R&D team to spark creativity, including employees' children. "We're a very family-friendly company as most of our employees have been with the company for more than 10 years," Socha says proudly. "We not only believe in a good work/life balance, but also having everyone's voices heard."
As an example, he cites BHTB's newest series in Surprizamals, Mama & Baby, which launched this month in Wal-Mart. The idea for it was sparked by a conversation with his then 11-year-old son in 2017.
"He suggested that we get a bigger ball and put a mother and baby inside it," Socha recalls. "We did and it's being very well received, and will be in several major retail stores this year. So we not only brainstorm together as employees, but we also do so with our children. We come up with different characters and even hold naming competitions at the office.
"It's certainly a fun process and my [five] kids have been a big help because a few of them are in the perfect age group," Socha continues. "My daughter was actually the star of our last two commercials, so it's pretty special and a blessing. I can only dream that I've been able to do this."
As BHTB looks ahead, it aims to continue growing strategically with high quality products. "We call ourselves the G-rated toy company because we always do things that are family friendly," Socha says. "We want to become the go-to small plush company. A lot of our lines are focused on small stuffed animals and some kind of unique feature. We believe we can continue to capitalize on that."
BHTB is also re-launching one of its most successful lines, Glow Crazy. Initially launched six years ago, Glow Crazy is a kid-friendly laser. "We have given it a few years to rest, and feel that there is a new generation of kids who would enjoy and learn from it," Socha explains. "It promotes creativity and it's designed almost like an art studio in the dark where kids can draw with the light. It won't come out until late this year, or early 2019."