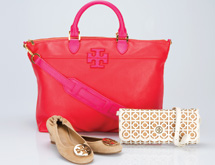 It can be difficult to be fashionable while stretching a dollar, but Beyond the Rack helps women who want to achieve that goal, Chief Merchandising Officer Jim Weinberg says. "We like to say that we appeal to a typical, North American consumer that understands fashion, [but] doesn't have the budget to afford it all the time," he says.
"We stay true to who our core consumer is," Weinberg continues. "We know what she likes and we try to move with her. We don't try to appeal to too many [others]."
Based in Montreal, Quebec, Beyond the Rack is a shopping club that sells designer brand apparel and accessories via the Web, including products from high-end brands such as Louis Vutton, Prada, Hunter Boot Ltd. and Hudson Jeans. Weinberg notes that the firm started operations four years ago and today has 9.5 million members.
"We have really gone after the Canadian market," he explains, noting that half of its sales are in Canada, while the remainder is in the United States. The company maintains buying offices in Canada and New York.
Beyond the Rack's position in Canada, he notes, is its strongest advantage. "From what the vendors tell us, we're pretty flexible to deal with," he says, noting that it tries to be as accommodating as possible. For instance, when a vendor can only hold its inventory over a weekend, Beyond the Rack will schedule an event to accommodate them.
Beyond the Rack also has achieved a profitable growth rate, Weinberg says.
"We are very close to breaking even with our marketing expenses," he says.
Weinberg notes that the company managed to build a platform to grow in a profitable way. "Three and a half years ago, we were at zero," he says. "Last year, we grew over 60 percent."
Last year, Beyond the Rack aggressively went after the home business market, especially in bedding and furniture. The company grew its home business portion over 100 percent.
Getting Things Done
Weinberg is a longtime veteran of the retail industry, with experience in department stores, wholesale and specialty retailing. However, "At the end of the day, we're in a relationship business," he asserts. "People like to do business with people they trust. It's a two-way street."
When hiring, Beyond the Rack looks for people with common sense and the ability to multitask, Weinberg says. "You have to be able to prioritize and roll with the punches," he says. "We have a culture of people that get things done."
Its workers need to be able to improvise. "What can go wrong does go wrong," Weinberg admits. "You just have to figure out as quickly as possible how you can make lemonade out of lemons."
Beyond the Rack also ensures its "people are all on the same page where the company's going," he says. "We also try to make sure that the interface between the different parts of the company is as positive as possible." To do that, the company has weekly team meetings with the functional areas. Additionally, Beyond the Rack has companywide meetings every 60 days with the entire firm.
Staying Competitive
Beyond the Rack operates in a very busy marketplace, Weinberg says. "You have to make sure your pricing model is competitive," he says, noting that the company keeps up with the prices at brick and mortar stores.
Additionally, to stay competitive, "We're also going to be expanding our home business to other facets," he says, explaining Beyond the Rack plans to grow into new markets, as well as further into ones it already operates in, such as furniture.
Thanks to its past experience with furniture, "We understand the logistical part of it, which is why we're going to expand our presence in it," Weinberg says. "It's definitely a market our customers respond to."
Currently, its home business comprises one-third of Beyond the Rack's volume, he says. "[We cover] every part of the home, including linens, home décor [and] kitchens," Weinberg says.