Big Night for Lane Bryant, Isabel Toledo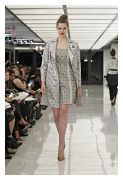 March 24, 2014 – Lane Bryant hosted their first ever designer runway show last night to showcase the retailer's collaboration with Isabel & Ruben Toledo. The show took place at the iconic Seagram Building, located in New York City.
Portions of both the Spring & Fall collection were shown. Models walked the runway in sheath dresses and coats adorned in Isabel's signature patterns, tunics, and expertly draped cocktail dresses. Designs were presented in black, white, hues of gold and soft grey. Pieces were color blocked and complimented with hints of patterns displayed through the entire collection.
The couture designer and tailor extraordinaire famously dressed First Lady Michelle Obama for the President's first inauguration. Her design for the First Lady was such a success, Isabel knew she had to integrate the coat and dress into this collection for Lane Bryant.
"Dressing a Lane Bryant customer was not any different than dressing my own customers because I have women of all sizes that wear Isabel Toledo," Isabel Toledo says.