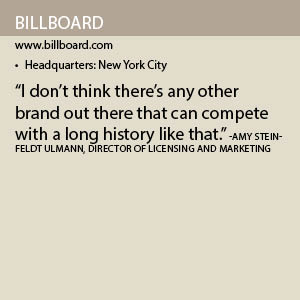 In recent years, Billboard has moved beyond journalism into a market that music artists are certainly familiar with: product licensing. For the past decade, the brand largely focused on media products, she says.
But in January 2016, Billboard made its move into consumer products with the launch of speakers and headphones from ESI that enjoyed rapid success. "Through one year, we've seen massive growth quarter over quarter," Ulmann says.
Such an accomplishment is not easy, given the assortment of brands in the consumer electronics marketplace.
Fortunately, Billboard had ESI, a manufacturer of audio products, by its side. "We found an amazing partner that understands our brand, our demographic and what that demographic is looking for," she says.
Beyond Standard
Billboard continues to add products through its licensing program. This past fall, it launched a trivia desk calendar with content pulled from the pages of Billboard's magazine.
The brand also introduced a Bluetooth streaming platform that helps users perform along with their favorite songs. "Your karaoke-type of microphone hooks into the Bluetooth on your cellphone," Ullmann explains. "You can have the lyrics appear on your TV or on your phone."
In addition, Billboard partnered with Alferd Music to publish music books that teach children how to play their favorite hits off the charts. This makes "it more fun for kids to learn to play music, instead of their standard, typical sheet music," Ulmann explains.
As Billboard has taken on licensing partners, it has looked for those who "have been in the business for a long time and understand the categories we're going into," she says. "[They also] have strong retail relationships."
The Place to Be
Ulmann is proud of Billboard's growth in its consumer electronics program. "I really see us becoming quite a powerhouse in that space," she says.
Many at Billboard share her enthusiasm. "Everyone is excited about expanding it, coming up with new ways to reach out as a company and tap into a wide demographic segment," she says.
"We really understand that we're the go-to-place for music news and discovery," Ulmann says.
Ulmann foresees a strong future for Billboard thanks to its attention to detail, quality, packaging and affordable price points. "[Those] truly speak to where we are as a brand," she says. "It's about adding as much value as possible".
"The consumer that's interested in Billboard and wants to buy our product knows they can get something of extreme quality for an affordable price point," Ulmann says. "It's truly a pillar category that speaks to the essence of the brand."