Billionaires Row & Theberge Design Partner for Private Label Billionaires Row Swimsuit Collection Showcasing in Miami, New York, Los Angeles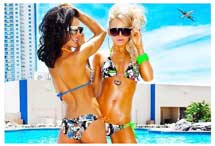 April 9, 2013 – William Benson, founder of Billionaires Row, has formed a new partnership with designer Tanya Theberge of T Theberge Design, Inc., creating The Billionaires Row Collection by Theberge. Acting as the driving force of creative design, Tanya Theberge is an accomplished artist who designs for the female form as art. The distinct cut and style of Theberge designs has earned a reputation for artistry and bringing fashion to the swimwear industry; a true marriage of form and function.
The Billionaires Row Collection by Theberge creates designs that balance art and function leaving a signature impression on the mind and body with sincere admiration for the female form to produce some of the most dynamic bikinis hitting pool-sides and beaches across North America and the world. The Billionaires Row Collection will provide an unusual point of structure and function to elevate this completely handmade and hand-painted art to the most unique, luxurious designer swimwear line available in the world.
The Billionaires Row Collection by Theberge ranges from luxurious hounds-tooth prints with gold signature rings to a simple deep chocolate suit made with crocodile embossed stretch leather and rose gold accents. Initially inspired by vintage Bulgari jewelry, the collection is in sync with the times: art deco with a black and white core. The collection is alive with custom artwork designed by Tanya Theberge and brought to life with the sparkle that only Swarovski Crystals can provide.
The runways and events in Miami, New York, Los Angeles and around the world will bring the Billionaires Row Collection Artistic Designs to life. Theberge Designs uses the finest Italian materials from the inside out; moisture wicking Sensitive Fabrics are the epitome of innovative style offering the softness of cashmere with an extra fine knit. Billionaires Row by Theberge suits are chlorine, sun and pill resistant. Billionaires Row will make those designs available to all women who want to have the beauty and grace of artistic design combined with unparalleled quality.
"The Billionaires Row Collection by Theberge private design label wwimwear is a perfect addition to the iconic designs and presence of Billionaires Row goods and services. We believe the hand painted, handmade Billionaires Row Theberge line will define the art and grace of the female form found in all women using the 'T Theberge Cut'," stated Benson.
"Our mission to design artistically creative suits that enhance a woman's physique to reward and uplift the spirit of those who wear us. Those who see our designs will understand the harmonious partnership with the Billionaires Row philosophy. The greatest luxuries life has to offer can be felt in every aspect of this opulent collection," said Theberge.
Web Site:
<img src="/wp-content/uploads/sites/8/content/eric/PH90805-a.jpg" border="0″ hspace="5″ vspace="5″ width="200″ height="136″ style="float: left;" />