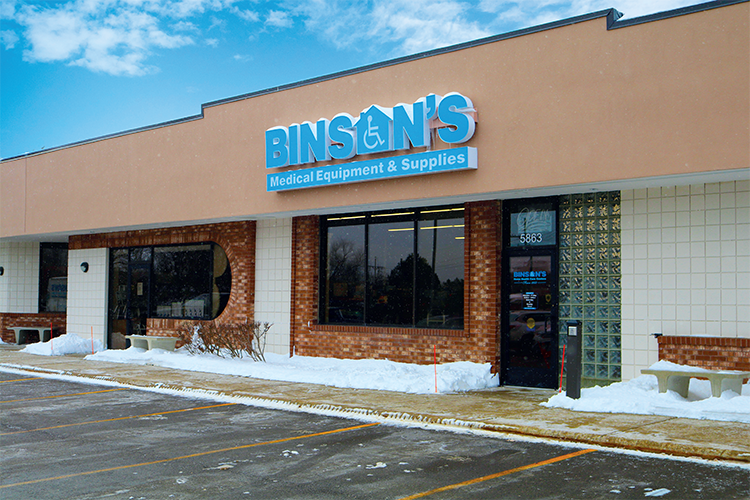 No patient left behind
The legacy of Binson's is one defined by innovative solutions that improve the delivery of health care products and services, accompanied by a dedication to customer relationships
Since giving life to the business that shares its name in 1953, the Binson family has made it their mission to consistently serve their customers with the same level of superior care and attention to detail that has been instilled since those early days. What started out as a corner drug store is now, in 2021, the largest independently owned full service Durable Medical Equipment (DME) entity in the United States.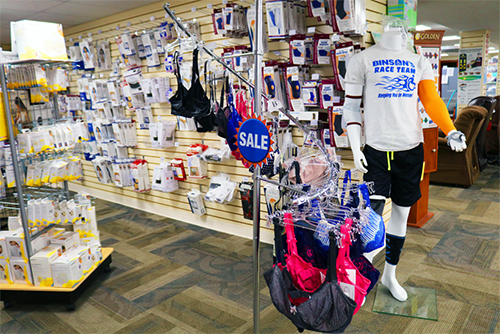 Today, this fourth-generation family owned and operated company boasts 15 retail locations throughout Michigan and Florida, and is home to over 500 employees, and counting. "The partnerships we have built over the years are lifelong and never taken lightly," states one of Binson's owners Nick Binson. "On average, we now service more than 200,000 annual retail patients and 50,000 annual hospital discharge patients, and ship close to 500,000 mail order packages each year."
Binson's customer base includes individuals, hospitals, doctor's offices, nursing homes, and any other business in need of medical supplies. Products and services it provides include respiratory equipment, basic DME, custom orthotics and prosthetics diabetes supplies, compression garments, customer seating and position services, urological supplies, wound care, hearing aids, sleep therapy products, and biomedical equipment repairs.
As a leader in its field, Binson's is passionately dedicated to creating partnerships with its clientele. In fact, its relationships go far beyond simply providing products and/or services, with the company taking the time – and investing the necessary means – to achieve what it calls 'worry-free dealings' to ensure that all parties succeed. "Our commitment to our clients and the communities that we operate in can be best summed up by our 'no patient left behind' philosophy," Nick declares. "Over the years, we have built up the capacity and capability to carry all manner of medical products so that our clients do not have to shop around in multiple stores to obtain what they need. That has made Binson's a true one stop shop and a single-source solution provider that people can trust!"
Binson's also applies a similar mind-set when it comes to maintaining its relationships with its suppliers, many of which have enjoyed long-standing partnerships with the company. "Our commitment and loyalty to our suppliers – and the high allocations of products that we continue to source from them, particularly the latest innovations and technologies that they are responsible for – is well known," Nick notes. "This approach has in turn proven to be invaluable, with our partners really helping out and stepping up to the plate during the recent global supply chain struggles that have been well documented."
Turning to the people side of Binson's, Nick goes on to explain how the company has strived to maintain the same family culture that it has always been synonymous with (the company actively encourages family members of its current employees to come and work within the organization), even as it has grown in size and reach. "What you need to understand is that, at Binson's, we don't see ourselves as selling commodities. Many of our patients have gone through life-changing events and require that level of personal touch and commitment from our people to help get them through such circumstances. So, this makes us much more of a people/ customer service business.
"At its core, we have three main customers – the actual consumer, the physician or medical facility, and the insurance company – and they all want to work with someone who they can rely on to take care of their patients, not just sell them something. They can rest assured that this is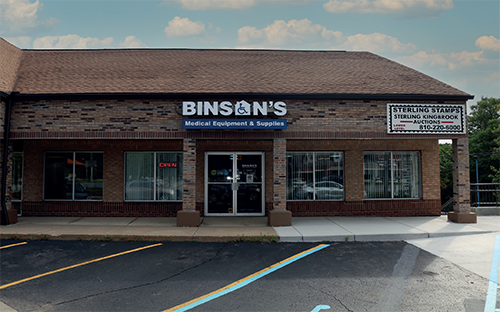 the level of care and attention that they will receive when working with Binson's."
The men and women who make up Binson's workforce were also instrumental in supporting the business as it navigated its way through the Covid-19 pandemic. "During the height of the pandemic and in the midst of periods of lockdown, we kept our home delivery and mail order platform operating, whilst only keeping four of our retail locations open," Nick points out. "At the same time, we transitioned our customer service people to work from home.
"We are an essential business and found ourselves as much a part of the front line as hospitals or other medical care facilities. After all, the only way that people were able to leave hospital was because of companies like ours, assisting with thousands of hospital discharges every day of the week, and at all hours of the day, especially during the early months of the pandemic. Fortunately, we are backed by incredibly dedicated staff, which really helps in times of crisis. Each and every single one of them deserves immense praise for operating in highly exposed and somewhat unknown conditions for a significant period of time during the last 18 months!"
As has been the case with virtually every business the world over, the Covid-19 pandemic has influenced the way in which Binson's delivers some of its services. An example of this would be the promoting of remote set-up instruction tools for vital equipment such as Continuous Positive Airway Pressure (CPAP) devices, which it delivers through its ShipPAP Program. "With Covid-19 confining people to their homes, they increasingly required the ability to set and properly use different devices from the comfort of their own property. With ShipPAP, we can deliver to them such instructions remotely via Zoom-type meetings over the internet," Nick adds.
For Binson's 2021 has been another important year when it comes to expanding its reach and footprint. It began the year – in January – by opening up a new Orthotics and Prosthetics Center in Michigan, and come November, it will have opened the doors to a new, 40,000-square foot distribution center in Fort Wayne, Indiana. "The addition of a further Orthotics and Prosthetics Center is an example of our model for expansion in Michigan, taking a more clinically-focused approach to our activities, as opposed to full service retail, what with the retail market becoming somewhat saturated in the State," Nick points out. "Meanwhile, the major investment that we have made in Fort Wayne, Indiana in our new distribution center – which comes with a retail location attached – demonstrates our commitment to that State, and our goal of expanding our footprint throughout the Midwest."
Moving forward, Nick and the rest of the Binson's team share high hopes for how far the business can go. "One of our primary aims is to achieve growth of anywhere from 50 percent to 100 percent in the coming years, through a combination of acquisitions and organic growth," he states. "In that time, we will look to continue to expand our bricks and mortar pressure across not only the Midwest, but in Florida too, while also maintaining a strong level of focus on regional and national mail-order products."