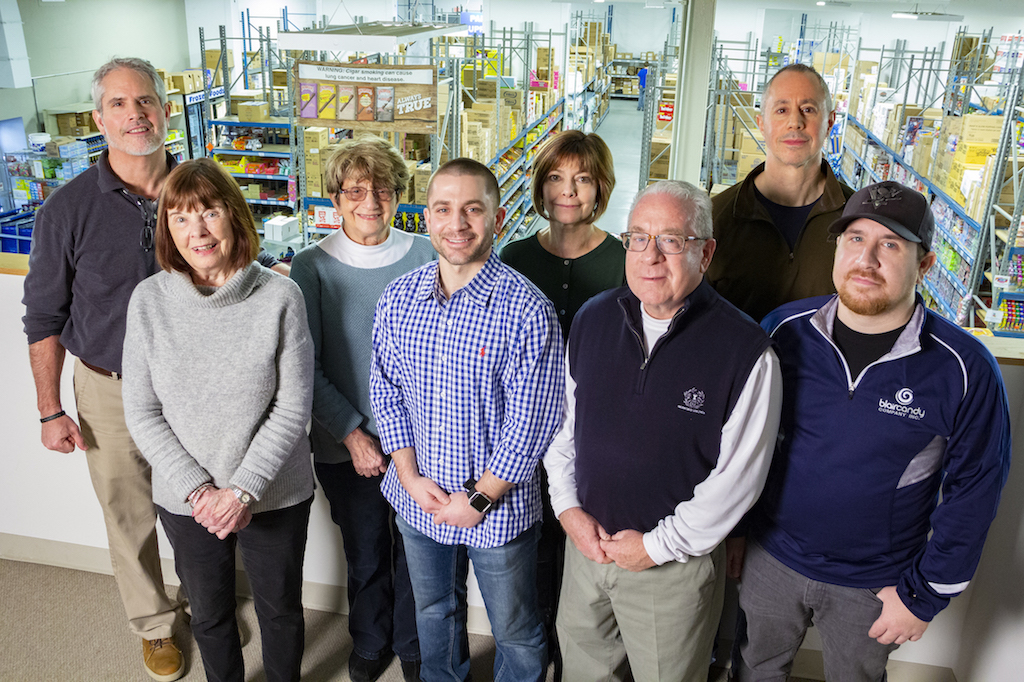 Blair Candy Co. finds its sweet spot with e-commerce, attracting wholesalers
and retailers nationwide to its vast and unique candy offerings.
By Janice Hoppe-Spiers, Knighthouse Media
The Dandrea family knows candy. What began in 1939 as a corner store selling candy and newspapers has blossomed into an impressive distribution company that has evolved and diversified over the past eight decades to remain successful. Today, Blair Candy Co. is in its third generation of ownership led by President Patrick Dandrea, Vice President Terry Dandrea, CFO Bill Ajay and Director of E-Commerce Pam Macharola with the fourth generation waiting in the wings to move the company into the future.
"For my family, the 80th anniversary is exciting," Director of Sales Michael Dandrea says. "My grandfather lives in Florida now and is in his mid-80s, but he's doing well and it's exciting for him to see the company grow as he was put in a tough position 60 years ago when his parents, who started the corner store, tragically passed away in a car accident and he along with his brother took over the business at a young age. Upon his brother tragically passing years later, my grandfather, along with friend and local businessman Bill Ajay, continued to grow the business."
The Altoona, Pa.-based company started with candy and tobacco, but has continued to diversify over the past 40 years. Blair Candy first expanded into paper products 40 years ago, followed by party supplies, bar and restaurant supplies, bingo, games of chance and fundraising candy. About 20 years ago, Blair Candy opened a line of convenience stores and now operates 11 throughout its region to move product, as well.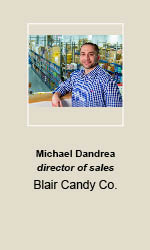 Dandrea attributes the company's ongoing success to his family's vast product knowledge, ability to adjust with industry changes and remain diverse. "I learned a lot from my dad [Patrick Dandrea] and uncle [Terry Dandrea] who have always stayed ahead of the game," he adds. "Being family run, every member starts at the bottom and works their way up so they learn every aspect of the business."
Last year, Blair Candy purchased a family owned company that sold similar supplies and coffee, juices and breakfast bars to cafeterias and schools, which was a new area of growth for the company. "That was a family run business of 50 years and the two brothers came over to work for us, along with most of their staff" Dandrea notes. "We gained 300 more regional accounts and we can now supply products the company didn't have, which helped us grow."
Blair Candy focuses regionally on mom-and-pop shops, schools, restaurants, prisons and institutions on the wholesale level. The company also partners with retailers nationwide and its warehouse is open to the public. "You can come into our warehouse, walk the aisles and see the thousands of candies on our shelves," Dandrea says. "People say they've never seen anything like it. We have become a destination."
Expanding through E-Commerce
Blair Candy launched its website 19 years ago and Macharola ran with her vision to develop an e-commerce platform. "We have learned from the 19 years in e-commerce that it is a lot like our seasonal merchandise we distribute, it changes from year to year," she says. "We have to stay completely focused on change and adapt to it quickly. It has taught us what we did last year, probably will not work this year. This philosophy has helped us grow not only for e-commerce, but in every divisions of our company. Long gone is set it and forget it."
The site began slowly but has become one of the largest candy websites in the country, processing 50 to 400 orders daily on its website depending on the time of year. "Our website is huge with candy and snacks with people buying for themselves and wholesale business," Dandrea says. "Two years ago, we updated our website so customers could buy wholesale, making it much more streamlined and our business boomed."
Before adding this capability to its website, Blair Candy would be on the phone with a customer for 30 minutes taking down each line item. Today, the company runs its orders every morning and pulls them from the warehouse where tracking numbers are generated and the product is set out. "Customers like it, they can view everything we offer and see the wholesale price," Dandrea adds. "Five years ago, we would have 15 to 20 wholesale orders in a given week and now we have 75 to 100 we are shipping to independent candy stores. It's almost daily we have people signing up for wholesale."
Enticing Inventory
Blair Candy has doubled its inventory over the past five years, expanding to about 3,500 candy and snack items in stock listed as everyday items. "I have an interest in candy and have taken over the buying," Dandrea says. "It's interesting how much the increased inventory has positive impacted sales and unique items continue to explode."
In the past, members of the Dandrea family would perform a sweep of the warehouse floor and decide which items were slow movers and bring new items in to replace those. Today, Blair Candy is bringing new items in, but there's nothing it can move out because its products are selling so well. "If I see something I buy direct from the major companies and brokers to get things in quickly and be the first ones to get it in the stores," Dandrea explains. "We attend the Sweets & Snacks Expo in Chicago where I walk the floor for eight hours to make sure I didn't miss a thing. I want to find these unique companies I've never seen; it's a unique tool."
Blair Candy has also expanded its reach to importing international candies. "This isn't like a large manufacturing plant making product outside the U.S. and the product is imported; it's legitimately imported candy from Europe and novelties from Japan," Dandrea says. "These aren't candy bars you find at Costco. Independent stores can get an edge with the imported candies. It's hard if you are a mom-and-pop somewhere in Texas and have a 7-Eleven down the street; you have to have unique things and stay up-to-date with new things. They keep coming back to us for that and trust our judgement to try out new things."
"Blair Candy prides itself on the relationships it forms with its suppliers and customers. When it comes to its partnerships with customers, Dandrea prefers a handshake deal every time. "We trust they want to buy from us and we bring a product in for them," he explains. "Our sales reps know what we are about and how we operate, and do a good job moving the product."
The company relies on its loyal customers to provide feedback on its new products and its customers are willing to try out a new product in their stores. "We deliver locally, sending five to seven trucks daily in our region and 90 percent of those customers have been with us for 15 to 20 years," Dandrea notes. "Our niche is small shops, we have a good rapport with them and trust their judgement."
Moving forward, Blair Candy will continue to face increasing competition from big-box retailers to millions of online only companies who are all fighting for business. "The best way to overcome that is to say on top of the game, offer the best prices possible, provide extraordinary customer service and gain customers based on our service," Dandrea says. "We are always trying to find the latest and new things out there to offer and reach new areas of the country. We are excited about where we stand with our history and look forward to continued growth of our candy offering through our website and national customer base."