Bleacher Creatures Announces the 2012-13 NHL Player Plush Collection Roster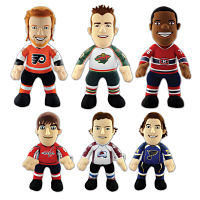 Feb. 6, 2013 – Bleacher Creatures, an official collectibles licensee of the National Hockey League (NHL) and the National Hockey League Players' Association (NHLPA) announced today the formal launch of the 2012-13 NHL player plush collection. Joining the collection for the 2012-13 line of 14-inch and 10-inch NHL plush doll characters will be Claude Giroux of the Philadelphia Flyers; Gabriel Landeskog and Matt Duchene of the Colorado Avalanche; T.J. Oshie of the St Louis Blues; Carey Price and P.K. Subban of the Montreal Canadiens; Brooks Laich and Alex Ovechkin of the Washington Capitals; Teemu Selanne of the Anaheim Ducks; Henrik Sedin and Daniel Sedin of the Vancouver Canucks; Andrew Ladd and Dustin Byfuglien of the Winnipeg Jets; Dion Phaneuf, Joffrey Lupul and Phil Kessel of the Toronto Maple Leafs; Ryan Nugent-Hopkins of the Edmonton Oilers; Sidney Crosby of the Pittsburgh Penguins; Erik Karlsson and Milan Michalek of the Ottawa Senators; and Zach Parise of the Minnesota Wild.
"NHL fans' passion for their team and players is as strong as any fan base in sports, which makes them perfect for the Bleacher Creature player plush collection," said Matthew Hoffman, President and CEO of Bleacher Creatures. "We take that same passion to create a line of plush versions of today's biggest hockey stars and transform them into lovable characters for kids and collectors to enjoy."
The Bleacher Creature NHL Player Plush Collection is available at BleacherCreaturestoys.com; shop.NHL.com (the official online store of the NHL operated by e-commerce provider Fanatics); at NHL arenas; and other retail locations throughout North America. The Brooks Laich Bleacher Creature will be available exclusively at the Verizon Center.