Bloomingdale's, Me-Ality Partner to Unveil an Enhanced Denim Shopping Experience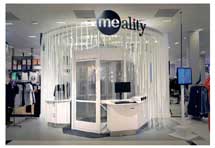 April 8, 2013 – This spring, Bloomingdale's extends its customer service with an advanced denim shopping experience, thanks to a new partnership with Me-Ality, the digital sizing station that matches shoppers with their best fits across a range of premium brands. Five specially-designed Me-Ality sizing stations have been installed at Bloomingdale's 59th Street (NY), Roosevelt Field Mall (NY), Chevy Chase (MD), Santa Monica Place (CA), and South Coast Plaza (CA) locations. In 10 seconds, shoppers can take part in a complimentary, fully-clothed size-matching session and receive their best fit in the premium denim styles sold at the luxury department store.
Me-Ality will now recommend denim styles sold at Bloomingdale's both in-store and online, including J Brand, 7 For All Mankind, True Religion, Hudson, and Citizens of Humanity among others. This will be the first partnership bringing the Me-Ality experience to the department store environment.
"We are excited to extend our innovative consumer offering to Bloomingdale's discerning consumer base, looking for the best fashions and fits that match their style and body type," says Tanya Shaw, CEO of Me-Ality. "Me-Ality is taking its consumer offerings to the next level by syncing our technology to recommend the expertly curated denim styles offered at Bloomingdale's."
Me-Ality takes the guess-work and hassle out of trying on clothes. Once scanned, customers receive a personalized shopping guide to help make more informed shopping decisions for their size and shape, as well as an online profile which acts as a virtual fit advisor, giving the consumer confidence to purchase their Best-Fit styles across the company's broad array of brands online.
Sixty-two percent of women who shop cannot find clothes that fit. Over $45 billion dollars of clothing is returned due to poor fit every year. Me-Ality is the solution to this problem, having already provided over 20 million personalized shopping recommendations to customers nationwide, each catered to best fit the customers' unique body type.
"We are excited to offer Me-Ality sizing stations in five of our Bloomingdale's stores," says Anne Bridges, SVP Omnichannel Technology & Customer Experience of Bloomingdale's. "We are committed to exploring fit technology, and we view this partnership as an opportunity to enhance our customers' in store shopping experience."