Blue Bamboo Compatible Apple MFi Certified Applications Reach 60 on iTunes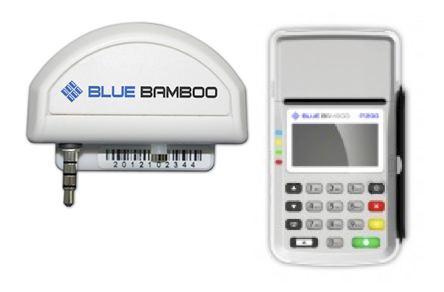 March 28, 2013 — Blue Bamboo, an electronic payment solution provider, announced that more than 60 Apple MFi (Made for iPhone, Made for iPad, and Made for iPod) applications are available on iTunes. As the world's first payment device manufacturer to obtain the Apple MFi certification, Blue Bamboo has years of experience refining a complete product suite of Apple compatible or certified payment devices, such as: the PocketPOS P25 series of printers, the P200 multi-mode PCI PED, EMV Chip and Pin Printer and the M10 Encrypted MSR.
Resellers and distributors of Blue Bamboo worldwide have developed new and innovative value added solutions. Examples include a distributor in Japan that uses Blue Bamboo's P25i/M printer to connect with iPhone to print receipts "over the air" via Bluetooth. A Portuguese taxi company leverages the P25i to connect with the iPad used for dispatch and customer payments. Blue Bamboo enables our partners to offer mobile credit and debit card payment acceptance and paper receipts anywhere, anytime.
Industry leading app developers require security and compatibility provided from participation in the MFi program. The P200 was the first PCI PED printer successfully certified with MFi in May 2012. The M10 Encrypted MSR is an encrypted magnetic stripe reader that can read a variety of magnetic stripe cards, including credit cards, signature debit cards, gift cards, loyalty cards, etc. The M10 is tailored for payment applications developed on smart phones and tablets running Apple iOS and Android.
"The overwhelming response from app developers is indicative of the value of our PocketPOS line of products and the deep and meaningful partnerships we support," said Justin Anderson, Chief Marketing Officer. "Our goal is to supply robust, secure, reliable and cost effective products enabling our partners to quickly add value to their solutions."