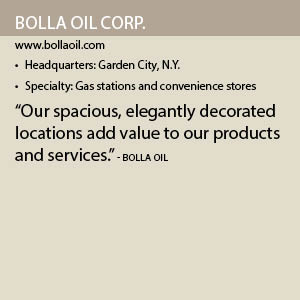 Today, "Our spacious, elegantly decorated locations add value to our products and services," Bolla says. "We pledge to provide our customers with the most competitive prices, the most courteous service, and the cleanest and well-maintained locations."
The company's Bolla Market locations feature organic coffee, gourmet deli's, and a variety of groceries and fresh fruit. "All Bolla locations are easily recognizable with fully stocked shelves and a wide variety of all [the customer's] daily convenience needs," it says.
Business Bedrock
Bolla's services also include wholesale fuel sales. "Much of the success of your gas station lies in offering customers the highest quality gasoline at the best prices," the company says.
Bolla's reliability as a distributor is why "some of the biggest names in the industry such as Shell, Exxon, Mobil, Gulf and Sunoco continually choose to be represented by Bolla," it says. "We take great pride in standing out from the competition and helping our customers do the same.
"We are trusted, timely, competitive and professional," Bolla says. "When it comes to wholesale fuel sales, we do not boast when we say Bolla is the best choice. The long track record of success that our company has worked hard to build proves us right."
Bolla notes that gasoline sellers nationwide are happy that they chose the company. "Our wholesale fuel makes it possible for them to conduct business seamlessly, creating the professional, reliable image that is required to stand out in their industry," it says. "At Bolla, we are proud to be the bedrock of [our clients'] business."
The Backbone
Bolla also offers fuel transport services. "Staying competitive in the demanding fuel industry requires timely deliveries at affordable rates," the company says. "With our brand new fleet of trucks, we are proud to be the fuel transport company that some of the biggest businesses in the industry have come to rely on."
These businesses choose Bolla "because they know they will get their fuel on time, without a hassle and professionally delivered," it says. "Many consider us to be a backbone to their ability to run smooth operations.
"When it comes to buying fuel, customers can't wait, so neither should [our clients]," the company says. "We are committed to providing the best fuel transport services in the industry. That is a commitment we at Bolla have stood by for many years. It has caused us to be successful and experience continued growth."
Improving Life
Bolla also excels with its automotive repair services. "At Bolla, our highly trained technicians use only the best equipment and newest tools to get [our clients'] automobile back on the road again," it says.
Although the process can be frustrating, Bolla says it works to make things pleasant for its customers. "We get the work done, following the highest standards of ethics," the company states. "We proudly stand by our work, making sure that [customers] are completely satisfied with the outcome.
"Our customer service representatives take great pride in ensuring all auto repair customers are happy with the services rendered," Bolla says. "Our auto repair slogan says, 'We do more than fix cars. We improve the quality of your life.' That is our goal every day."
Essential Expertise
Bolla not only operates gas stations and convenience stores, but it builds them, as well. "Decades of experience in the new construction and renovations of gas stations and c-stores make Bolla Construction Corp. the company with the knowledge and experience to help [our clients] with [their] construction needs," it says.
"We can help expedite surveys, plans and permits that will keep [their] project on time," Bolla says. "Our expertise in buying equipment and material, and managing our workforce will help keep [clients'] project within [their] budget."