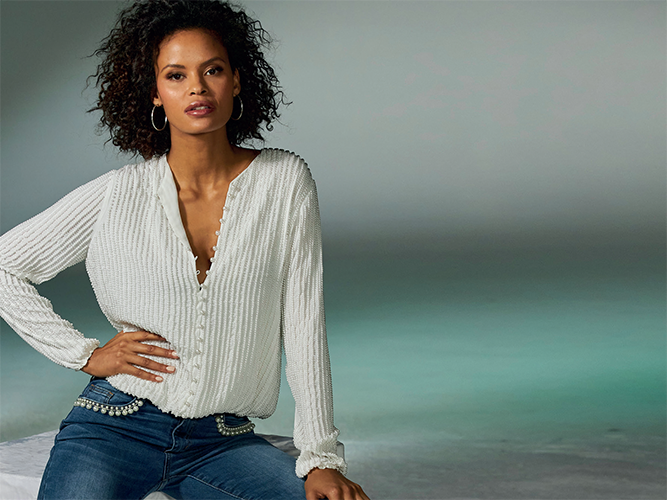 Forty is the new fabulous
For the last 30 years, Boston Proper has specialized in creating fashion that is fiercely feminine and designed to be unforgettable, listening to its customers every step of the way
Sheryl Clark, the President of the Florida-based clothing company Boston Proper, shares with us the inner-stitching that keeps the company creating current, relevant fashion for their over 40 customers. "I have over 30 years of general management and merchandising experience working for major retail apparel brands with global recognition, including Old Navy, Gap, and Bloomingdale's. I am a merchant at heart, and in 2008, I wanted to take that next leap and to run a company curated for women that was internet based. When I began looking, my recruiter told me about Boston Proper, and my immediate reaction was, 'I am not moving to Boston, and I am definitely not proper!'" she says. After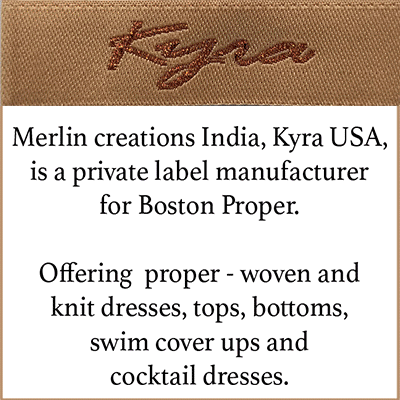 learning the company was based in Boca Raton and not proper Sheryl checked out their website, flew to Boca Raton to meet the team and never looked back.
Boston Proper began as a catalogue company in 1992. The owner at the time, Michael Tiernan, bought the name and its customer list with the intention of reinventing a catalogue targeted towards baby boomers who were looking for clothing that was more fitted and appropriate for their bodies and style than what was currently available to them in the youth-oriented fashion market. "We are focused on women over 40, and everyone who works at Boston Proper knows exactly who we are marketing towards, so much so that we have a name for her; we call her Lucy. When our designers and merchants create product, it is personalized for Lucy. I found this to be one of the most refreshing aspects about working for this company because I hadn't had that dedicated customer focus in a long time. Plus, it was especially exciting to be part of a brand that was empowering women," Sheryl expresses.
Although women have come a long way since 1992, when the company was founded, even today a woman's 50th birthday is not ordinarily celebrated with the same enthusiasm as her 40th, or even her 30th. Women in their 40's and 50's continue to find themselves in a position of invisibility, feeling as if they need to hide their age. Boston Proper, with its focus on the Lucy customer, is reigniting an excitement for its customers' new age, embracing it and enhancing it, instead of hiding it. "In 2019, the company re-focused on its heritage and re-strategized the trend and fit appropriateness for this customer. For us, it's important to help Lucy celebrate her age; she is smarter than she has ever been, her kids are most likely out of the house, so she has the freedom to do more of the things she's always wanted to do, travel, learn more, and our brand is geared to providing her with the items that will help her look good and feel fabulous in any setting," Sheryl says.
In her view, what sets Boston Proper apart from its competitors is the fact that it's clear customer focus has allowed it to explore opportunities that provide it with an in-depth analysis of its customers' fashion needs.
"As you approach 50, your body begins to adjust; there are parts you want to show off and others you don't. We design and fit our clothes for women as they age, because we understand how their body is changing and how we can make sure our clothes fit those changes.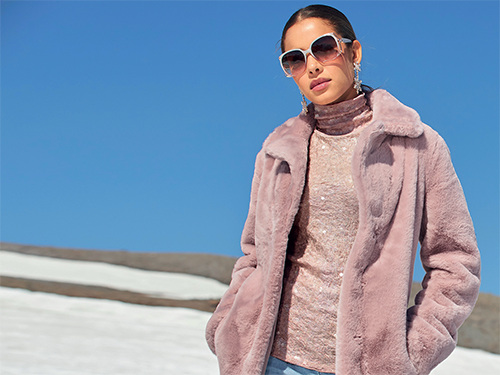 "Our goal is to be the curator of the clothes for all the occasions in Lucy's life, to build her confidence that anything she buys from us is perfect for any occasion; whether its work or the weekend, if she is going to a wedding or going on a date, she can come to us and feel very confident that when she puts on our clothes, aside from looking amazing, she will also have the confidence she needs to celebrate life," she says.
Sheryl and her Leadership Team are determined to maintain a working environment that encourages innovation, creativity and long-term success, and helping them achieve that are five key values that underpin Boston Proper's company culture. "It's about being proactive, goal orientated, accountable, and making the most of the teaching opportunities available. To me, creating a learning environment was one of the first values that I insisted on integrating. It's crucial that people feel they are being challenged by their work, that they are embracing innovation, and they are encouraged to take the necessary leaps of faith to grow and evolve with the brand, and that also means being able to make mistakes," she states.
The second, she notes, is authenticity, a quality that seems to come naturally to Sheryl. "I wear my heart on my sleeve at all times, and I am so committed to this brand, which is why I want an organization that is transparent and accessible. We share everything with our team here, from our weekly team meetings to our quarterly town hall meetings, we share everything including what our cash flow looks like. We want to inform, and receive everyone's opinion, because ongoing dialogue is what keeps our brand innovative," she adds.
The third value is mindfulness. "Being mindful is about communicating openly, having respect, integrity, empathy, and honesty. As helpful as it is, sometimes debate and dialogue can become inherently negative, but if we are communicating openly, we begin to establish spaces that allow for joint discussions, decision making, and the team can then execute those plans and feel like they are actively participating in the solution, rather than simply being told what to do. Collaboration is key to our business success.
"Fourth, we believe in being passionate about this work, because that is how we are going to stay great at it and continue to stand out from the crowd. I want a company where people feel excited about coming to work every day," she adds.
On a less traditional note, the fifth value embedded within the company's ethos is to be unforgettable. "We are striving to create unforgettable experiences for our customers, and we dare to go above and beyond not only for her, but also for our vendors, our co-workers and our charities, and those five points are really who we are, and our management team endeavors to instill those across the board every day," Sheryl expresses.
With these fundamental values as the foundation of the business, Sheryl highlights that Boston Proper is better equipped to scale through industry challenges and adapt to retail turbulence. "2020 was a great year for our brand; Lucy was loving the style and design of the collections we were introducing, our customer file was growing, digital prospecting was thriving, and so with support of our Board of Directors, we decided to start investing back into the business and explore new technology to create an amazing customer journey; starting with Shopify Plus. In addition to that, we invested in a new ERP System, NetSuite, and a new warehouse management system (JASCI), which enables the warehouse team to be more efficient regarding logistics and implementing the tools required to keep the orders flowing efficiently through the warehouse to Lucy.
"We are also in the process of moving our sales center to our headquarters in Boca Raton, which will be complete by the end of September so we will be able to create an amazing experience for Lucy that is very Boston Proper," Sheryl highlights.
Looking to the future, the team at Boston Proper is determined to introduce a more streamlined shopping experience for its customers, to provide Lucy with the best wardrobing options whether she wants to browse the website or call in and chat with her favorite BP Stylist. "One of our goals in bringing the sales center back into our corporate offices was having real time feedback and talking to Lucy directly. Tying in with that, we will be creating an in-house stylist capability so that Lucy can get help in building her wardrobe and being unforgettable for all her occasions. With all the competition out there, these sorts of developments are essential to differentiate us, because we are showing that we understand her needs and her style. In order to facilitate that, we will build the infrastructure necessary to keep driving the company and to provide real time data for more informed decision making," she says. This, she continues, is what will ensure the business remains a go to for Lucy.
As the cooler seasons approach, Boston Proper website has a curated collection of jackets, sweaters, dresses, leggings, and boots in contemporary, autumnal colors. Not only is Sheryl excited about another fall season, she is also looking forward to the opportunities that lay ahead of the business, and with new technology in place to offer its clients style and convenience to coordinate an elegant wardrobe, Boston Proper appears set to continue empowering women everywhere.
www.bostonproper.com