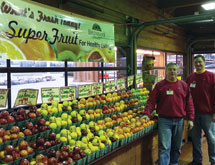 If you are looking for ketchup and diapers, do not go into Brennan's Market. But, if you are looking for the highest-quality, eco-friendly fruit available, or great wine and cheese, then Brennan's Market is the place in central Wisconsin.
For 70 years, the Brennan family has made it a priority to purchase directly from the products' sources to ensure the stores' produce, wine and cheese are of the best quality available. The owners and managers at Brennan's Market personally visit and assess each farm, orchard, vineyard, microbrewery and cheese factory before purchasing anything. The company buys produce only from farms that engage in sustainable practices, treat their employees ethically and limit their use of pesticides.
Brennan's Market has expanded its geographic reach over the years, and today sources from wineries as far away as Chile and Australia. But the long distance has not changed the company's personal approach. "We try to visit or have [Chilean and Australian suppliers] visit once a year to keep current and maintain our relationships," General Manager Tim Culhane says.
Culhane, who joined Brennan's 33 years ago as a produce clerk, considers its close relationship with growers one of its biggest assets. "We have been very fortunate to have been working with the same growers for years and they understand the quality we're looking for," he says. "When we pull into somebody's farm, they are excited to show us what they have. They also love to get our feedback because they know we're on the floor talking to the customers all the time."
The knowledge acquired from these personal visits with the suppliers is passed down from managers to employees. "Our managers spend 90 percent of their day on the floor, so there is a manager in the produce room at all times," Culhane explains. "This really helps in terms of passing the knowledge to the rest of the employees and taking care of the customers."
Brennan's Market offers customers plenty of opportunities to sample the products it has worked so hard to procure. The stores also offer recipe cards and cross-merchandise products, displaying two or three ingredients that can be combined to make an easy meal. "There are so many things that you can do quickly, we seem to forget that," Culhane says. "There seems to be an interest for fresh, easy meals and we are hoping we can go back to the days when cooking was fun and part of the regular family nights."
The recipes are designed so clients get their money's worth. "We try to make sure people get two or three [different] uses out of each item," Culhane explains. "We don't want customers to waste the product, so if we can encourage them to use up what they buy, they are more likely to come back and buy more."
For instance, if a patron is wondering what to do with pomegranates, Brennan's Market offers recipes for a pomegranate-avocado salsa with spiced chips, blackened shrimp with pomegranate-orange salsa and even pomegranate citrus kiddie cocktails.
Family Heritage
Seventy years after Frank Brennan founded Brennan's Market, it continues to be a family business, with Frank's son Skip Brennan at the helm as owner. "He is involved in the everyday business," Culhane notes. "He is the guiding visionary for us and keeps us on track, challenging us to move forward." Skip's son Tim and daughter Erin are also involved in the company as IT manager and grocery manager, respectively.
The feeling of family extends to Brennan's employees. "We have great longevity [in our workers]," Culhane explains. "We try to make each employee feel like they're part of the business and we empower them to take care of the customers."
Brennan's Market radio campaign features the voice of one of Skip Brennan's granddaughters. "It is an example of keeping up that family heritage that we consider so important," Culhane says.