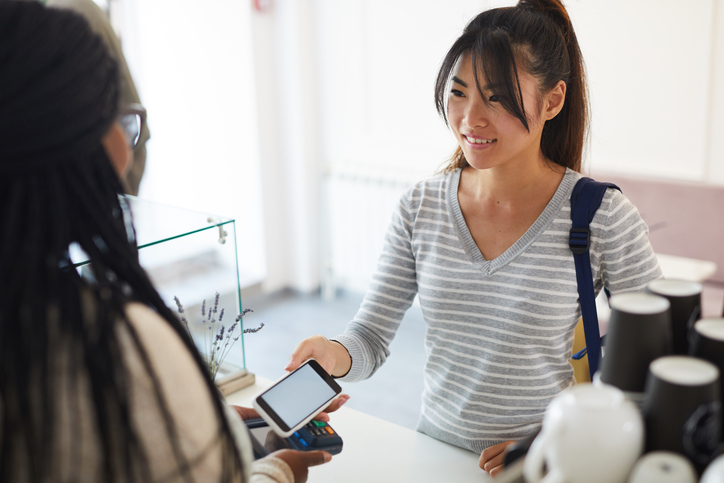 AI gives brick-and-mortar retailers the tools to beat their e-commerce competitors –
if they can figure out how to use them.
By David Moran
Kroger Co., the largest grocer in the United States, wants a new identity: It wants to be a technology company that sells groceries.
Earlier this year, it began testing Kroger Edge, an AI-powered interactive digital shelf edge that communicates with shoppers' mobile phones to offer special promotions. Kroger plans to license its high-tech shelf edge – the brick-and-mortar version of a website banner ad – to other retailers.
"Obviously, this is not your parents' grocery store anymore," Kroger CEO Rodney McMullen told shareholders in late June.
Kroger's growing use of technology reflects a broader reality: As offline and online worlds blur, technology, particularly artificial intelligence, increasingly offers brick-and-mortar retailers the tools they need to beat their e-commerce competitors – if they can figure out how to use them.
Digital marketing technology has been evolving rapidly. Not that long ago, humans were in charge. Think "Mad Men." They'd come up with a marketing slogan, debate it around the room, then launch it and hope it works.
Now we're living in a world where the best brands on Facebook run 160,000 versions of an ad. Powered by machines, digital marketing is increasingly personalized, experiment-driven and dynamic. This new form of marketing, called programmatic marketing, is viewed as the emerging standard, and companies supporting it have seen rapid increases to their market value. Digital advertising startup The Trade Desk's market cap, for example, has grown 100 percent in the last six months.
Could Use the Help
Can a similar technology disruption help brick-and-mortar retailers sell more goods?
They could certainly use the help.
E-commerce accounted for only 1 percent of total U.S. retail sales in 2000. Consultant Forrester projects that online sales will account for 17 percent of total retail spending by 2022.
Not helping brick and mortar is the fact that many of its efforts to jumpstart sales aren't working. Consider that two-thirds of grocery promotions don't profitably pay back. Twenty-two percent of the time the discounts are so ineffective that that revenue actually drops when promotion monies are spent. And it's not just limited to one category – there's literally not a single department in the store where promotions produce a positive return more than half the time, according to a February 2015 consumer report by Nielsen.
The old-school approach to couponing isn't working either. In the United States, there is $500 billion coupon liability with only $3 billion in redemptions – a huge environmental waste as untargeted paper coupons are sent far and wide with negligible sales results.
Getting the Message
Beyond Kroger, many other retailers are getting the message. To get a sense of how brick-and-mortar retailers are beginning to embrace digital selling approaches, consider the following: Target's AI-powered "personalization engine" will predict not only whether its shoppers have infants but also their ages down to the month, and will personalize offers to them.
A shopper has a four-month-old? Target will send age-appropriate food offers like powdered oatmeal to shoppers either through Target's app or a personalized mailer. The child is nine months old? Target says it will send the parents "a convertible car seat offer knowing the baby soon will be too big for an infant car seat."
Walmart's app knows when you're in one of its stores, and its AI-powered digital helper, Store Assistant, will guide shoppers to the exact shelves where they can find items in their digital shopping lists.
E-commerce companies know how their shoppers surf their sites, using programs like Google Analytics. That's been a significant advantage. But technological advances are leveling the playing field. Retailers have begun using computer vision with startups such as Trax to study how shoppers move through their stores.
Do they rush past the cheese for wine? Do they spend a lot of time browsing in aisle four but never buy anything? The robots know, and they'll tell retailers, giving them a chance to optimize their stores.
E-commerce companies experiment all the time. That experimentation, or A/B testing, is a significant reason for their success vis-a-vis brick and mortar. Simply put, they've had a serious data advantage. Now, AI startups are using machine learning to offer offline retailers the same ability. They can now continuously test and uncover what truly resonates with their shoppers and drives performance.
How does raising the price of bananas by a penny per pound affect sales? Machine learning will tell you. How does lowering the price of peanut butter by a quarter affect sales of jelly – or milk? AI and machine learning will tell you. Enabled by artificial intelligence, this constant experimentation gives retailers the ability to understand the relationship of every product they sell and help uncover magic price points, just like their e-commerce competition.
Of course, retail has only just begun leveraging its new box of marketing tools. And only time will tell whether stores deploy it to their advantage as they're still experimenting. But it's increasingly clear that e-commerce's advantages over brick and mortar aren't inevitable.
No, stores don't have banner ads, Google analytics and cookies. But now they're acquiring their equivalents – digital shelves, computer vision and machine learning – and with the majority of sales still happening in physical stores, their data is going to be better.
Put simply, brick and mortar has the tools it takes to win. In fact, now it's traditional retail's fight to lose.
David Moran is co-founder of Eversight.