Bridgestone Releases Earth Day 2013 Consumer Recycling and Sustainability Survey Findings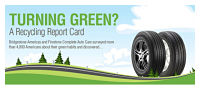 April 22, 2013 – Bridgestone Americas and Bridgestone Retail Operations (BSRO) today released the findings of the companies' Earth Day 2013 Consumer Recycling and Sustainability Survey, revealing U.S. consumer attitudes toward recycling and sustainable behaviors in 20 cities. The findings and infographic were released as part of a four-week schedule of announcements from Bridgestone Americas in celebration of Earth Month.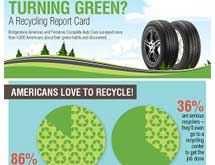 The survey found that the majority of consumers are holding companies and corporations accountable for the environmental sustainability of their products and processes. Individuals are cognizant of "being green" as they shop, as 92 percent indicated a manufacturer's operational sustainability or a product's sustainable attributes have some impact on their purchasing decisions. According to surveyed consumers, the top three ways companies can show they are environmentally responsible are:
Creating a product design that minimizes energy and water usage
Minimizing generated waste
Minimizing carbon emissions tied to waste
"At Bridgestone, we are always looking for opportunities to reduce our environmental footprint in any number of ways, from reducing the waste we generate through our manufacturing processes, to ensuring that for every tire we sell at one of our more than 2,200 company-owned retail stores, one is sent to another valuable use," said John Sheerin, environmental director, BSRO. "This survey shows that more and more, consumers expect these types of behaviors from companies, and that we as corporate citizens share responsibility for the life cycle of our products from manufacturing to disposal."
According to the survey results, Seattle, Wash., and Minneapolis, Minn., were home to the most recyclers, with 97 percent recycling either curbside or at a recycling center. Riverside, Calif., residents were the most serious recyclers with 63 percent committed to recycling everything they can, even if they have to take it to a recycling center themselves.
On the whole, recycling is on the rise, as 52 percent of consumers recycle more now than they did two years ago. Overall findings about U.S. consumer recycling habits indicate that 86 percent of those surveyed recycle, with more than one-third of respondents identifying themselves as serious recyclers (36 percent), recycling everything they possibly can even if it means going to a recycling center. Half say they recycle as long as curbside service is provided. Three quarters of respondents have a curbside service provided by their city or county.
In addition to recycling habits, the survey measured consumers' opinions about ease of recycling a number of items, including motor oil, consumer electronics, tires, mattresses and household/office waste. Sixty percent of consumers surveyed found it difficult to recycle mattresses, which were seen as the most challenging item. Large appliances followed, with 51 percent scoring refrigerators, washers, dryers, stoves and microwaves as "difficult" or "very difficult" to recycle. Thirty-seven percent regarded tires as difficult to recycle.
To find out more about Bridgestone's sustainability initiatives, including its Spent Tire Program, visit: www.oneteamoneplanet.com
To view the other announcements from Bridgestone in honor of Earth Day, visit: www.bridgestoneamericasmedia.com