British Inventor Creates the First Collapsible Colander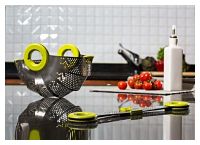 May 22, 2014 – The colander is a kitchen utensil that hasn't changed in 200 years…until now. Inventor Ran Merkazy and businessman Freddie Camrass, both of whom live in London, have teamed up to produce the RMDLO Colander, which not only folds up, shrinking to just 10 percent of its original size, but also has a variety of uses.
It can be used as a strainer and a steamer as well as a utensil that will squeeze food and pour it into a bowl, cup or plate. The RMDLO can hang on a wall, and its compact size makes it useful for those with limited kitchen space. It can be used at picnics, festivals or camping. It's machine washable, and it is easy to clean and operate.
"We have spent five years tinkering, problem-solving and innovating to reach the stage we are at now," said Merkazy, who developed the unique Fold-a-Bowl design. "It has been fine-tuned to one-tenth of a millimeter. We are proud of the results from our labor. This is a truly unique kitchen aid but, at the same time, very useful and practical."
Camrass, who is handling the business end of the project, has set a budget of 45,000 English pounds ($75,600 US) for engineering, tooling, manufacturing and other production logistics. To generate this start-up capital, he and Merkazy have launched a Kickstarter campaign, which can be viewed at www.kickstarter.com/projects/2086042336/rmdlo-a-revolution-in-kitchen-utensils.
So far, over half of that amount has been raised. All the money raised will go to product development. "We want to make clear is that no funds will be wasted on salaries, marketing campaigns, filling an office fridge or renting office space," said Camrass. "Any irrelevant and expensive activity that does not directly benefit backers or improve the product is not a part of this project."