Brixmor Wins ICSC U.S. Design and Development Award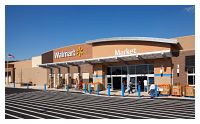 Dec. 6, 2013 – Brixmor Property Group Inc., a national owner and operator of grocery-anchored community and neighborhood shopping centers, received the U.S. Design and Development Award from the International Council of Shopping Centers (ICSC) at this year's annual CenterBuild conference in Phoenix, Arizona. Liberty Plaza, located in the Baltimore area, was awarded Silver in the Sustainable Design category.
The ICSC U.S. Design and Development Awards honor and recognize premier design and development trends of retail projects, new developments, renovation and expansion projects, and retail store design within the United States. To win in the Sustainable Design category, a project must have achieved a significant level of sustainability in the design and construction of the project.
"We are honored to be recognized by the industry for our innovative work on the redevelopment of Liberty Plaza," said Haig Buchakjian, Senior Vice President of Construction with Brixmor Property Group. "We are committed to the smart application of design, construction and sustainability practices which can ensure the commercial success of our retail partners while enhancing the communities in which we serve."
Located in Randallstown, Maryland, the Liberty Plaza redevelopment transformed a blighted, nearly vacant neighborhood center into a vibrant 220,000-square-foot retail destination, anchored by Walmart.
Built on a brownfield, this 1960's shopping center suffered from 83-percent-vacancy and lacked an anchor tenant to substantiate the center's size and premier location. The addition of Walmart filled a gap in the retailer's market coverage, complemented the existing retail corridor and reinvigorated the lease-up of the center's small shop space.
The project included environmental remediation, the demolition of 160,000-square-feet of vacant small shop space and the construction of a 160,000-square-foot store for Walmart. A number of sustainable elements were incorporated including bioretention basins which use landscaped depressions in the parking field to collect and naturally purify stormwater, native-plant landscaping that does not require permanent irrigation, networked site lighting with energy-efficient LED fixtures, skylights for daylight harvesting and low VOC adhesives and sealants to improve indoor air quality.
Today, the center is fully occupied with top national brands such as Walmart, Rainbow, Little Caesars Pizza and Marshalls.