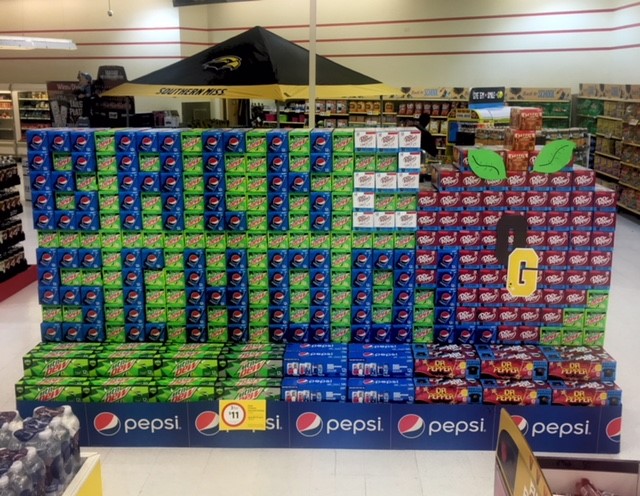 Brown Bottling Group stays on the cutting-edge of innovation and market trends
to remain the market leader in non-alcoholic beverage distribution.
By Janice Hoppe-Spiers
Brown Bottling Group has cornered the market in Mississippi as the expert in the sales, marketing and delivery of non-alcoholic beverages by keeping its finger on the pulse of the community. "We are a total beverage company; if it's liquid and non-alcoholic, we sell it," President and CEO Bill Brown says. "The individual consumer needs 150 gallons of liquid a year to live and provide that in any format, product and packaging to be available to the consumers when they want it."
Brown's father, Kenneth Brown, founded the Jackson, Miss.-based company in 1971 when he purchased the franchise rights for Dr Pepper, 7 Up and Pepsi products for 29 counties covering Jackson, Meridian and Hattiesburg, Miss. Known as Southern Mississippi Bottling Co. at the time, the company operated a bottling and sales plant in Jackson and sales distribution centers in Meridian and Hattiesburg.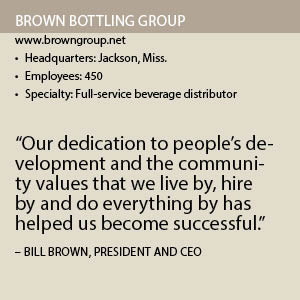 Bill Brown joined the company as vice president in 1980 after graduating from the University of Mississippi and was uniquely prepared for the role after spending his high school and college summers working all aspects of the business. After eight years, Brown was promoted to president of the company and changed the name of the company from Southern Mississippi Bottling Co. to Brown Bottling Group.
Today, Brown Bottling Group represents the top-selling products in virtually every category of the beverage industry covering soft drinks, juices, sports drinks, water, coffee and tea. As Mississippi's preferred refreshment provider for more than one million customers, Brown Bottling Group's team members "stock it, sell it, deliver it, service it and display it."
Supplying the Demand
Pepsi and Dr Pepper remain innovative to ensure Brown Bottling Group has the brands it needs to stay competitive. "Years ago, we would have something and keep it because 'you had to have this brand or that brand,'" Brown explains. "Today, we are more attune to products that may not be with us forever, which may mean different flavors and brands, because we need to make sure we are selling the brands that people want."
Diversifying its brands is key in allowing consumers the opportunity to vote for a product by buying it. Consumers are selective in what they consume and how they consume it. "If we have a brand that's not making the grade, we have to replace it with something," Brown says. "That brand may be doing well in one part of the country, but not here. We have to make sure the space we have, whether that be a vending machine, cooler or space in the grocery store, we are using to the best of our ability to make a greater return on our customers' investments. We have the tools to do those things and stay on the cutting-edge of the industry."
In terms of marketing, Brown Bottling Group considers itself the expert in its Deep South territory as it always has the consumer and its customer in mind. "We are selling the benefits of what consumer trends are, what customers are looking for and making sure that we put programs together that address their niche in the market," Brown explains. "We are trying to get our customers to make their biggest profit on items they sell. We promote that we benefit sell and deliver what the consumers want when they come into the store."
Brown Bottling Group makes it easy for consumers to quench their thirst by implementing vending machines that will accept any form of payment from cash to swiping their iPhones. The company utilizes telemetry vending to know when products are sold out and what is selling. "We have a lot of technology that we are always adding to and changing to be as innovative and creative as we can," Brown says.
Team Brown
"Do it up Brown" is the company's rallying cry – the slogan representing Brown and his team's dedication and commitment to being the best of the best. "From the beginning we have always had a strong relationship with our customers in the trade and with our employees," Brown notes. "We are always at the forefront of innovation in the beverage industry, and our dedication to people's development and the community values that we live by, hire by and do everything by has helped us become successful."
Brown Bottling Group's values are: Team, Excellence, Always improve, Measure performance, Build customer loyalty, Respect, Open and honest business practices and candid communication, Work safety and Never stop having fun. "Those are the basics of our success," Brown adds. "If we got rid of the brands we sell and got into a completely different industry, we would be just as successful because we follow a disciplined approach to business."
The culture at Brown Bottling Group is diverse, inclusive and transparent as it strives to be better every day. With 450 employees, Brown Bottling Group considers itself a large local family business that brings awareness and inclusiveness in every decision that is made. "When I make a decision, I make sure that everyone I can possibly bring in is included in the decision process and has voiced their opinion," Brown says. "We have about four levels from top to bottom in the company, so we are not top-heavy with a lot of doors to go through."
Brown Bottling Group was recently named "Best Place to Work in Mississippi," because it provides a good, clean and safe environment for its employees. The company heavily promotes from within to fill positions when someone leaves and assesses new candidates based on the company values. "We look at the values in how you do things before we hire," Brown says. "We may have two or three phone interviews or five or six in-person interviews and our candidates may even job shadow an employee so they know exactly what the job entails to make sure we get the best."
The development of people is a major focus at Brown Bottling Group, as well as providing its employees with fair pay and a competitive benefits package to increase retention. Brown Bottling Group prides itself on having an outstanding commitment to its team members and the communities it serves.
The company lends support in time, product and funding to diverse programs throughout the franchise area. From community-wide celebrations like Pepsi Pops, the Atwood Music Festival, Live at Five in Hattiesburg and the Choctaw Indian Fair to large-scale events with a charitable cause such as Sanderson Farms Championship and Mistletoe Marketplace, the company takes pride in giving back. "We are very involved in the local communities we represent," Brown adds. "We promote education, good health and the arts. About 10 percent of profits go towards some form of charity and community involvement."
Moving forward, Brown Bottling Group sees a bright future and hopes to expand its territory to growth both internally and externally. "We have to find the right beverage and package for the people in the brands they want and we are open to that," Brown says. "We are open to what needs to be done and we won't be stagnant in how we go to market. We have a bright future, a great workforce in this area that we can grow with and be market leaders in customer satisfaction."