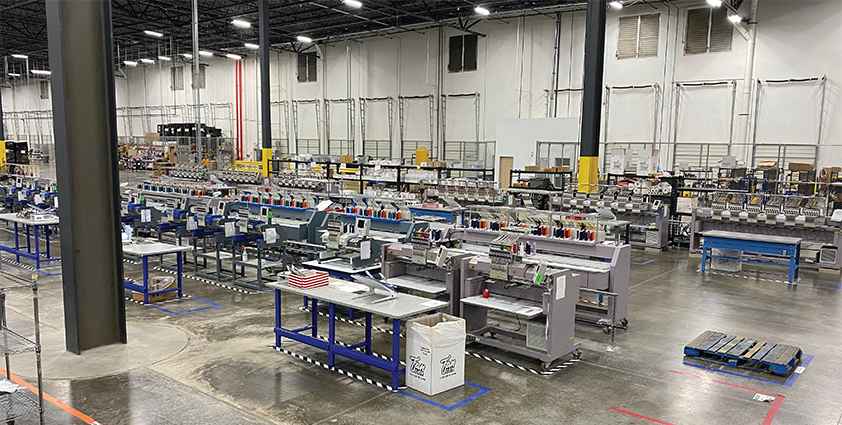 Investing in service
With a track record of successful growth, leading sports apparel and equipment distributor BSN SPORTS hopes that new investments in automation can help secure warehouse accuracy and efficiency, and faster delivery for its customers
It's been four years since Adam Reynolds made the decision to join sports apparel and equipment distributor BSN SPORTS. But for the now Executive Vice President, Supply Chain & Customer Service of the company, it was an easy call. "Before my arrival, BSN SPORTS had demonstrated a deep bond with its growing customer base, thanks largely to really strong relationships between its over 1100-person field sales force and the communities they live in," he reflects.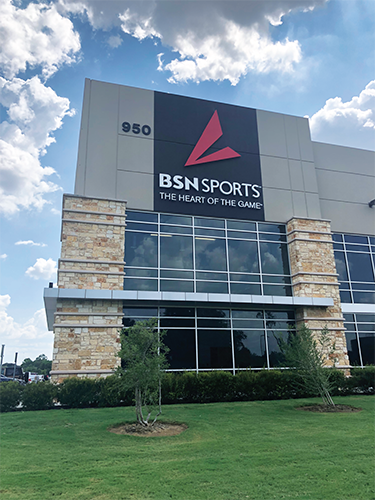 BSN SPORTS' product range encompasses everything from soccer goals and football goal posts, the bleachers the fans sit in, the uniforms the players wear all the way down to the hot dog carousel for the concession stand for high schools, colleges, and clubs all across the US. Decorated apparel is by far the most sought-after product BSN SPORTS offers and certainly the one that adds the most complexity. For Adam, the focus of his tenure at the company has been to refine supply chain management, to better satisfy the demand and expectations of both BSN SPORTS' customers and the employees serving them.
"Sixty percent of the products we sell are decorated," Adam points out. "So, think about a uniform on an athlete and coaches' practice wear, or the moms and dads sitting in the stands wearing their son or daughter's name and number on the back – all requiring detailed customization. One of the main areas of focus for BSN SPORTS has been to structure our teams in a way that enables us to be consistent across sales teams, multiple plants and support departments in terms of both process and results.
"A key step in achieving that consistency includes standardizing our use of data and systems across our plants, as opposed to having unique or varying set-ups," he says. "For example, that could mean introducing the same turn-time goals in order to ensure that all our products reach the hands of our customer as promised. We've then brought in the people, processes, and technology we need to facilitate that, whether it is for our internal plants or for our over 700 vendor partners who we are connected with." Adam expands on that ongoing journey, and BSN SPORTS' long road ahead to fully realizing these goals for its customers.
At its Indianapolis and Texas plants, BSN SPORTS has made significant investments in Receiving, Pick, Pack and Ship automation. For Adam, it's an example of how the company is seeking to retain its position as the most consumer-centric team sporting goods distributor. "Nobody else in our industry houses the volume of inventory that we do," he notes. "Automating the plants will enable us to keep up with the high demand for our services, which continues to accelerate with the resurgence of team sports. We then combine our automation with our sales and operations planning model in order to make sure that we're bringing the correct amount and selection of inventory in at precisely the right time.
"It's all about keeping up with the pace of our growing customer base, and being able to service it in an efficient way with our internal plants and amazing vendor partners," he summarizes. "We don't have to suddenly build another plant in the next two years. Instead, we can use effective planning on the front end to increase the efficiency of the facilities we already have." While the carousels and vertical lift modules give a jolt to BSN SPORTS' throughput capabilities, it requires a more sophisticated team dynamic. Adam explains that "automation alone isn't enough, we've expanded our capabilities by building teams focused on engineering, continuous improvement and training. These systems have to work with us, not just us working 'in' them."
The primary focus of BSN SPORTS' efforts, ultimately, is the customer. "We are undoubtedly customer-centric," Adam agrees. "Predominately, that means focusing all of our efforts on enhancing the purchasing experience of coaches, athletic directors and principals. However, we never lose sight of the opportunity we have to create memorable experiences for students, athletes and parents. Often, we like to talk about the experience of a student who's opening their uniform for their first game. The excitement of that moment is unrivalled, whether they're receiving a bat, a baseball helmet, or a complete uniform with their name printed on the back.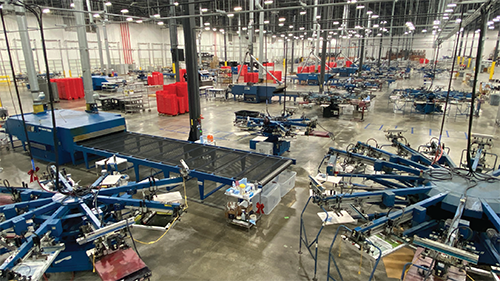 "The experience we provide needs to match the significance of that moment – and not only because it's something the athlete is engaged in and enjoys, but also because we've studied that when students are participating in such activities at school, they excel in the classroom and in life. They graduate at higher rates, feel more involved and tend to feel an overall greater happiness. Therefore, we have a responsibility to contribute to that experience. Everything we do is driven by our desire to enable coaches to spend as much time on the field or court with their athletes, because that's where the real impact occurs, not worrying about equipment and uniforms. It's a culture that resonates throughout our sales force, our customer service teams and our production teammates who are the last touchpoint before a customer receives their order."
Like all businesses, the last few years for BSN SPORTS haven't been without challenges. "We tried to keep our mission at the heart of what we do," Adam reflects. "For clubs, schools, and players, it's been a tough couple of years. While battling supply chain challenges, our warehouse teams stayed busy throughout the pandemic by accommodating shifting sport seasons and quickly supporting delivery of new products like masks, PPE and signage sought by schools. For our employees, the pandemic highlighted the impact of team sports in uniting communities and that continually positioned our mission at the forefront for employees. Regardless, it has been a trying labor environment, and our warehouses and production spaces weren't immune to turnover. Warehouse automation became a pressing growth driver, meaning getting carousels to achieve full capacity is key to enabling the heartbeat of the company (our people) to focus on the higher touch tasks this business demands."
Continuing to keep automation at the forefront, Adam explains, "We're also adding capability in the form of robotic processing automation (RPA). Historically, a new order required the touchpoints of several employees across multiple days to start the movement of product. With the implementation of RPA, the system can execute these tasks and make any necessary changes within minutes instead of days. These little steps cumulate to massive improvements in speed and accuracy to begin the production process and ultimately get product in the hands of the customer faster.
"Looking externally with our vendor partners, we're looking to grow deeper connections," he goes on. "All the vendors we onboard fulfill a need for our customers, and it's through their eyes that we assess the vendors we have and consider how new vendors might fit into our models. For instance, does a vendor require us to undertake inventory positioning ourselves? Are they willing to hold the inventory, and to have a connection through our web services so we can maintain transparency with our customers and sales teams?
"We look at all of our relationships through a multi-layered lens, whether through the financials of any relationship – be it cost, or things like rebates, returns, or credits – or how quickly are they able to deliver for our customers. But enabling transparency in information is the most important priority of all in this fast-paced time," Adam emphasizes. "It's our duty to ensure our sales professionals are empowered to make the best decisions for the customer. Particularly given the current fragmentation of the supply chain, that knowledge is crucial for coaches who have committed themselves to serving their communities. Improving that transparency throughout our internal teams and sales teams is a big focus for 2022 and beyond."
As BSN SPORTS looks to the future, its attention is turned very much towards building an enhanced customer experience. "Within five years' time, it's my hope that we'll have been able to achieve a sustained delivery of products in which best-in-class dependability and transparency are a feature of every order placed at BSN SPORTS," Adam tells us. "We want to be more reliable, and to be more predictable than anybody else when it comes to delivering unique, customized product – and we want to do it faster."
Despite BSN SPORTS' customer-centric approach to business, Adam understands that for the company to achieve its goals, it relies upon the hard work and dedication of its employees. Therefore, committing to increase their satisfaction is another key objective for the years ahead.
"What they do from day-to-day has the power and potential to add real, tangible value to a child's life," Adam concludes. "By engaging our teammates to realize and appreciate their lasting impact, it will enable them to bring an even greater level of energy and excitement to their role. That in turn will bring benefits to the coaches who are impacting kids' lives every day." v
www.bsnsports.com