Busy Beaver Building Centers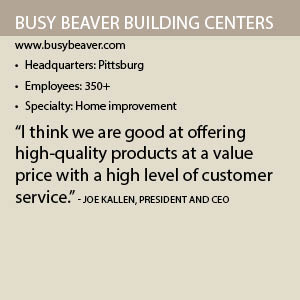 Expanding Empire
Busy Beaver is committed to expanding both organically and through acquisitions. In 2018, the company plans to open at least three new stores and as many as five.
Since implementing its new strategic plan, four new stores have opened. They include a full-line home improvement center in Pittsburg and another full-line center in Fairmont, W. Va. Full-line stores average between 35,000 to 50,000 square feet and feature lumberyards and a full line of hardware items.
"We're a big box for the small market," Kallen says. "You don't come to us to buy a $1,000 lawn mower. You come to us to buy a more economical model. I think we are good at offering high-quality products at a value price with a high level of customer service."
The company also opened two 10,000-square-foot hardware stores under a True Value banner in the Pittsburg metro area and in Latrobe, Pa. Joining a True Value co-op is another new initiative that gives Busy Beaver more buying power and provides opportunities for further expansion.
Enhancing Itself
In line with its enhance pillar, the company has committed to upgrading its existing stores. Two are scheduled for remodeling next year. In the past few years, Busy Beaver remodeled eight stores to improve space utilization, expand product assortment, rationalize adjacencies and enhance the customer's overall shopping experience. Capital improvements included new fixtures, lighting, flooring, HVAC systems, signage, equipment and machinery.
"We have also embarked on an aggressive recruitment program for our general managers," Kallen says. In addition, the company created a new training organization that has developed a training program that focuses on customer service, operational procedures and product knowledge.
Busy Beaver also instituted new inventory control and margin management programs. A renewed focus on operational details has already led to significant cost savings and provides further money saving opportunities in the future, Kallen says.
Another one of Busy Beaver's enhancements has been the replacement of its legacy IT software. The company replaced its existing system and all related hardware and communications infrastructure with an enterprise-level Epicor Eagle system, designed by the Epicor Software Corporation.
Engaging Employees
Busy Beaver has also been working on strengthening its culture and streamlining the communication with its associates. "We had a very fragmented way of operating," Kallen says. "At the time when we had 14 stores, there were 14 different ways of doings things and 14 ways of training. So our engagement pillar is designed to streamline all communication and create a culture focused on customer service."
Moves to improve communication include implementing a companywide e-mail system, enhancing the company portal and developing organized communication boards in each of the stores. Busy Beaver also initiated weekly conference calls for general managers that include headquarters staff.
"I think what we created is a little more of a team environment where everybody is working towards the same end," CFO Nick DeMao says.
To reward its employees, the company established an Eager Beaver Award and Give Me "5" programs to recognize and reward excellent performance by its associates. In addition, Busy Beaver is trying to stay away from corporate lingo.
"We banned the word 'corporate,'" Kallen adds. "When you think about large corporate retailers, there is a preconceived notion of stuffy suits with ties. It has a negative connotation. We want to break down barriers."
Instead of "corporate headquarters," Busy Beaver refers to its headquarters as the "store support office." While the company continues to build on its three pillars, it believes that its recent accomplishments position Busy Beaver to grow as a formidable player in the home improvement marketplace. In fact, it no longer sees itself as "the forgotten brand."